Our American food series continues with meatballs. Meatballs can be eaten by themselves, or in other dishes like spaghetti. They are convenient lunch foods; they travel in plastic containers well and can even be eaten with fingers.
Simple Meatballs
Start with 1 lb 80% ground beef, 1/8 cup potato starch (1/4 cup for a tougher, sturdier meatball), 1 egg, and minced garlic: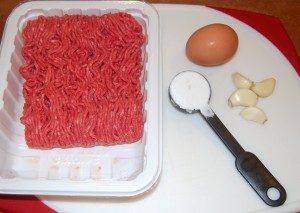 Mix thoroughly with spices to taste – salt, pepper, and cilantro, dill, or other green herbs: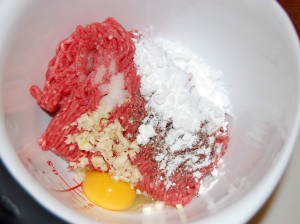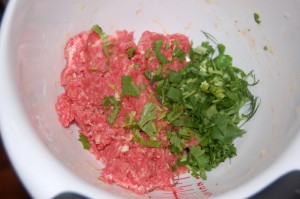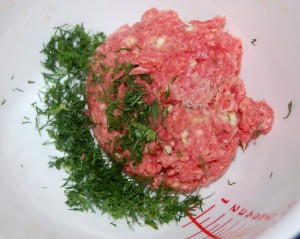 Roll the mixed ingredients into small balls. A pound of beef makes about 30 meatballs: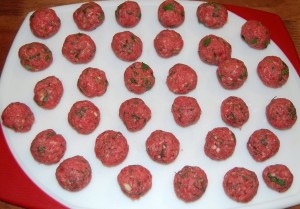 In a saucepan, place slices of ginger root in enough water to cover the meatballs, and bring it to a boil: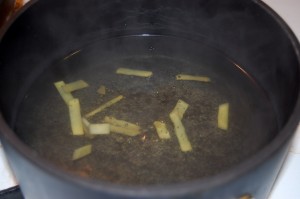 Add meatballs to the boiling water and cook until cooked through (typically 8 to 10 minutes):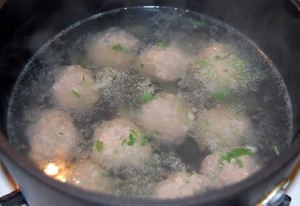 Remove the meatballs with a slotted spoon and let them drip dry.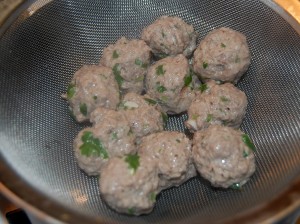 When the meatballs are done, you can cook vegetables in the leftover meatball water. Here is watercress: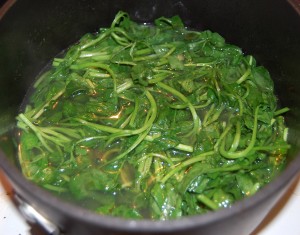 Strain the water and add olive oil and spices: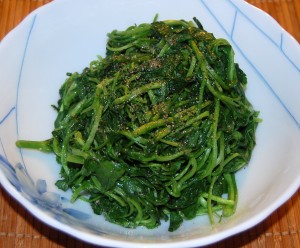 Pearl meatballs
Pearl meatballs are popular in China, and often found in dim sum restaurants. The "pearls" are grains of rice.
Preparation methods are as before, but also begin with a half cup of uncooked sticky rice or Japanese short-grain rice:
Soak the rice in water for 10 minutes before using.
Also, add 1 teaspoon soy sauce to the ingredient list, and triple the amount of pepper.
Traditionally the meatballs are rolled in the rice so that rice is found on the surface of the uncooked meatball, but you can also mix rice into the body of the meatball: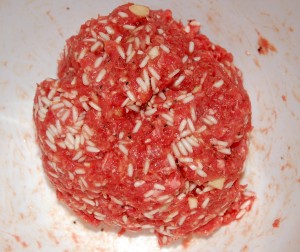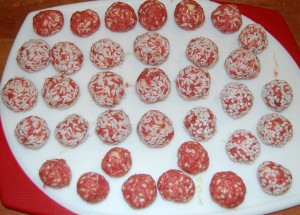 Both ways work, and taste similar.
We steam the pearl meatballs on a bed of shredded cabbage for 25 minutes. After 25 minutes we turn the heat off but keep the lid on and let them continue steaming for another 5 minutes.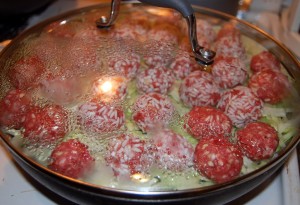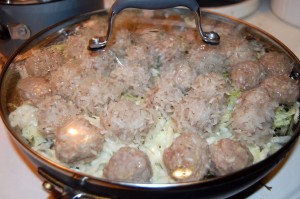 After cooking is done don't quickly remove the lid; let them steam and drip-dry for another 5 minutes.
Then transfer them to a serving plate: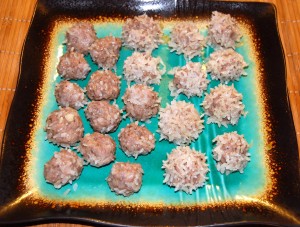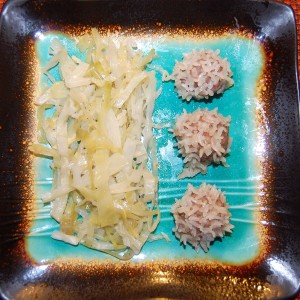 Conclusion
You can use meatballs in a host of recipes. You may have noticed we included meatballs in our Bi Bim Bap (Oct 16, 2011). It's handy to keep some around in the refrigerator for an occasional beefy snack.