Longtime readers will remember Mathias and Zachary, the unfortunate children suffering from Neurodegeneration with Brain Iron Accumulation, a genetic disorder that leads to horrifically painful spasms beginning in early childhood, and death as a teenager. I wrote about their case in Ketogenic Diet for NBIA (Neurodegeneration with Brain Iron Accumulation), February 22, 2011.
The ketogenic version of PHD had remarkable effects for the NBIA kids. Mathias and another boy who tried the diet, Zachary, regained control their limbs, and the spasms and pain went away. Kindy, Mathias's mom, wrote in 2011:
Both boys have begun smiling and laughing all the time.
Nothing inspires happiness more surely than the cessation of extreme pain!
My speculation is that a ketogenic (or high-fat) diet helps in NBIA by allowing Coenzyme A, the crucial enzyme which is under-generated in NBIA, to be redistributed from organs like the liver and muscle, where it is manufactured in abundance, to the brain where it is most needed. On a ketogenic or high-fat diet, more CoA is created and it is more often bound in water-soluble forms (such as acetyl-CoA, acetoacetyl-CoA, and HMG-CoA) that can cross cell membranes and enter the brain.
Mathias and Zachary continued to do well on our diet for over three years. Kindy recently wrote:
Zach is actually doing really well.  He is following your diet still (not into the ketogenic range but otherwise following it more or less precisely) …  He is off nearly all of his medicines and is able to do things that he never could in his life.   He is not well – but he is not in pain and has no spasms, and is doing school work etc.
An aside: I've been hearing recently from a number of people who experienced great benefits in neurological conditions – NBIA, epilepsy, migraines, and others – following the ketogenic version of our diet, and later transitioned to the regular version of PHD with more carbs and less fat, and continued to maintain all the neurological benefits they had first achieved on the ketogenic diet. Perhaps it was not the ketosis that was crucial, but some other aspect of PHD, such as reduction of inflammation or improved nutrition.
Mathias also was doing very well, until he developed pneumonia last summer. Possibly his genetic mutations disturbed immune function; in any case, the pneumonia led to fatal complications. Kindy wrote:
I want to let you know that on June 23, Mathias died of septic shock.  He went into the hospital 10 days prior with pneumonia and we were packing to go home on the following Friday when he got a sudden fever.  The doctors asked us to stay one more day – his lung x-rays were clear but they were concerned about the fever.

On Saturday, his fever went to 41 degrees Centigrade.  On Sunday, it went to 42 degrees.  Despite every available antibiotic and all other attempts to save him, Mathias died peacefully with a strong heart (153 beats per minute – and breathing on his own).

He was surrounded (even in Intensive Care) by his whole family, plus his aunt, and two of his long time helpers – plus two of his nurses and two doctors.  We thought it would be a few more days and we were all hugging him, and laughing with him and telling him stories.  From one second to the next, his heart stopped.

We choose to believe that Mathias decided – down to the last second – what and how he was going to leave his earthly body.  He had no cramps, no spasms, no pain. He just let go surrounded by love.

We are privileged and honored to have known such a brave, smiling, incredible person.  He did more and affected more people in his 9 years of life than most people do in their entire lives. He was always happy, always smiling – a gift to everyone around him.

Thank you for being part of the forces around his life who helped support him, love him, and provide him with the best life that was possible for him. Thank you from the bottom of our hearts!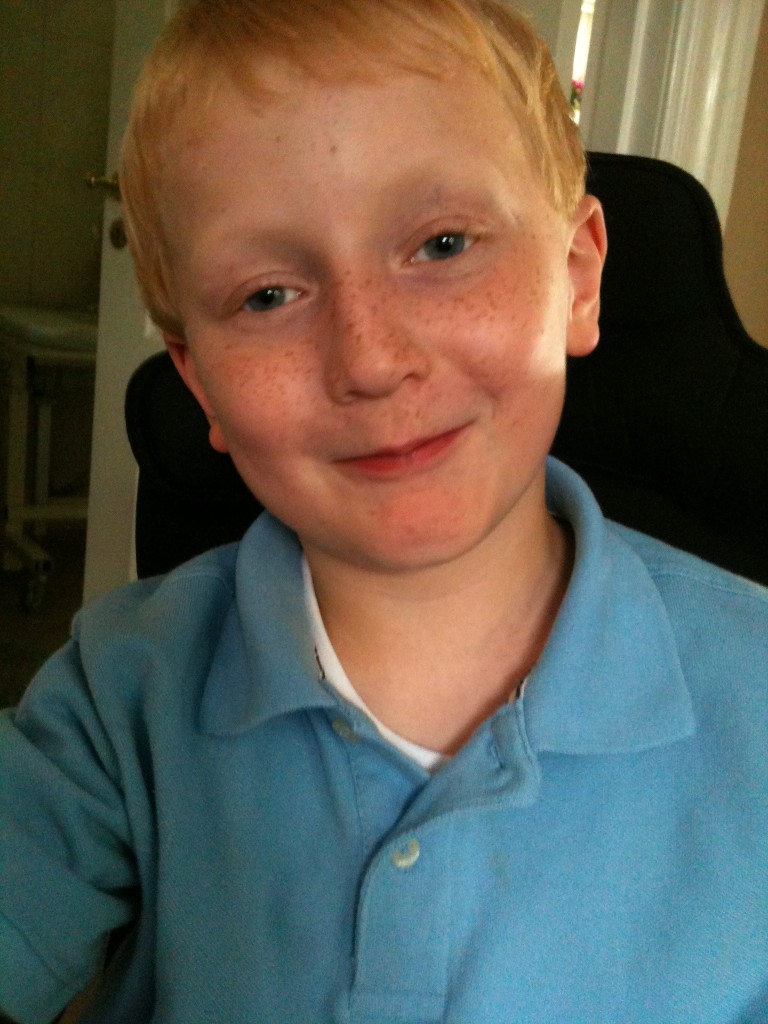 Farewell Mathias. May you rejoice in God's kingdom, where all love and all are lovable, and all tears are wiped away. Requiescat in pace.