Today is the Twelfth Day of Christmas and the feast of epiphany, the day the three wise men presented their gifts of gold, frankincense, and myrrh to the Holy Family. As a day of giving and celebration, it's a good day for treats and desserts, such as muffins.
The Place of Baked Goods in the PHD
Our PHD Food Plate has a section for "Pleasure Foods." It occupies the stem and leaves of our yinyang apple, indicating that these should be relatively small parts of the diet.
Baked goods are not mentioned, but it would be appropriate to list "Gluten-free baked goods and fructose-free sweets" among the Pleasure Foods.
These foods are made of PHD-compliant ingredients – rice flour, potato starch, and tapioca starch in the case of baked goods – but they have a few defects:
Low nutrient density. As a purified macronutrient, gluten-free flour is unaccompanied by micronutrients.
Low water content. Whole food starches, like white rice and white potatoes, typically have less than 500 calories per pound due to a high water content. But flours and foods made from them, like noodles and pizza dough and bread, lack water and provide 1300-1500 calories per pound.
The lack of water is potentially a problem because water is crucial to digestion, especially digestion of proteins. In the stomach, food needs to be dissolved in an acidic water bath in order for protein-digesting enzymes like pepsin to work properly. Dry foods are just not digested well.
Flour-based foods may be problematic for more reasons than their lack of water. Last year, Ian Spreadbury proposed that "acellular carbohydrates" – carbohydrates that are not surrounded by cell walls and embedded within a cytoplasm – may be unhealthy because the carbs can feed bacteria in the upper digestive tract which can then infect important organs like the pancreas, gallbladder, liver, and small intestine. Cellular carbohydrates would be digested lower in the intestine, helping to maintain an antiseptic and healthy upper small intestine.
We included gluten-free spaghetti and lasagna as items in the meal plan template of our book, but only on one day per week, and only in combination with sauces that provide water.
Due to their dryness, baked goods are probably best eaten as desserts – in combination with fat and liquids, but not much with protein, as they may interfere with protein digestion.
This means they are not good for a weight loss diet, but are excellent foods for those who naturally eat a low protein, high-carb-and-fat diet: children!
Baked goods are kiddie foods. Children eat a lot of calories per unit body weight, so they generally aren't going to be malnourished; a certain amount of empty calories is just fine. And children's diets should be lower in protein (7% protein at infancy, rising gradually to 15-20% protein in adulthood) and higher in carbohydrate (40% carb at infancy, decreasing to 20-30% carb in adulthood) than adult diets. That means less meat and more dessert type foods for the kids.
So here's a recipe to please your children: muffins.
Gluten-Free Muffins
For some reason, gluten-free flours sold in stores are often far more expensive than their ingredients purchased individually. They also tend to have anti-caking agents and stabilizers that are unnecessary if you mix your own.
For muffins, we start by mixing our own gluten-free flour. For 3 cups of flour we use:
2 cups rice flour
2/3 cup potato starch
1/3 cup tapioca starch
We recommend combining dry and wet ingredients separately. In a mixing bowl, combine:
2.5 cups gluten-free flour
1.5 tsp salt
0.5 tsp baking soda
2 tsp baking powder
Cinnamon and nutmeg to taste (0.5 tsp each for us)
1 stick (4 oz / 113 g) butter cut into small pieces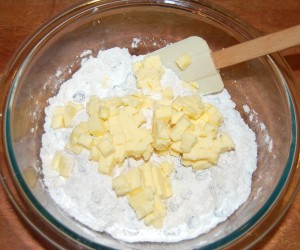 With your hands, kneed this mixture until the butter has merged with the flour into a consistent texture; squeeze any buttery blobs until the butter is well mixed. At this point, mix in a cup of your choice of flavoring ingredient:
1 cup raisins or blueberries or chocolate or ground nuts
In a separate bowl, combine the wet ingredients:
1 1/3 cup milk
2 large eggs
1/3 cup honey
1 tsp vanilla
The final volume should be about 2 cups, add milk as necessary to achieve that.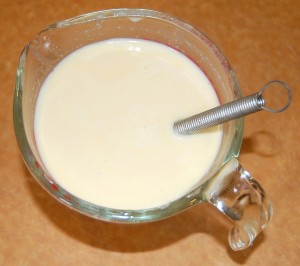 After mixing the wet ingredients, combine them with the dry ingredients and mix well.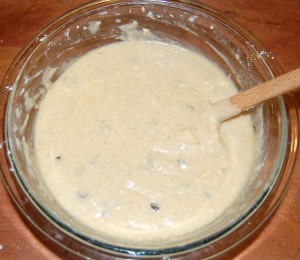 Pour the mix into a muffin sheet and bake at 350 F (175 C) for 20 to 22 minutes.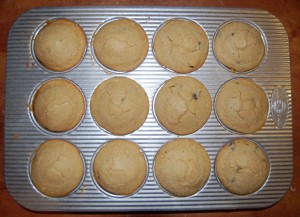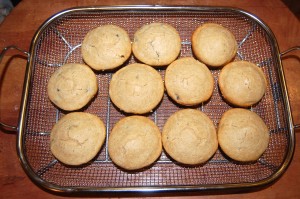 Eat the muffins with something fatty (butter, whipped cream, creamy cheese, or sour cream all work) and maybe a sweet topping (such as fruit, berries, jam, or honey). Note: the following photos don't have enough butter!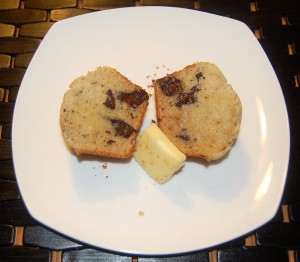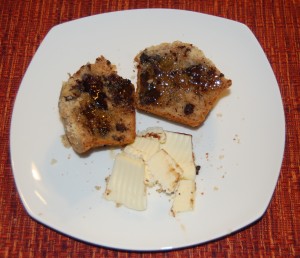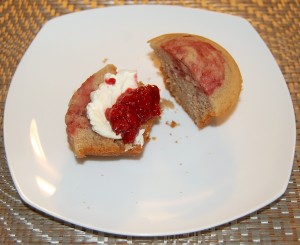 Conclusion
Muffins are a great dessert or kid's treat. Topped with 1-2 tablespoons of butter and accompanied by a drink to aid digestion, they taste great. They won't help you lose weight, but they just may raise your spirits.