UPDATE: Melissa has given this dish a great name: "Neo-Agutak," after the Inuit dish Agutak or "Eskimo ice cream."
Eating certain foods during a fast can increase its health benefits.
In the book we recommend coconut oil and fiber-rich calorie-poor plant foods. Our reasoning is:
Short-chain fats in coconut oil make the fast more ketogenic. Ketones have benefits for immunity, neuronal function, cancer suppression, and HDL production. They also reduce glucose requirements, making the fast less stressful.
Fiber in plants may be digested by gut bacteria to butyrate, a beneficial short-chain fat.
Anti-microbial plant compounds help fight gut pathogens and biofilms, shifting the balance of power in the gut toward commensal species.
Good food choices during a fast include green leafy vegetables, which are highly nutritious; traditional herbal spices, like oregano or turmeric, which have antimicrobial and anti-inflammatory activity; and berries, which are rich in antimicrobial compounds.
What I Ate During Today's Fast
Baby spinach, cranberries, and coconut oil.
First, I put a layer of baby spinach in a bowl: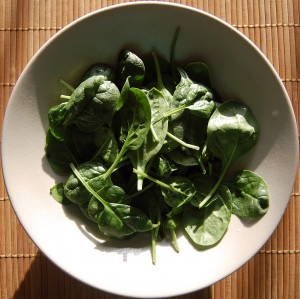 Next, I add cranberries and coconut oil: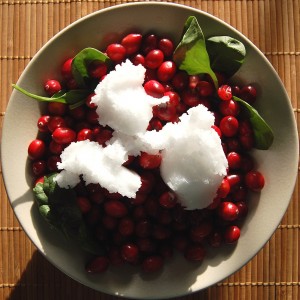 Then, I heat them in the microwave for a few minutes. After the coconut oil has melted and the spinach shrunk, I add more spinach and cranberries. You can also add spices to taste. Then, another few minutes in the microwave so that most of the cranberries burst their skins, and let it cool. It will look like this: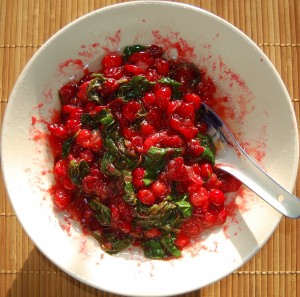 This bowl has about 125 carb calories from a half-pound of cranberries, about 500 fat calories from coconut oil, and a host of gut-cleaning pathogen-disabling plant compounds. It tastes great (I think), and makes a passable Christmas decoration!
I started eating this about 1 pm. I had eaten 3/4 of it by 4 pm, when I added 3 egg yolks. It was finished by 6 pm. This was my only food before dinner.