Louise Yang and Jeremy Hendon blog at Ancestral Chef, and I had the pleasure of talking with them at PaleoFX. They share a lot in common with Shou-Ching and I; you can read about Louise's eclectic background here. Like us, they combine busy professional lives with a love of food, and try to create simple and easy to prepare but delicious meals drawing upon all the world's cuisines. Louise has also defended the honor of the potato, which endears her to us. Louise has kindly agreed to share one of her favorite recipes. Here's Louise!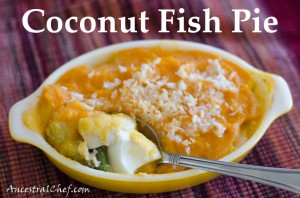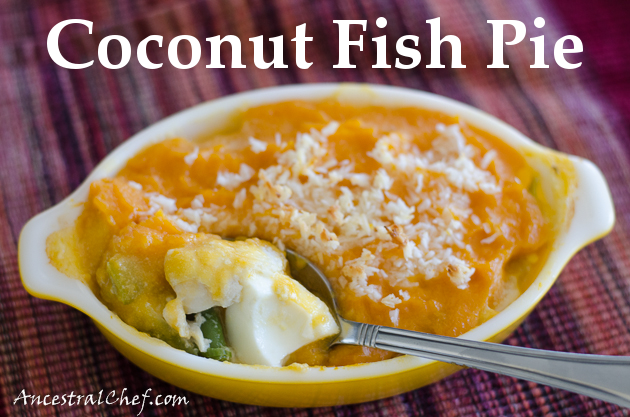 Growing up in England, I was destined to love pies. 
For those of you who haven't visited England or Australia, when I say "pies," I don't mean the typical American dessert pie (although I have to admit a fondness for gooey apple pies); I mean the savory pies filled with delicious meats and with sauces oozing out from their starchy coverings.
From steak and kidney pies, to cottage pies, to shepherd's pies – there's pretty much a pie for every food you can imagine!
Well, I didn't want being Paleo/PHD to distract me from my obvious pie-eating destiny, and so the coconut fish pie was born.
Note: The full ingredients list and instructions are at the end.
Preparing Coconut Fish Pie
Start by boiling 3 or 4 sweet potatoes (or potatoes) until they're tender (check by pushing a fork into them).  You can speed up the process by peeling and chopping the sweet potatoes (or potatoes) and then boiling them.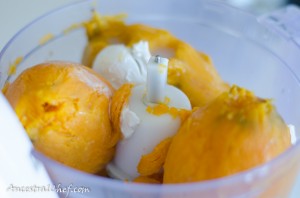 Blend the peeled sweet potatoes (or potatoes) in your food processor with 2 tablespoons coconut oil and 1/4 cup coconut milk until it turns into a nice mash.  Put the mash aside while you make the rest of the pie.
Boil 3 eggs, and preheat the oven to 350F (175C).
Chop up 1 cup of carrots.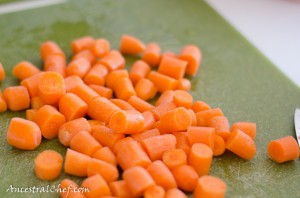 Chop up ½ cup of green beans.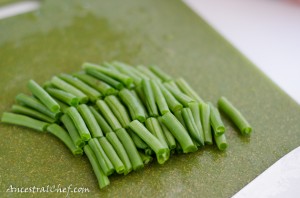 And chop up 1 leek (approx. 1 cup).
Pour the rest of the 1 can (13.5oz or 400ml) of coconut milk (i.e., what you didn't use for the mash) into a saucepan and heat on medium heat.  Add in the chopped vegetables.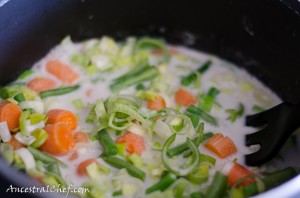 While the vegetables are cooking, cut approx. 1.5 lbs of white fish (I used tilapia) into 1-inch cubes/chunks (you can also substitute some prawns or scallops for the fish).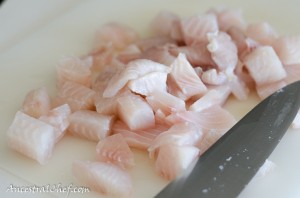 Place the fish into the saucepan as well.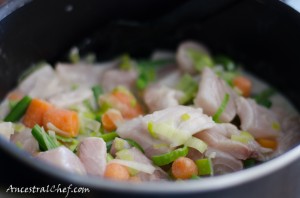 Grate 2 teaspoons of fresh ginger into the pot (tip: store ginger in the freezer and grate some into your dishes when needed).  Add salt and pepper to taste.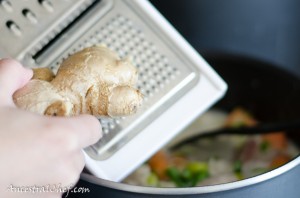 Cook for 5 more minutes on medium heat and then pour into an 8 by 8 pyrex oven dish or else into several small ramekins or miniature casserole dishes (4-8 depending on how large the ramekins are).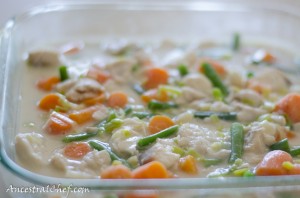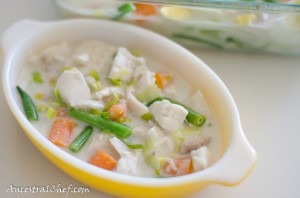 Peel the hard boiled eggs, and cut them into small pieces and place them into the dish as well.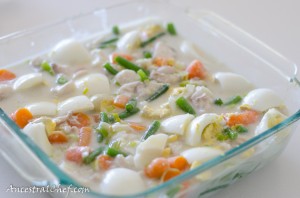 Gently spread the sweet potato (or potato) mash over the top of the fish mixture so that the entire mixture is covered (it doesn't need to be a thick layer).  If the fish mixture has too much liquid, then spoon some of the liquid out.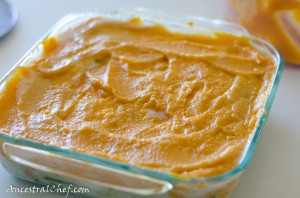 As an optional topping to make the pie just a bit prettier, mix 4 tablespoons of coconut flakes with 2 tablespoons of melted butter (omit this if you're dairy-free).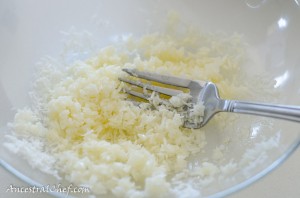 Gently sprinkle the coconut flakes mixture over the top of the mash.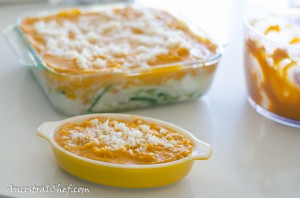 Bake in the oven for 20 minutes (you'll see the sauce boiling and the coconut flakes will get a bit toasted).  Leave to cool for a few minutes and serve!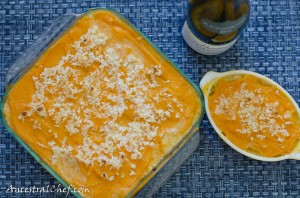 Fish Pie Recipe
Makes 4-6 servings  Preparation Time: 40 minutes  Cooking Time: 20 minutes
Ingredients:
Topping:
3-4 medium sized sweet potatoes (or potatoes)
2 tablespoons coconut oil
1/4 cup coconut milk (leave the rest of can of coconut milk for the fish mixture).
1/4 cup coconut flakes and 2 tablespoons melted butter (optional topping)
Fish Mixture:
1.5 lb white fish (or prawns or scallops), cut into small 1-inch chunks
Rest of 1 can (13.5 oz or 400ml) coconut milk
1 cup carrots, chopped
½ cup green beans, chopped
1 leek (1 cup), chopped
2 teaspoons fresh ginger, grated
Salt and pepper to taste
3 hard boiled eggs, chopped
Instructions:
Boil the sweet potatoes (or potatoes) until they are soft (you can peel and chop them up if you want them to cook faster).  Food process with 2 tablespoons of coconut oil and ¼ cup of coconut milk.
Hard boil 3 eggs.
Pre-heat oven to 350F.
Heat the rest of the can of coconut milk in a saucepan on medium heat.  When it starts boiling, add the chopped carrots, leek, and green beans.
Cut up the fish into 1-inch cubes/chunks and add to the saucepan.
Grate some fresh ginger into the saucepan and season with salt and pepper to taste.  Cook for 5 more minutes.
Spoon the fish mixture into an 8 by 8 inch pyrex oven dish or into individual ramekins (4-8 depending on ramekin size).
Peel and chop up the hard boiled eggs and drop them into the fish mixture.
Spread the mash over the top of the fish mixture.
For the optional topping, melt 2 tablespoons of butter and mix in 1/4 cup of coconut flakes.  Sprinkle the coconut flakes mixture over the top of the sweet potato mash.
Place in oven for approx. 20-25 minutes.  Make sure after 20 minutes that the coconut flakes are not turning too brown.