We have little baking experience, so we're just beginning to learn how to make Perfect Health Diet compliant doughs and baked goods. This recipe turned out very well — unexpectedly well considering it was our first try. And it's so easy; it takes less than half an hour.
Ingredients
Dry ingredients:
Rice flour 1 cup (optional: sticky rice flour)
Tapioca flour 1/3 cup
Baking soda 1/2 tsp
(optional) Beef gelatin 1 tablespoon
Wet ingredients:
Butter ½ cup (1 stick)
Egg yolks 3
Rice syrup 1/4 to 1/3 cup
Vanilla ¼ tsp
Flavorings
Chocolate chips
(optional) pistachios
(optional) raisins
(optional) pomegranate seeds
Preparation
Melt the butter (we used the microwave, about 20 seconds) in a mixing bowl. Add the other wet ingredients and mix thoroughly.
Mix in the dry ingredients until the dough has an even consistency. It will look like this: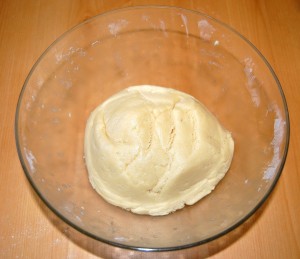 Then fold in some flavorings. We broke up some bulk dark chocolate and included pistachios: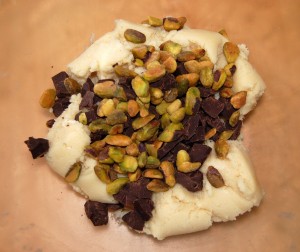 In another batch we tried chocolate covered raisins: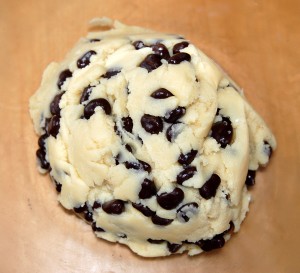 Place cookie-sized batches on an aluminum foil lined baking sheet:
The aluminum foil prevents the bottom of the cookies from burning.
Bake at 375 F for 10-12 minutes. Remove the cookies and let them cool for at least half an hour; after they are cooled, refrigerate them.
This was the chocolate and pistachio batch: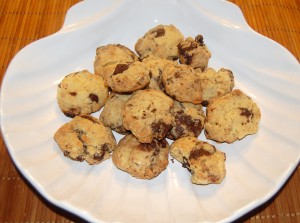 The chocolate covered raisins melted and produced brown cookies: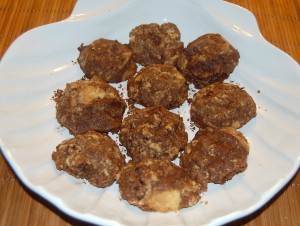 Post-eatem
The cookies were good – we were surprised how well they came out on our first attempt.
Shou-Ching really loved them, and so did our guests, but I thought the texture was drier and more crumbly than I would like. (Of course, I used to prefer uncooked dough to cookies, so I like things chewy.) This is a general issue with rice flour – it doesn't hold together as well as gluten-containing flours. We tried both sticky rice flour and regular rice flour; I think the sticky rice flour might be very slightly better but it was difficult to detect a difference.
Here are some tweaks we'll try next time:
Add more egg yolks. A little more fat might give a moister texture.
Try potato starch in place of tapioca flour.
Experiment with the protein. Most recipes either have no protein or use egg whites. We like the idea of a balanced mix of macronutrients, so we wanted to include a bit of protein. We tried the beef gelatin, partly because we have some around, and partly because gelatin mixed with water makes a good glue. We wondered if this might help the rice dough cohere. As yet we haven't tested enough variations to know whether this was a good or bad idea.
We'd love to hear tips from more experienced cookie chefs – and reviews from the most honest critics, young children!