This is our name for Chinese dumpling fillings in Vietnamese spring roll wrappers.
It could be described as a Perfect Health Diet-compatible Asian-style hamburger. Dumpling burgers? Hamburger rolls?
Ingredients
Here are some of the filling ingredients – green onion, shiitake mushroom, 1/2 lb shrimp, ginger, and garlic.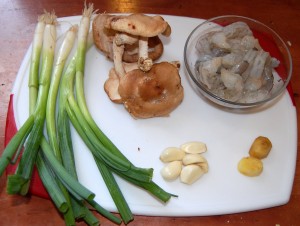 Other filling ingredients include 2 lb ground beef, 2 tsp fish sauce, 2 tsp soy sauce, and a pinch of salt. Traditionally Chinese dumplings contain ground pork, but we favor beef over pork.
You'll also need spring roll wrappers, and for a dipping sauce rice vinegar and ginger.
Preparing the filling
We minced all filling ingredients except the ground beef and shrimp in a food processor, pureed the shrimp separately, and combined them with the ground beef in an unheated wok. This is 2 lb ground beef, the shrimp, and the other filling ingredients before we mixed them: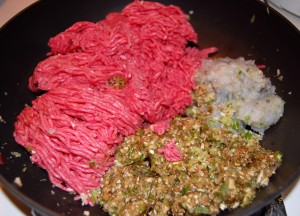 This is what they look like after hand mixing: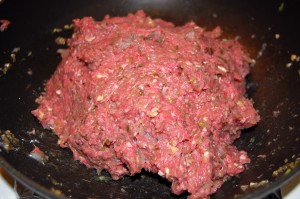 Preparing the spring roll wrappers
The easiest way to do this is to buy pre-made Vietnamese spring roll wrappers. You can see that the ingredients (tapioca, rice, salt, and water) are Perfect Health Diet-compatible.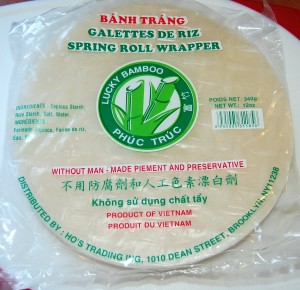 The wrappers need only be pre-soaked briefly in warm water, one by one, just before use: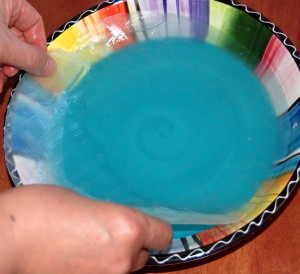 Once a wrapper is moist, soft, and flexible, spread it on a work surface and place some of the filling on it. Then wrap the wrapper around the filling, burrito-style: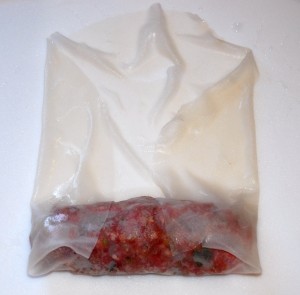 Cooking
We recommend steaming the dumpling rolls. We used a wok with a steaming tray on top. To prevent the rolls from sticking to the steaming tray, we placed a bed of shredded cabbage between the steaming tray and the rolls: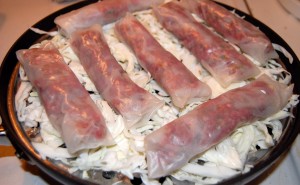 Pre-heat the water to a near-boil before placing the steamer tray on top. When ready to cook, cover the wok, bring the water back to a boil, and steam for 10 minutes. When the filling has changed color throughout, they're done: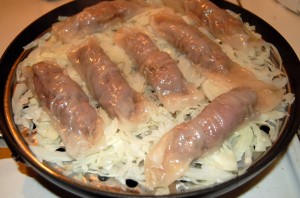 Serve them with the now-cooked cabbage, some cucumber slices, and a dipping sauce made from sliced ginger and rice vinegar: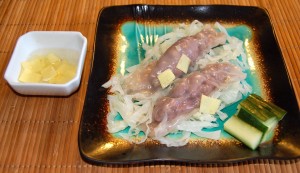 Alternative cooking methods
You can also fry the dumpling rolls, as here: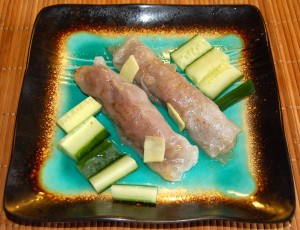 Conclusion
This is a very flexible dish: you can adjust the filling ingredients and dipping sauce to suit your taste. We quite liked this hamburger-like flavor, but next time we'll probably use less ground beef and more shrimp. Or maybe we'll try some cheese, onion, and tomato in the filling for a cheeseburger roll!