You've just come home from work, you're tired and hungry, and would like to eat in 20 minutes. How do you make a meal that's easy and quick, but new and different?
The solution is to fry a meat and boil a starch, but use a tasty sauce to give variety to this most easily-cooked meal. One of our favorite sauces is something we call Pacific Sweet&Sour Sauce.
The Sauce
The essential ingredients are rice syrup for sweetness, lemon juice or rice vinegar for sourness, tarragon, rosemary, and garlic. An optional ingredient is any kind of chili powder for spiciness; we used the Vietnamese spicy sauce at top – this one happens to be Huy Fong Chili-Garlic Sauce
and is made from chili, salt, garlic, and distilled vinegar.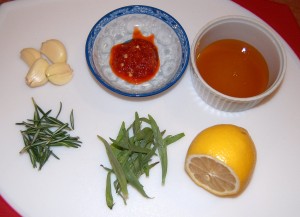 Of course you can substitute: basil works well as a herb, and coconut milk is an excellent addition to the sauce. Fish sauce gives it a more Vietnamese flavor.
Dice the herbs and set them aside; mince the garlic and mix with the sweet, sour, and spicy ingredients: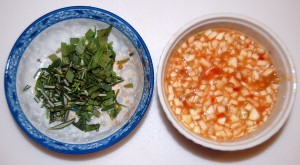 The sauce is ready. We used about 1 tbsp rice syrup and juice of a full lemon.
Pacific Sweet&Sour Salmon
Removing the central bone from the salmon steaks speeds up cooking significantly, and finishes the meat when the skin is cooked to just the right crispiness. Here we've filleted, and put salt and pepper on, two salmon steaks:
We put a bit of coconut oil in the pan and cooked at medium-high heat.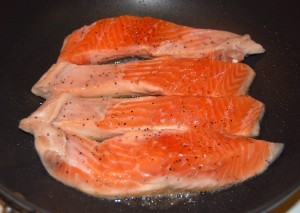 When the color has changed about 2/3 of the way up the sides of the steaks, which may take 3-4 minutes, they're ready to flip. After flipping cook another 2 minutes and add the sauce: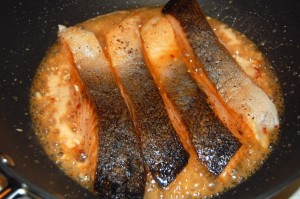 With the sauce in cook another 1 minute on one side, and flip again to finish for another minute. Add the herbs in this final minute: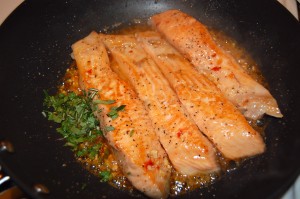 Be sure to keep all the sauce when you transfer to a serving plate: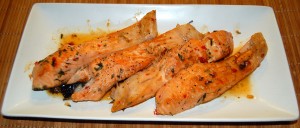 Pacific Sweet&Sour Pork Bellies
We like pork belly a lot: it is a tasty, fatty cut of pork, and we like the natural flavor better than processed bacon.
If you're nervous about timing, you don't have to cook everything together: you can pre-cook the meat, then add it back to the sauce.
Here's an example. After cooking pork belly slices, remove the meat and add the Pacific Sweet&Sour sauce to the pan oil: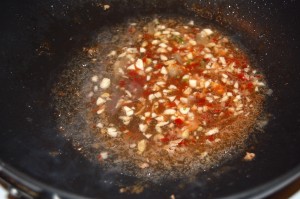 After a minute of heating and stirring, add the herbs:
Return the meat to the pan, mix, and serve: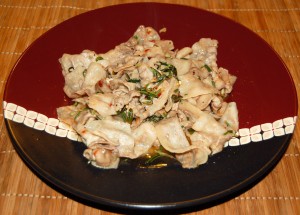 Pacific Sweet&Sour Beef Liver
We find this sauce works very well with beef liver too: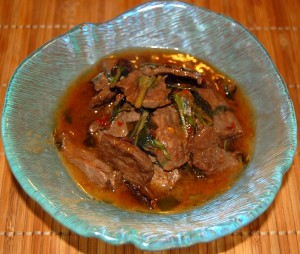 Shou-Ching, who doesn't like the taste of beef liver, is happy to eat this.
If you really dislike the taste of liver, you can further remove the liver taste by boiling the beef liver slices briefly before putting them in the pan.
Conclusion
This sort of meal is easily cooked in 20 minutes or so. Alongside the meat, we prepare a starch – usually rice cooked in our rice cooker or warmed in the microwave (one batch lasts us 2-3 days), or potatoes or taro boiled or re-heated in the microwave (again, we prepare enough for 2-3 days) – and serve assorted vegetables – for us, usually various flavors of kimchi and seasoned seaweed. Kimchi and seaweed require no cooking.
We're having Pacific Sweet&Sour Mussels tonight, with coconut milk in the sauce. Create your own variations! They'll all taste great.