The importance of achieving a good omega-3 to omega-6 ratio has been demonstrated repeatedly in clinical trials and epidemiological studies.  Cardiovascular disease mortality is especially strongly dependent on this ratio [1]: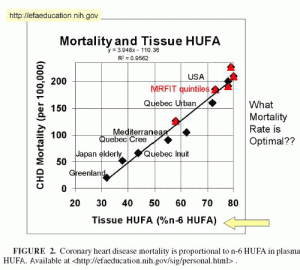 This plot shows coronary heart disease mortality plotted against the fraction of long polyunsaturated fats in tissue that are omega-6, not omega-3.  It's best to have around 30% omega-6, 70% omega-3.  But most Americans have around 78% omega-6, 22% omega-3.  Their omega-6 to omega-3 ratio is 9 times the optimum, and CHD mortality is ten-fold higher than is necessary.
Dr. Bill Lands, one of the pioneers in omega-3 and omega-6 science, notes that the tissue ratio is determined by how much of each type of fat is eaten:
There seems to be no 'corrective' metabolic response to prevent fatal tissue combinations from being developed. As much as humans might wish for some protective re-adjustment of the metabolic promiscuity, the enzymes seem to continue assembling harmful and harmless combinations in response to supplies ingested – without much regard to or feedback from the consequences. [2]
So it's important to eat these fats in the right ratio.
How do you do that?  These steps:
Minimize omega-6 fats by:

Avoiding most vegetable oils, including soybean oil, corn oil, safflower oil, and canola oil.
Using low-omega-6 oils, such as coconut oil, butter, beef tallow, olive oil, and lard, in cooking and dressings and sauces.
Regularly eating low-omega-6 red meats, like beef and lamb.

Get sufficient omega-3 fats by eating 1 lb per week of fatty cold-water fish, like salmon or sardines.
These simple dietary changes can reduce your risk of dying from a heart attack by a factor of ten.
Yet how many doctors recommend these steps?  Indeed, many recommend the opposite:  avoiding saturated fats in coconut oil, butter, and beef tallow; avoiding red meats; and eating lots of vegetable oil.
This is a great example of our First Law of Health:  Every conventional dietary recommendation is wrong.
[1] Lands WE. Dietary fat and health: the evidence and the politics of prevention: careful use of dietary fats can improve life and prevent disease. Ann N Y Acad Sci. 2005 Dec;1055:179-92. http://pmid.us/16387724. Lands WE, http://efaeducation.nih.gov/sig/personal.html.  Hat tip Stephan Guyenet, http://wholehealthsource.blogspot.com/2008/09/omega-fats-and-cardiovascular-disease.html.
[2] Lands WE, http://efaeducation.nih.gov/sig/composition%20maintained.pdf.