Commenter qualia recently got his serum 25-hydroxy vitamin D levels tested and found a surprising result: He had doubled his vitamin D intake from 5,000 IU to 10,000 IU per day, but his 25(OH)D levels didn't budge – they were at 61 and 62 nmol/l, equivalent to 24.4 ng/ml in American units.
24 ng/ml is well below the optimal level for healthy people of 40 ng/ml. When a healthy person supplements vitamin D, the serum 25(OH)D level usually rises linearly with dose up to about 40 ng/ml, then it rises very slowly thereafter as the body tries to keep 25(OH)D from rising by putting vitamin D into storage.
So it was natural for qualia to expect his serum 25(OH)D level to rise when he doubled his dose.
But it didn't. The stability of his 25(OH)D levels suggests that his body has reached an equilibrium at 24 ng/ml. Instead of plateauing at 40 ng/ml with abundant vitamin D3 as a healthy person would, he is plateauing at a lower level.
Why does that happen?
Well, I don't know. But I would like to provide qualia with a little bit of background, because this could be a clue that helps diagnose his condition and optimize treatments.
Normal vitamin D regulation strictly controls 1,25D levels
I suggested in the comment thread that qualia get his 1,25D levels measured as well as 25(OH)D.
Levels of 1,25D are not routinely measured, even in scientific studies, because they rarely vary. Blood levels of 1,25D control calcium homeostasis and are tightly regulated. In healthy people, as vitamin D intake rises from zero, serum 1,25D levels shoot up to normal levels before 25(OH)D levels reach 12 ng/ml. They then stay in a normal range no matter how high 25(OH)D levels rise. The kidney is the primary controller of blood 1,25D levels. The normal range is about 16 to 42 pg/ml (42 to 110 pmol/L).
While all human cells can convert 25(OH)D to 1,25D, most cannot release 1,25D into the blood. 25(OH)D freely crosses cell membranes and maintains the same level throughout the body; but 1,25D does not cross membranes. This allows every cell in the body to "personalize" its 1,25D levels to its own needs.
Both 25(OH)D and 1,25D are active ligands for the Vitamin D Receptor (VDR), a nuclear receptor.  [1] When either 25(OH)D or 1,25D binds to the VDR, the compound is imported into the nucleus, where it combines with a vitamin A-activated Retinoid X-Receptor (RXR) to form a transcription factor which, among other roles, upregulates production of antimicrobial peptides (AMPs) that are crucial for cellular defense against intracellular pathogens.
The difference between 25(OH)D and 1,25D is that 1,25D is about fifty-fold more likely to bind to the VDR than 25(OH)D. So by converting more 25(OH)D to 1,25D, cells can upregulate their VDR activation and upregulate their immune defense against pathogens. Meanwhile, uninfected cells can keep their 1,25D levels low. Across human cells, there is a thousand-fold variation in the rate of conversion of 25(OH)D to 1,25D. [1]
In chronic infectious diseases, blood 1,25D is dysregulated
However, in people with chronic infectious diseases, 1,25D levels range all over the map, and are largely uncorrelated with 25(OH)D levels.  Here is a scatter plot from a paper by Dr. Greg Blaney [2]: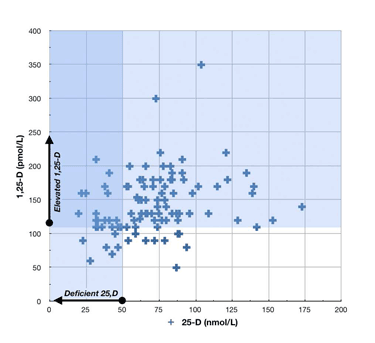 The patients in this sample were 100 chronic disease patients: 29 with fibromyalgia, 27 with chronic fatigue syndrome, 12 with post-treatment Lyme Disease, 9 with metabolic disease, 6 with osteoarthritis, 4 with irritable bowel syndrome, 4 with psoriatic arthritis, 3 with multiple sclerosis, 3 with seronegative arthritis, and 27 with other diseases.
Probably all of these diseases are caused by chronic parasitic infections.
A few things to note from this plot: (1) 25OHD levels in a lot of chronic disease patients cluster around the 61 nmol/L level that qualia has; and (2) most chronic disease patients have 1,25D levels well above the normal range, even though their 25OHD levels are mostly below the optimal level in healthy people.
What Causes 1,25D Dysregulation?
Here's where we get into speculation. There just hasn't been research exploring this question. Researchers are only just realizing that these diseases are infectious in origin and that vitamin-D-mediated innate immunity is critical to the intracellular immune defense.
Rather than speculate, I'm just going to mention a couple of possibilities.
First, in granulomatous diseases like sarcoidosis, it's common to have low 25(OH)D and very high 1,25D. Granulomas are nodules where immune cells have been unable to eliminate some foreign matter and instead have built a barrier around it that walls it off from the body.  Granulomas often release 1,25D to the body. Some other granulomatous diseases: 
Tuberculosis
Leprosy
Schistosomiasis
Histoplasmosis
Cryptococcosis
Crohn's disease
These are all infectious diseases, some of them protozoal in origin.
Second, nearly all human pathogens manufacture proteins or RNA that interfere with the innate immune response. Some are known to interfere with the VDR or with other aspects of vitamin D biology. (The HIV virus blocks the VDR entirely, one reason why it predisposes AIDS patients to infections.) It's possible that vitamin D dysregulation is brought about by direct pathogen actions to disrupt cellular vitamin D pathways.
Conclusion
The only thing we can conclude with confidence from qualia's vitamin D tests is that he must have a chronic infectious disease … but he knew that already.
Qualia would be best served by getting advice from an infectious disease specialist with experience in chronic diseases. Such a doctor might be able to narrow down the diagnosis. A diagnosis would help determine which antibiotics might be appropriate to help fight the infection.
Until a doctor's diagnosis or qualia's personal experience indicates otherwise, it's probably prudent to continue with a reasonable intake of vitamin D and to increase iodine as quickly as possible. (Even this is not certain: the standard advice is to minimize vitamin D in granulomatous diseases.) Other infection-fighting supplements, like vitamin C, N-acetylcysteine, and glutathione are likely to be helpful also.
Finally, I always recommend that anyone with a chronic disease find a good discussion forum, like the one at http://cpnhelp.org, and try to find people with similar disease histories and learn from their experiences.
Best of luck, qualia, and please keep us posted.
References
[1] Lou YR et al. 25-Hydroxyvitamin D(3) is an agonistic vitamin D receptor ligand. J Steroid Biochem Mol Biol. 2010 Feb 15;118(3):162-70. http://pmid.us/19944755.
[2] Blaney GP et al. Vitamin D metabolites as clinical markers in autoimmune and chronic disease. Ann N Y Acad Sci. 2009 Sep;1173:384-90. http://pmid.us/19758177.