Marla is having trouble visualizing a 70% fat meal, and asked for a sample meal plan. I don't have meal plans at the ready, but I do have some random food pictures, and this one shows a typical meal at our home. Click to enlarge: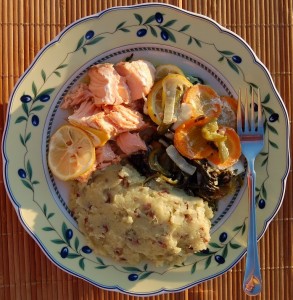 The meal is salmon, vegetables (spinach, bell pepper, onion, carrot, and lemon slices), and mashed sweet potatoes. The salmon and vegetables were baked together with butter, because that's an easy way to make vegetables. The sweet potatoes were mashed with butter and coconut oil.
Overall this meal is light in carbs: this is a reasonable amount of meat for a meal (we tend to the low protein side of the diet), but has only about 100 carb calories, so lower in starch than we like. But it is at least 70% fat, probably closer to 80% fat, in terms of calories. So it gives a reasonable idea what our meals look like.