We've made available for download (in a sidebar box) a PDF file we call the "Color Companion." It has all the color images from the book, with some commentary. If you want to see the book pictures as they were meant to be seen, please download the Color Companion.
You can also learn the identity and career preferences of the cartoonist who drew this: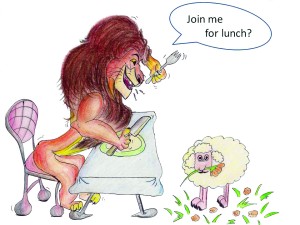 A Few Administrative Matters
Most e-book buyers in the US have probably received their books by now. Most e-book buyers in Australia and Europe will probably get their books next week or early the following week.
Now that the book is widely available through online sites, we've taken down the links for buying through the site. We've created a "Buy the Book" page with information on how to purchase the book; this will be the place where we add information about bulk purchases, e-books, buying from remote parts of the world, and such things.