CarbSane has asked for a recipe for Yang Zhou Fried Rice; Yang Zhou is a city in southern China in a leading rice-farming region.
As far as we know there is no special ingredient, though Wikipedia says that barbecued pork is a characteristic ingredient. The great thing about fried rice is that you can adjust the ingredients to your taste; use as many or as few as you like. So, here is our recipe — let's call it Cambridge Fried Rice.
The key steps are to "fry" (really, warm and coat in oil) the ingredients separately, to get a good diffusion of oil throughout the rice and food.
Here's how it's done. As always, click on images to enlarge.
First, gather ingredients. You'll need oils, eggs, long-grain rice (short-grain rice sticks together and doesn't work as well), plus other ingredients of your choice.  Here are peas, carrots, scallions, and shrimp — we'll also use mushrooms: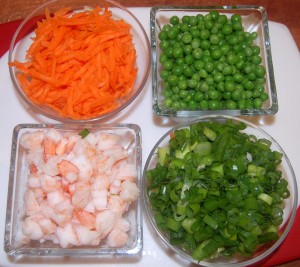 Next, scramble some eggs. Use whatever oil you like, we think eggs go well with butter: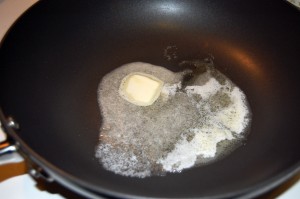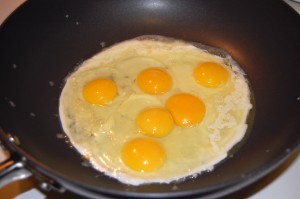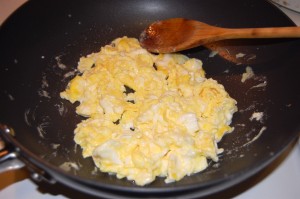 Set the scrambled eggs aside, add new oil to the pan (now we'll use olive oil), and add any of the miscellaneous ingredients that need cooking: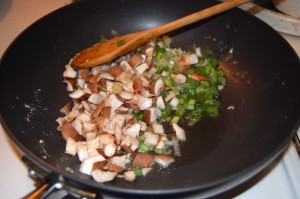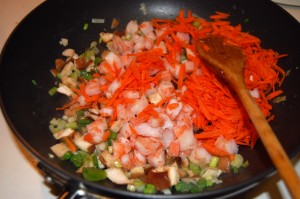 Again, set these ingredients aside: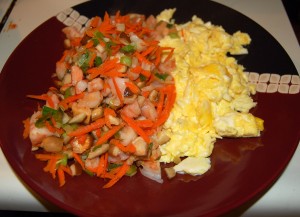 The long-grain rice should have been cooked, but long enough ago that it has had time to cool and dry. Traditionally, fried rice uses leftover rice — cooked earlier in the day or the previous day.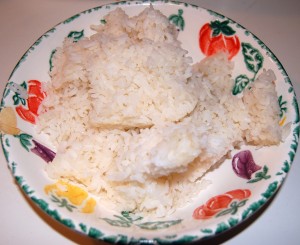 Add oil (now we'll use coconut oil) and rice to the pan, stir until rice has soaked up the oil and is uniformly coated: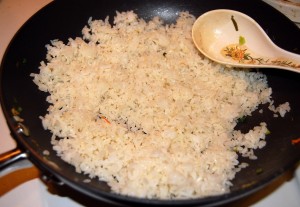 Now return all the ingredients to the pan, mix, and add spices to taste: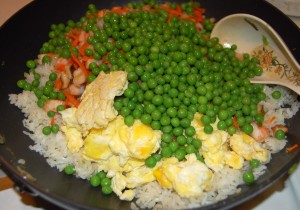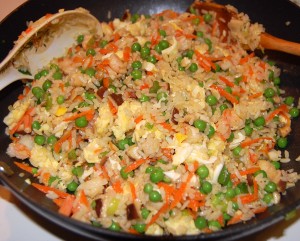 In this case we added salt and pepper, divided the fried rice in two, and added turmeric to one half. (Soy sauce can be added to hot oil when frying vegetables and meat, but it's not necessary.)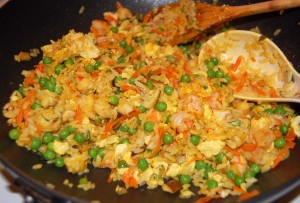 Serve: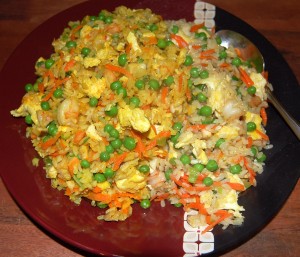 We haven't measured weights or counted calories, but it's fairly obvious that this is a fat-rich (oils, egg yolks), carb-moderate (rice), protein-light (shrimp, egg whites) recipe with vegetables for good measure — essentially, the Perfect Health Diet macronutrient ratios.
This is the basic recipe, add spices or ingredients to your taste!
If you would like another view of Yang Zhou Fried Rice, from a professional chef, here's a video: