We've mentioned that we prepare a soup broth every weekend and have soup as the first course of dinner most days of the following week.
But we haven't mentioned that it's possible to have a slightly different soup every night of the week. Here's how.
The Broth
One of our favorite broths is a beef broth soup made from ox feet. First, find an Asian supermarket and buy some ox feet: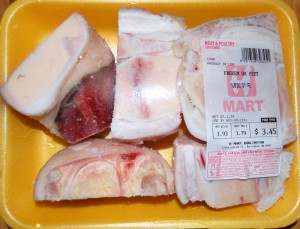 The ox feet will have been sawed so that collagen and sinews are exposed and can dissolve in the broth.
The longer you cook it, the more nutritious the broth gets. Here's what it looks like after 3 hours: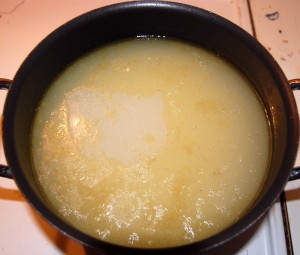 There's some fat on the top, which is delicious! You can also add some dried anchovy to the broth — say 10 anchovies per gallon — which we think improves the flavor.
When you eat the soup, be sure to eat the gelatin off the cooked ox feet. According to Ray Peat, this is very good for you.
The broth can serve as the base for a wide range of soups. Here are some of the ones we make.
Miso Soup
Miso is a classic Japanese soup. To make it, you'll need Wakame seaweed and miso paste. The Wakame seaweed can be purchased at Amazon.com (see our supplement page). 
Wakame seaweed expands about five-fold in water, so use the dried seaweed judiciously. Set some aside to soak and expand in water: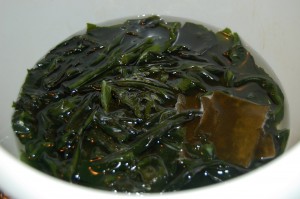 Here we've also put some kelp (kombu) in the water. That's the brownish square on the right. Kelp is much less tasty than wakame, but has more iodine.
Put some of the ox feet broth with a few ox feet in a smaller pot for the evening's soup. Here the broth includes some dried anchovies: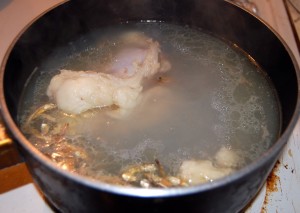 Put aside a small amount of the broth in a bowl and dissolve the miso paste in the broth. Make sure it is thoroughly mixed before returning it to the pot: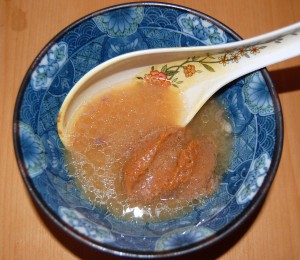 After the seaweed has expanded, add it to the soup and cook for half an hour. When it's nearly done, add miso paste and scallions and cook another 5 minutes. It's now ready to eat: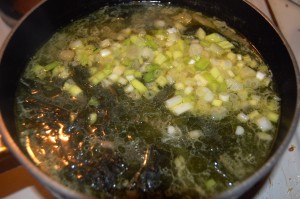 Other Choices
You can add any other ingredients you like to the broth to make soups of different flavors.
Here we've added diced potato, shiitake mushrooms, and scallions: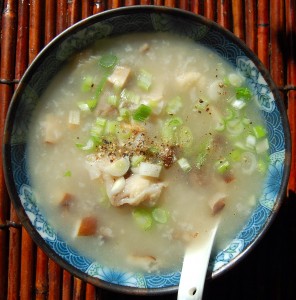 Here we've added egg, tomato, and scallion: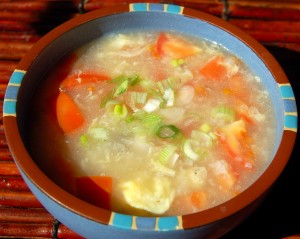 Here we've added sliced ribeye beef, enoki mushrooms, and cilantro. Since thin-sliced beef and enoki mushrooms cook very quickly, you can treat this like a Vietnamese "pho" and simply put the beef and mushrooms in a bowl and pour the hot broth over them: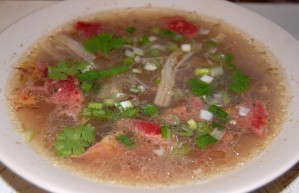 The making of the broth is the only time-consuming part of this. After the broth is prepared on the weekend, new soups can be prepared in 15-30 minutes. Season each soup with salt, pepper, and your favorite spices.