I thought I'd show how we make ice cream these days. It's an easy dessert to make, and great for kids. They may even help in the cleanup by licking the utensils!
We've adopted rice syrup as a sweetener lately. The nice thing about "safe starch" syrup is that the dessert can be made as sweet as one likes, without the health concerns of fructose. With sucrose, I felt obliged to minimize the sweetness.
We've also begun to use lemon juice in a lot of our cooking, since the citrate offers a number of health benefits. We've come to like the citrus flavor and fragrance in our ice cream too.
With these innovations, our basic formula for ice cream is:
2 cups (1 pint) heavy cream. Ideally, the cream should be free of carrageenan, skim milk, or other additives, as discussed in this thread.
6 egg yolks
2 tablespoons rice syrup (more can be drizzled on when it's done to accommodate those with a sweet tooth)
1 lemon (juice and some meat)
berries, nuts, and other flavorings to taste
Today we made blueberry ice cream.
Some ingredients:
In the blender, before and after:
The ice cream maker: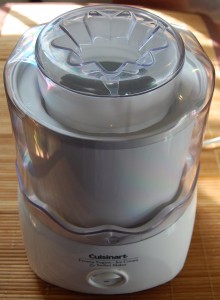 This has a neat design: the pot that holds the ice cream is frozen beforehand (which requires 48 hours), and it mounts on a motor and turns. The rest of the ice cream maker is stationary; a stationary paddle churns the mixture as the pot turns.
Here we are pouring in the mixture: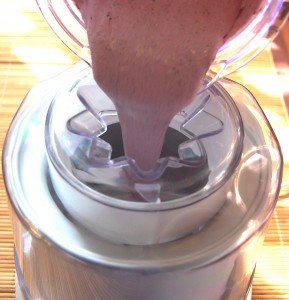 And 15 minutes later it's done: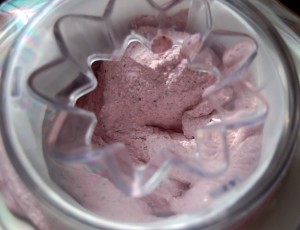 And served: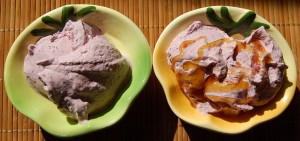 Shou-Ching is the one with the sweet tooth!
UPDATE: Calorie Counts
For those concerned with such things, here's the calorie breakdown of the ice cream:
| | | | |
| --- | --- | --- | --- |
| Ingredient | Carbs | Fat | Protein |
| Rice syrup, 2 tbsp | 150 | | |
| Blueberries, 2 cups | 170 | | |
| Egg yolks, 6 | | 246 | 12 |
| Cream, 1 pint | 24 | 780 | 16 |
| TOTAL: | 344 (25%) | 1026 (73%) | 28 (2%) |
Fructose from the berries represents about a quarter of the carb calories or 7% of total calories.