Pho is probably the most popular dish of Vietnam. Noodle soups are extremely popular throughout the Far East, but Vietnam is known for its distinctive flavors.
Beef Broth
To start, make a beef broth. You might want to refer back to this post: Ox Feet Broth, Miso Soup, and Other Soups. It's not necessary to start from ox feet, any beef bones will do. It's nice to choose bones that have a lot of collagen and fat, that makes a richer broth.
Beef bones are available at a wide range of stores these days. To make our broth, we picked up $3 of beef bones at BJ's Wholesale Club yesterday and cooked them in water for 3 hours. Today, before dinner, we warmed up a portion. Here's what it looks like: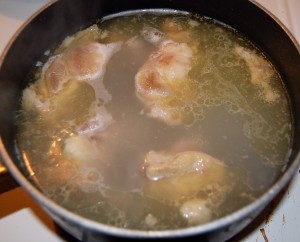 Rice Noodles
You'll also need some rice noodles. We discussed rice noodles in this post: Cranky Grouch's Spaghetti. The chief difference from that recipe is that we used thinner noodles, so it took less than 3 minutes to cook the noodles. As before, it's important to have the water reach a boil before adding the noodles, cook briefly, and then drain the water and cool the noodles in cold water to stop them from cooking further. Another difference is that we didn't add olive oil at the end.
Here's a picture of today's rice noodles cooking: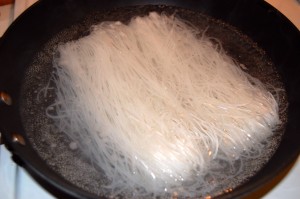 Other Ingredients
The essential ingredients are thin-sliced beef, fish sauce, a lime, and basil leaves. (You can substitute cooked shredded chicken or shrimp for beef.)
Other standard ingredients are bean sprouts (which are legumes, but low in toxicity and more like a vegetable) and cilantro. We think red onions complement the other flavors.
Some spices may also be desired, but are not necessary. Chili sauce for those who like it hot, plum sauce for those who like it sweet. Black bean sauce, garlic, ginger, salt, and pepper are also commonly used.
Thin-sliced beef is readily available at Asian markets. It's often labeled as beef for shabu-shabu, the Japanese version of hot pot: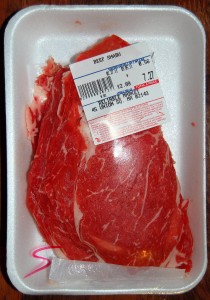 Here is the fish sauce and chili sauce we used. We prefer lighter fish sauces, which are translucent in the bottle; stronger fish sauces are opaque.
Here are the ingredients we used: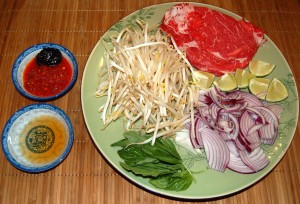 The lime is cut into eighths, the beef thawed; that is fish sauce on the lower left.
Making Your Pho
You can arrange the ingredients to your taste in your own soup bowl. Paul starts with some noodles, onions, and thin-sliced beef: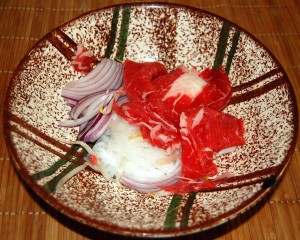 The broth is added hot from the pot, and the thin beef slices change color to brown within seconds. Top with sprouts and basil, and it looks like this: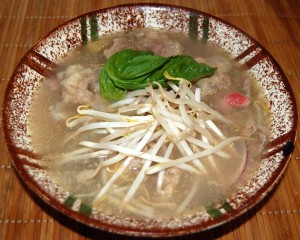 Add lime, fish sauce, and spices to taste, and you're ready to go. Here Paul has lifted out a piece of collagen and fat from the broth – this adds great richness to the soup: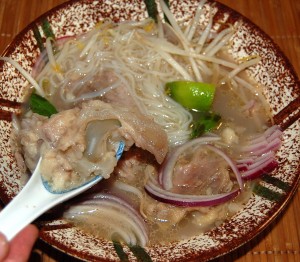 It was delicious! The lime and fish sauce flavor is unique to Vietnamese cuisine and makes a great change of pace from our regular cooking.
If Chef Anthony Bourdain had come to dinner with us tonight, he might have been even more delighted than he was in this video: