Here are things that caught my eye this week:
[1] Oxygen Bad, Carbon Dioxide Good?: Gary Taubes told us there were good calories, bad calories; now the New York Times tells us of good air, bad air.  The Buteyko method, a shallow-breathing technique developed in 1952 by a Russian doctor, Konstantin Buteyko, can greatly improve asthma. The explanation:
Mrs. Yakovlev-Fredricksen said: "People don't realize that too much air can be harmful to health. Almost every asthmatic breathes through his mouth and takes deep, forceful inhalations that trigger a bronchospasm," the hallmark of asthma.

"We teach them to inhale through the nose, even when they speak and when they sleep, so they don't lose too much carbon dioxide," she added.
I find it's a challenge to keep my mouth closed, so I guess I must be deficient in carbon dioxide!
[2] Gary Taubes should use this: Yes, it is possible to be a 405-pound marathoner.
[3] Interesting posts this week: Emily Deans draws some lessons for healthy weight loss from the Ancel Keys experiments. Dennis Mangan lists a number of papers showing that the elderly live longer when their serum cholesterol is higher. (See also O Primitivo.) CarbSane sets forth her Credo. Beth Mazur comes up with a great scheme for judging the healthfulness of food: Weight Maven's EZ Points scheme. Julianne Taylor reports that good things happen when pets eat their wild diets.
Finally, Paleo vs non-Paleo:
[4] Comment of the week: Michelle reports that Raynaud's syndrome might be an infectious condition – and shares the good news that her arthritis is improving with antibiotic therapy:
Dr. Thomas McPherson Brown considered Raynaud's to be in the family of rheumatoid diseases, and found it responded well to low dose pulsing tetracyclines.  Those pesky stealth infections!

http://en.wikipedia.org/wiki/Thomas_McPherson_Brown

http://www.roadback.org/index.cfm/fuseaction/studies.display/display_id/96.html

Michelle, on low dose pulsing Doxy for Rheumatoid Arthritis and doing well.
[5] Don't forget to exercise: From a recent review:
Several large cohort studies have attempted to quantify the protective effect of physical activity on cardiovascular and all cause mortality. Nocon et al. in a meta-analysis of 33 studies with 883,372 participants reported significant risk reductions for physically active participants. All-cause mortality was reduced by 33%
Reference: Golbidi S, Laher I. Molecular mechanisms in exercise-induced cardioprotection. Cardiol Res Pract. 2011 Mar 6;2011:972807. http://pmid.us/21403846.
(Via Fight Aging!)
[6] Animal photo: Are these two married?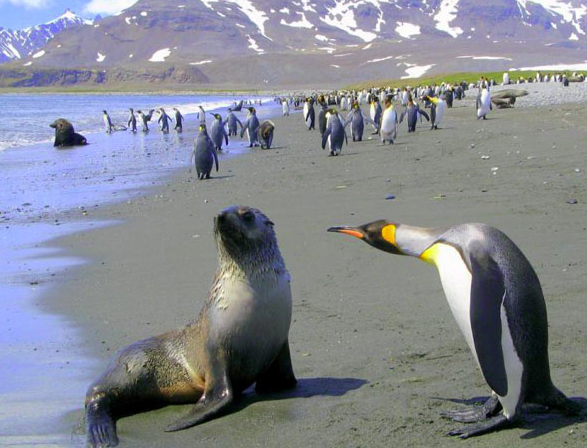 [7] Medical Breakthrough from Bangladesh: From Foreign Policy, how a civil war ended cholera.
[8] It's Dad's fault: When obese, insulin-resistant, low-testosterone male mice were bred with lean, healthy females, their daughters had diabetes-like pancreatic beta-cell dysfunction. They inherited the condition from their fathers via epigenetically modified sperm.
This supports other evidence that obesity induces hard-to-reverse changes throughout the body, and that these changes can be passed on epigenetically.
In an evaluation at F1000, one of the reviewers wondered if low testosterone might be the key. It turns out that men with low testosterone are more likely to develop pancreatic beta-cell dysfunction. Perhaps low testosterone causes diabetes in men and their daughters.
Meanwhile, Sean at PaleoHacks found a psychology paper asserting that "displays of power" increase testosterone. Might this be a new, annoying cure for diabetes?
References:
Ng SF et al. Chronic high-fat diet in fathers programs ?-cell dysfunction in female rat offspring. Nature. 2010 Oct 21;467(7318):963-6. http://pmid.us/20962845.
Stellato RK et al. Testosterone, sex hormone-binding globulin, and the development of type 2 diabetes in middle-aged men: prospective results from the Massachusetts male aging study. Diabetes Care. 2000 Apr;23(4):490-4. http://pmid.us/10857940.
(via The Scientist)
[9] No, it's Mom's fault: Mice born to obese mothers are more likely to be infertile (source).
Reference: Martin JR et al. Maternal Ghrelin Deficiency Compromises Reproduction in Female Progeny through Altered Uterine Developmental Programming. Endocrinology. 2011 Feb 15. [Epub ahead of print] http://pmid.us/21325042.
[10] Turkeys at Harvard Medical School: No, I don't mean the doctors. These turkeys:
[11] Declining health since 1998: Via J. Stanton at gnolls.org, lifespan isn't correlated with health, and health may have peaked in 1998. Our lifespans are still lengthening, but our "healthspans" are shortening. Women can expect to be unable to walk up stairs for the last 10 years of their lives:
[A] 20-year-old today can expect to live one less healthy year over his or her lifespan than a 20-year-old a decade ago, even though life expectancy has grown….

A male 20-year-old today can expect to spend 5.8 years over the rest of his life without basic mobility, compared to 3.8 years a decade ago — an additional two years unable to walk up ten steps or sit for two hours. A female 20-year-old can expect 9.8 years without mobility, compared to 7.3 years a decade ago. (source)
I'm shocked at the magnitude of the health impairments people will live with, but not surprised by the trend. It's a natural consequence of rising consumption of toxic industrially processed foods.
Our book discusses evidence from Pottenger's Cats, famine studies, and the Flynn effect that toxicity and malnutrition have transgenerational effects. If diets don't improve, we might expect the biological damage to be fully visible in the third generation born after toxic food consumption rose in the 1970s.
Reference: Crimmins EM, Beltrán-Sánchez H. Mortality and morbidity trends: is there compression of morbidity? J Gerontol B Psychol Sci Soc Sci. 2011 Jan;66(1):75-86. http://pmid.us/21135070.
[12] Quote of the week: Charles De Montesquieu: "Lunch kills half of Paris, supper the other half." If they'd had sugary cereals in those days, breakfast would have gotten the third half!
[13] Elizabeth Taylor died this week at 79. Not enough fat and micronutrients in her diet (indicated by osteoporosis, five vertebral fractures, and two hip replacements); too many cigarettes and other toxins (likely contributors, along with nutrient deficiencies, to her congestive heart failure); too many husbands and, to cover up the damage, too much make-up. But there was never a more beautiful girl:
[14] Stress is Bad – Mythically Bad: Some good things on stress this week. First, Chris Kresser concludes his "9 Steps to Perfect Health" series with advice to "Practice Pleasure". Pleasure, Chris explains, is "the antidote to chronic stress."
What's so bad about stress? A study of 17,000 adults in Stockholm, Sweden found that those with mild psychological stress were more likely to become disabled:
Even mild psychological distress was independently associated with the award of a disability pension … Mild psychological distress may be associated with more long-term disability than previously acknowledged and its public health importance may be underestimated. (source)
Reference: Rai D et al. Psychological distress and risk of long-term disability: population-based longitudinal study. J Epidemiol Community Health. 2011 Mar 21. [Epub ahead of print] http://pmid.us/21422028. (Via Russ Farris)
Finally, I enjoyed an excerpt from The Myth of Stress: Where Stress Really Comes From and How to Live a Happier and Healthier Life
by Andrew Bernstein.
I was intrigued by the emphasis Andrew places on psychological stress, since I tend to assume that chronic stress is a symptom of some underlying physical ailment. Andrew argues that psychological stress is important in its own right, and that it is remediable:  "the more insights you have … the less you experience stress."
Even more interesting was Andrew's critique of stress pioneer Hans Selye, based on later experiments done by Dr. John W. Mason. Andrew concludes:
There is no such thing as a stressor. Nothing has the inherent power to cause stress in you. Things happen (divorce, layoffs, disease, etc.), and you experience stress – or you don't – depending on what you think about those things. Stress is a function of beliefs, not circumstances.
I believe disease and infections can cause stress in even the most resilient and insightful people, but I'm also willing to believe the psychological aspects of stress are very important. Why did Viktor Frankl survive Auschwitz
? Surely insight was part of it.
Reading the excerpt was both pleasurable and insight-generating, so I'm expecting the full book to be a great stress-reducer!
[15] Why the Neandertals went extinct:
French paleontologists have discovered a Neanderthal cave painting said to represent hands eagerly reaching for a Big Mac, or at least proto-Big Mac, according to the journal, Ancient Discoveries….

"What is most striking about this painting," says Bouisquet, "is that this is precisely the time period during which Neanderthals went extinct. One naturally wonders, Could the consumption of fast food have contributed to the extinction? As yet we simply don't know."
From Glossy News, via John Hawks.
[16] Video of the week: The sky of the Mayas.  Tikal was the capital of one of the most powerful Mayan kingdoms. It is now part of Guatemala's Tikal National Park and is a UNESCO World Heritage Site.
The soundtrack is a recording of Howler monkeys. The video was made by Stéphane Guisard. Enjoy: