Ribeye steak is a staple in our house; we eat it almost every week. Its low omega-6 content makes beef, along with fish like salmon, our favorite meat. Ribeye is a fatty cut, which fits Perfect Health Diet macronutrient ratios.
Given how important it is in our diets, you might think we'd have a lot of fancy recipes; but simple grilled or pan-fried steak is highly satisfying, and also very quick. We'll usually have a simple seasoned grilled steak, or pan-fried steak with a simple sauce, along with vegetables and a starch on the side.
Although our steaks are usually simple, I think it's worth a post to show what we do. We would be curious to hear what sauces our readers like on steak.
Pan-Fried Steak in Cream Sauce
This is better known as Steak Diane, after Diana the Roman goddess of the hunt; it is a simple recipe such as a hunter might use.
Here's what we typically buy: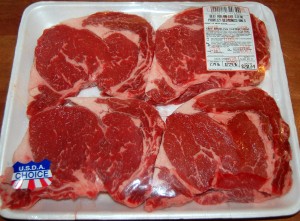 These are regular grain-fed, not grass-fed, steaks; grain-fed is cheaper and fattier, both of which we like, and the omega-6 content is reasonably low even in grain-fed beef.
We eat toward the lower half of our recommended protein range, which translates to between 0.5 lb and 1 lb (0.4 to 0.8 kg) meat per day. So this $20 package represents a 2 day supply of meat for 2 people. At $5 per person per day, it's quite affordable. Certainly cheaper than restaurant meals!
Here are a few ingredients for the sauce: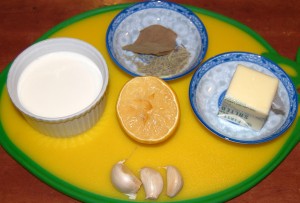 Butter, cream, lemon for juice, rosemary, garlic, and bay leaves. The bay leaves are rather old and brown, but might as well use them up.
We start with some coconut oil, rosemary, garlic, and bay leaves, and two steaks seasoned with salt and pepper.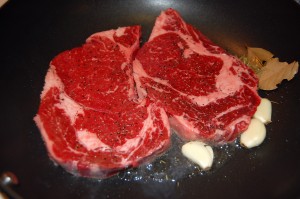 We brown them about 1 1/2 minutes per side at medium to high heat: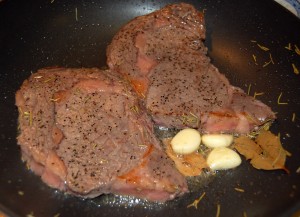 At that point we pull them out, carve them into smaller sizes, and return them along with the butter to the pan: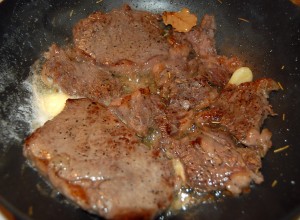 After another 2 minutes per side, the steaks are ready to remove from the pan. We then use the pan residue to make a sauce.
Normally we might add mushrooms, onions, or other vegetables to the sauce, but today we were pressed for time and just added cream and some lemon juice to the pan. It looked like this at first: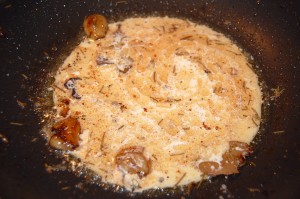 Stir it at low heat and remove as soon as ingredients are mixed; the sauce looks like this: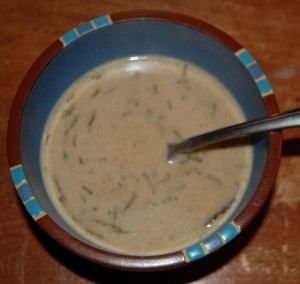 Note: Don't eat the bay leaves! They flavor the sauce, but the leaves contain toxins. We removed the bay leaves before adding cream to the sauce.
We always have some rice around – we run the rice cooker once every 3 days or so – and some seasoned seaweed, kimchi, and baby carrots for vegetables when we need them. So if we're pressed for time and don't feel like cooking plant foods, dinner will look like this: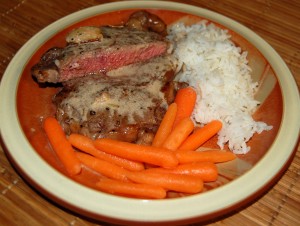 (Kimchi and seasoned seaweed not shown. We also put the sauce over the rice.)
Table-grilled steak
If we're even more pressed for time and would like to relax in our living room while cooking – maybe to watch a movie or television show – then we'll grill our steak at the table.
Cooking at the table is a tradition in Asia; many restaurants have grills built into the dining tables so that diners can barbecue their food.
The easiest way to do this is to buy an electric table grill. We got ours for $20 at an Asian supermarket. Amazon has some fancier models:
Here's the steak cooking: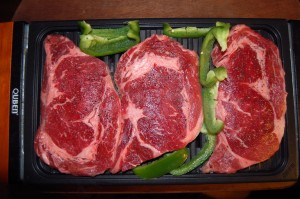 On our table grill, the heat is lower near the edges than in the center. So we usually need to pull the steak when the center part is cooked, cut off the edges, and return the undercooked edges to the grill: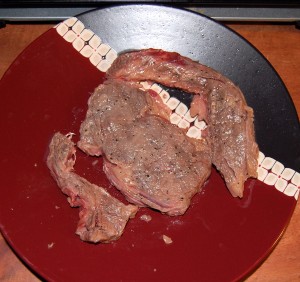 Here's the steak fresh off the grill: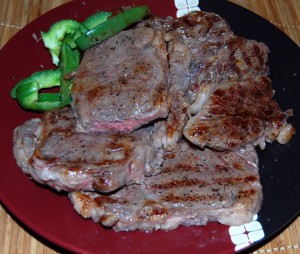 Add whatever plant foods you like! We'll typically do bell peppers as here, onions, portobello mushrooms, or asparagus.
It's hard for a meal to get easier to prepare than this. The table grill is easy to clean also – both the grilling surface and a pan to catch drippings pull out and clean easily.
Steak Diane with Gordon Ramsey
Here is Gordon Ramsey cooking essentially the same meal: