We made rack of lamb for Easter dinner.
We made two flavors of crust. Both were excellent.
Ingredients
The first crust flavor had macadamia nuts, parsley, regular mustard, and parmesan cheese: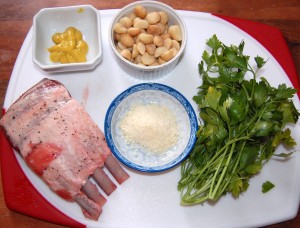 The second crust flavor used macadamia nuts, pistachio nuts, butter, and Dijon mustard: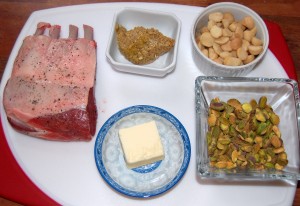 In addition to the ingredients shown, you'll need a bit of olive oil.
Preparation
First, coat the lamb in salt and pepper and then pan-sear it in a little olive oil at high heat: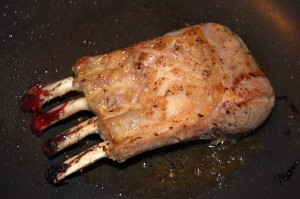 This takes less than 2 minutes per side; the goal is not to cook the lamb, which will be done in the oven, but to seal the surface to retain internal moisture during cooking and to prepare the surface for the crust.
With the back of a spoon, spread the mustard over the seared lamb:
Meanwhile, in a food processor combine the other crust ingredients with a bit of butter or olive oil for better cohesion. For the parsley crust, we ground the nuts first and added the parsley last with a bit of oil:
Spread the rest of the crust ingredients over the mustard-covered lamb:
Preheat the oven to 400ºF, and place the lamb on a foil-covered baking sheet: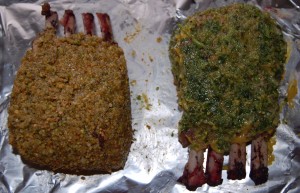 Cook for 20-25 minutes. They'll come out looking like this: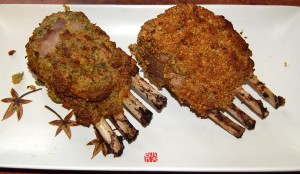 Slice between each rib and serve: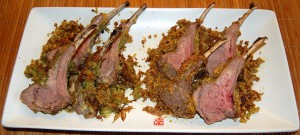 Some of the crust detaches, but it still goes great with the lamb. (Conventional recipes use bread crumbs, which we eschew.)
Conclusion
This is an easy entrée to prepare and it tastes fantastic! With a little wine, it's excellent for your HDL.