Happy Father's Day! Our best wishes to all Dads.
I'll be spending part of today on Cary Nosler's radio show this afternoon from 3-4 eastern time (12-1 Pacific) and you can listen on the Internet by clicking the "Listen Live" button at the top of his page. The interview will also be archived online and I'll post a link when that is available.
Since it's a day of relaxation, we thought we'd share photos from our vacation.
The primary motivation for this trip was to help the oldest of our wards, Samantha, move to Savannah, Georgia. Along the way we spent a few hours at beaches in Rehoboth Beach, Delaware; Ocean City, Maryland; Chincoteague Island, Virginia; Virginia Beach, Virginia; Wilmington, North Carolina; Myrtle Beach, South Carolina; and Tybee Island, Savannah, Georgia. We also spent a few days touring Chincoteague Island, Virginia and Savannah.
Here is a sampling of pictures.
Most of the beach towns looked similar. Here is a view of Myrtle Beach: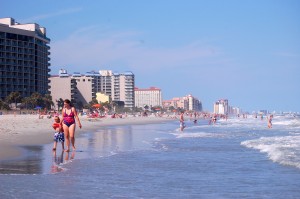 Savannah has a beautiful cathedral: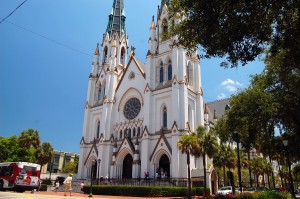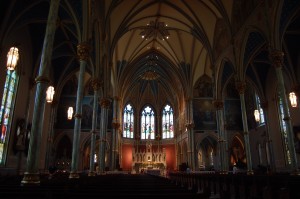 At the mass we attended an Irish priest told stories from his childhood: of "Montana Fitz," a rare Irishman who had returned from the US, who told the children that the skyscrapers of New York were so high they had to cut out floors to let the moon pass through; and of being banned from the cinema for 6 months after he kidnapped a goat and smuggled it into the theater, raising havoc mid-show.
Here is a picture of me on River Street in Savannah, our nephew Hong is on the right: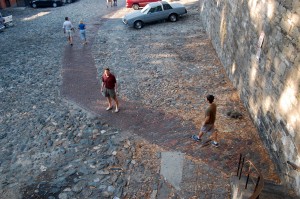 Here is the oak drive into Wormsloe, an estate established by one of the original settlers of Georgia – and Paul and Shou-Ching: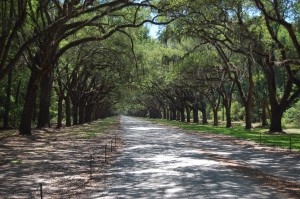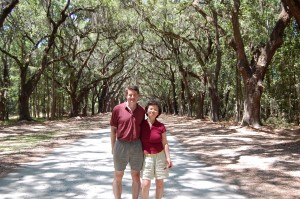 Wormsloe had some salamanders which were good at blending into the background: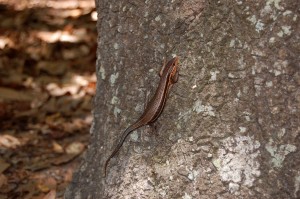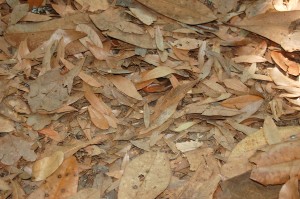 A Georgia crab: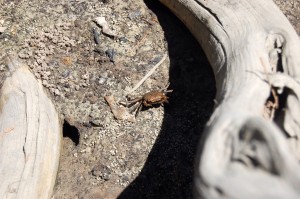 Here is Tybee Island, Georgia: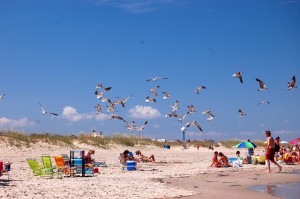 A self-photograph: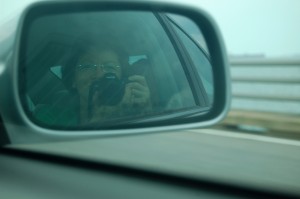 A stingray caught by a fisherman at Sea Gull Pier on the Chesapeake Bay Bridge.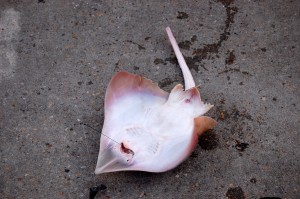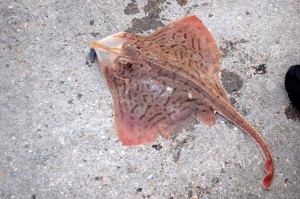 He was thrown back: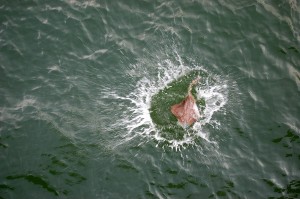 A salt marsh on the eastern shore of Virginia: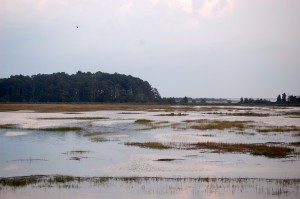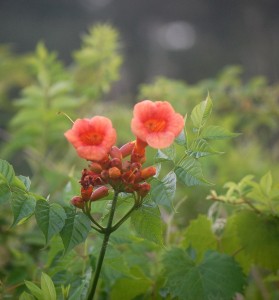 Some ducks: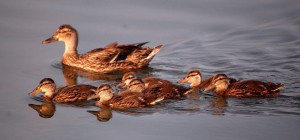 On Chincoteague Island, a seabird eating our nuts: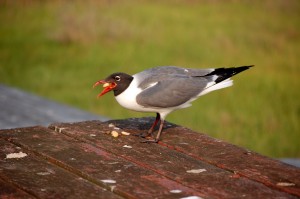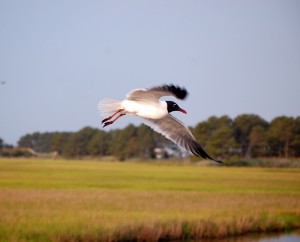 An egret caught a fish: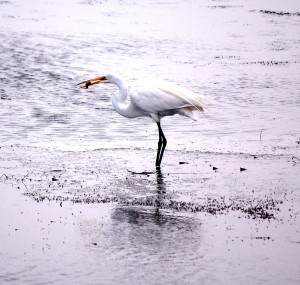 A turtle: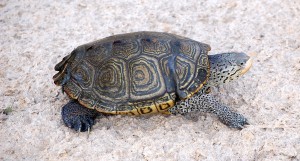 Chincoteague Island is full of egrets: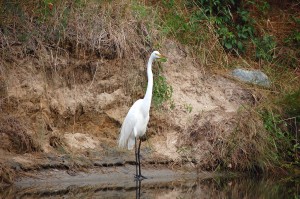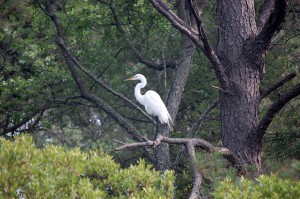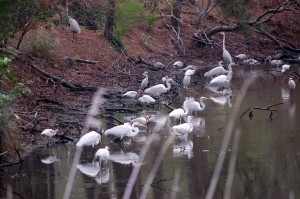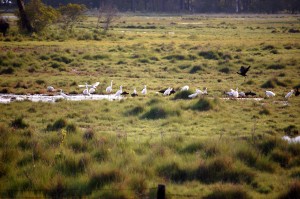 One of these birds is having a bad hair day: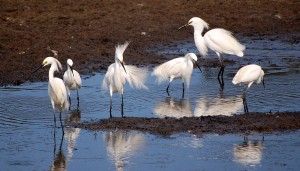 This one caught an eel: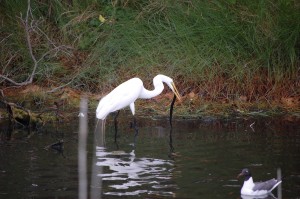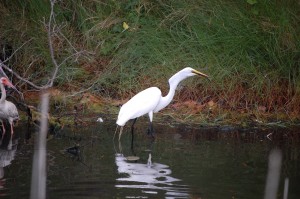 I'm not sure what these birds are: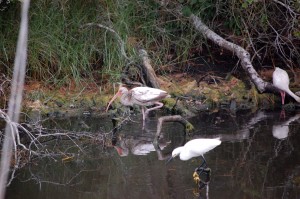 It's also full of blue crabs.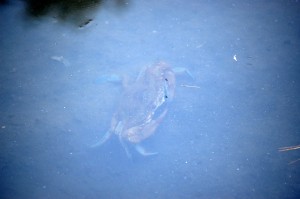 We generally stay in efficiency suites so we have the option of cooking, and it paid off here as we spent an hour and a half crabbing and had a nice crab dinner.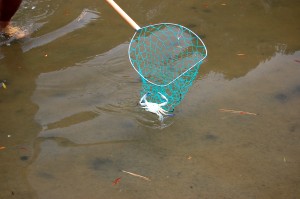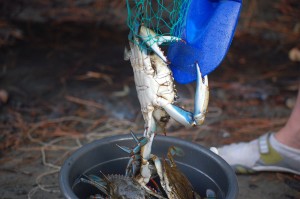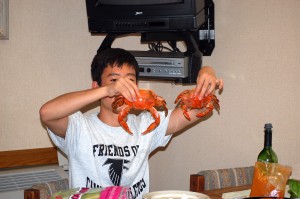 I'm not sure if crabbing is hunting or gathering, but it sure is easy. We caught thirty 5" or larger blue crabs in an hour and a half and could easily have caught a hundred.
We also caught a pair of mating horseshoe crabs: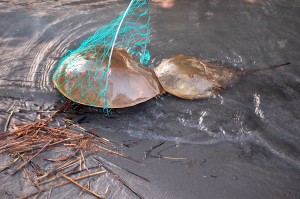 They walked off together: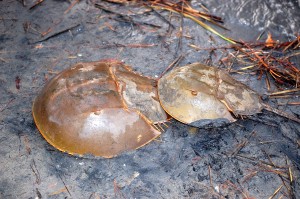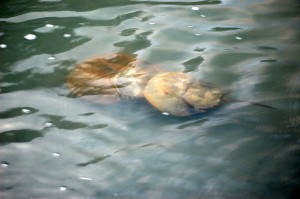 Of course, Chincoteague is known for its wild ponies. They're not always so wild: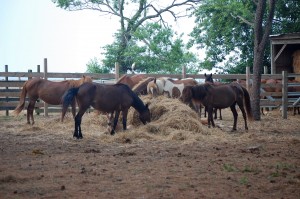 Here they are grazing on marsh grasses: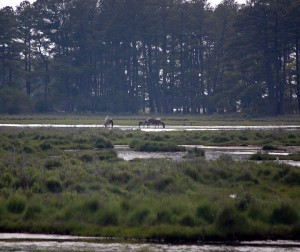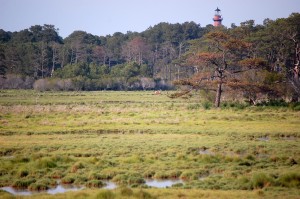 Finally, sunset: