After our post on Kimchi (May 15, 2011) we decided to start making our own fermented vegetables. Foods are always healthier when made at home, and you can adjust the ingredients to fit your taste.
I'm happy to say it's been a big success. Our kimchi is tastier than store-bought kimchi, probably much healthier, and we're eating more of it.
We're making a number of different varieties, including white radish kimchi and cucumber and carrot kimchi. The methods are essentially the same, so we'll just show you the traditional Korean cabbage kimchi.
Preparing the cabbage
We used about 5 pounds (2.3 kg) Napa cabbage, about 1½ heads. A head looks like this: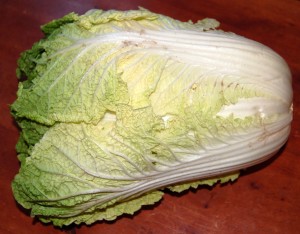 The outer layer usually is dirty or has some damage, so we discard that. We also cut out the stem.
In the traditional methods, when kimchi was made at harvest and was meant to store vegetables through the winter, the head of cabbage would be kept whole. However, for household use it's best to cut it immediately into bite-size pieces. We do that by cutting the head in half and then cutting cross-wise: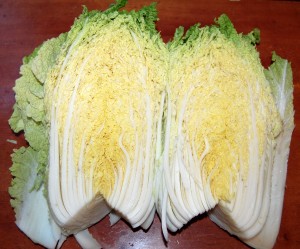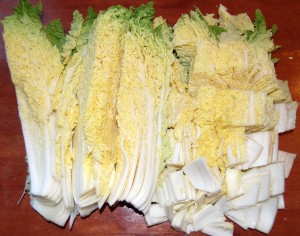 The next step is to salt and dehydrate the cabbage. The salt helps draw water out of the cabbage, preventing the kimchi from becoming watery or soupy, and also helps sterilize the cabbage for a more consistent fermentation.
You'll need a large bowl; stainless steel is good. Put a layer of cabbage – a handful is a good amount – and then sprinkle salt generously over it: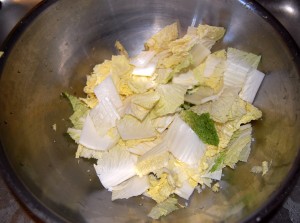 Continue layering in this way until all the cabbage is in:
It will take about an hour for the salt to draw the water out of the cabbage. As that happens, water will begin collecting in the bowl, which you can drain. In the last half hour, periodically grab handfuls of the cabbage and squeeze them to drive out the water. When you're done the volume of cabbage will be much reduced: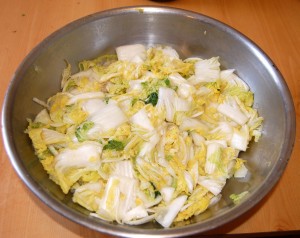 At this point you can wash the cabbage to remove any remaining salt and water: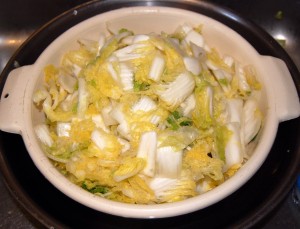 Preparing the marinade
For our marinade we used green onions, garlic, ginger, coarsely ground cayenne pepper (sold in Korean stores as "red pepper powder"), and fish sauce.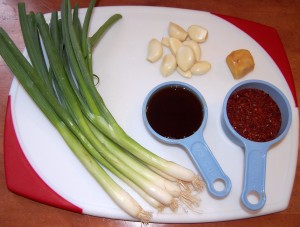 We recommend about a ¼ cup of both fish sauce and red pepper in 5 pounds cabbage for a moderately spicy kimchi. The amount of fish sauce and of pepper is probably the biggest determinant of the kimchi's taste.
Mince the ingredients and put them in a mixing bowl large enough to hold the cabbage: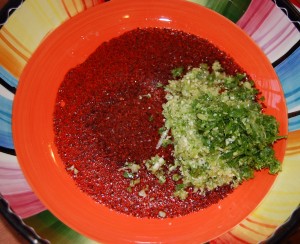 Add the cabbage a handful at a time and squeeze it to eliminate as much water as possible before adding it to the mix: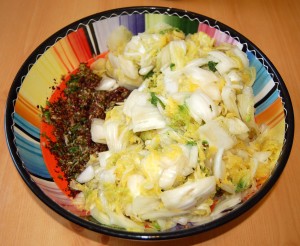 Mix all the ingredients thoroughly by hand until it looks something like this: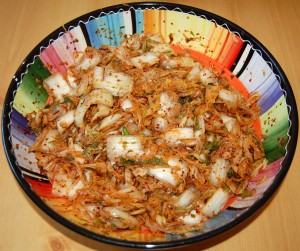 At this point you can taste the mixture and decide if it needs more salt or other spices. When you like the taste, it's ready to begin fermenting.
Fermentation process
The most important tool you need is a suitable pickling or fermenting jar. It should be glass or ceramic and sealable. We chose a ceramic jar which is fairly inexpensive at Pier 1 Imports. It has an indentation in the lid which allows them to be stacked: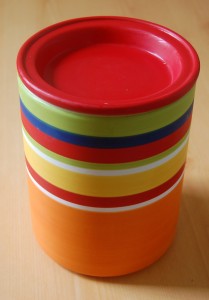 It also has ribbed plastic in the lid which makes a sort of seal, but we also seal it further with plastic wrap and a rubber band: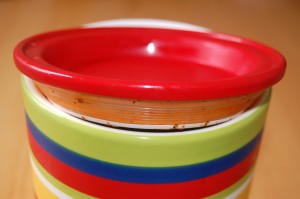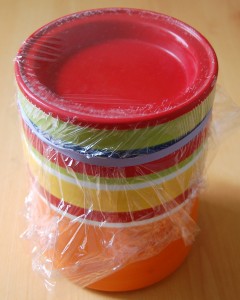 Keeping oxygen out helps assure that the bacterial species which develop are better suited to the anaerobic environment of the gut, creating a more probiotic mix of flora and preventing the kimchi from going bad as quickly.
The jar should be clean and dry (sterile) before the kimchi mix is put in. It then looks like this:
To accelerate the fermentation, you can leave it out at room temperature overnight, or for two nights. After that, it should be kept refrigerated.
Our kimchi seems to last considerably longer than store-bought kimchi. Ours has still been good after 2 weeks.
Eating the kimchi
We just pull out some at each meal: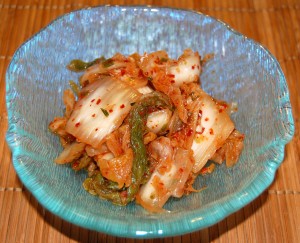 The whole process is very easy – basically, just mix the ingredients and let nature take its course.
Kimchi goes best as a complement to fatty foods. Try a piece with each bite of ribeye steak https://perfecthealthdiet.com/?p=2775; or eat it with Cambridge Fried Rice.