We thought we'd skip our usual food post today and instead ask for your opinion on the first draft of our Perfect Health Diet Food Plate.
But first, a few links. At the Ancestral Health Symposium Shou-Ching and I were delighted to meet Josephine and Henry Svendblad, who run the excellent Nutty Kitchen. We've been fans of Josephine and Henry since we first discovered their blog a year ago, and the respect is mutual. They told us that they've been tagging some of their recipes with a "Perfect Health Diet" tag. (Also their "Paleo 2.0" tagged dishes are PHD-compliant. Actually, everything at their site is PHD-compliant as far as I can tell.) It's a great source for recipe ideas.
Also, our regular commenter Gary has created a site with easy, quick Perfect Health Diet recipes at his site, 10 Minute Meal. He explained in a recent comment:
I get enthusiastic about PHD and tell my friends about it, but the most frequent response I'd get was that it may be great, but it means home cooking everything. I'd counter that home cooking isn't hard. So finally I set up a small website that shows how I've done my own interpretation of a PHD meal plan and the home cooking that make it possible to do it during the week, working 50-hour weeks and making 2 or 3 meals a day for me and my spouse.
If ten minute meals are what you're looking for, check out Gary's site.
Our Food Plate
The US government introduced its food plate earlier this year:


It seems a little simple, even for the US government.
We wanted to see if we could do better. Here's our first draft (click to enlarge):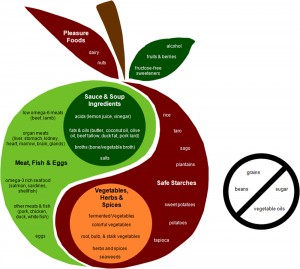 We're very interested in your reaction. Does it give an accurate idea of the diet? How would you improve it?