We'd like to thank Shilpi and Amit Mehta for hosting the potluck dinner last night. My talk was on "Common Pitfalls of Paleo," and it was a pleasure to meet so many Paleo enthusiasts, including people we knew from PaleoHacks, email, comments, and Facebook.
We brought pumpkin soup to the potluck, and that will be our food post this week. But we've had some questions about bone broths, so let's revisit that first.
Making a Tasty Broth
Earlier, we discussed making a broth from ox feet (Ox Feet Broth, Miso Soup, and Other Soups, Jan 2, 2011). The advantage of feet (ox feet, chicken feet) or tails (ox tail) is that they have a lot of connective tissue, so they make a gelatinous broth full of nourishing collagen.
However, you can make a good broth from any bones, and it's possible to find marrow bones that also have some connective tissue. With longer cooking, you can extract collagen and minerals from the bone itself, and get a good broth from these larger bones.
We've found, on limited data so far, that bones from grass-fed animals from local farms seem to produce a tastier broth than supermarket bones. I'd be curious to hear if others have had the same experience.
A few other tricks can help make a tasty broth. One tactic that seems to work is to discard and replace the cooking water at an early stage.
Here's what we do. In this case, we started with a mix of beef and pork bones: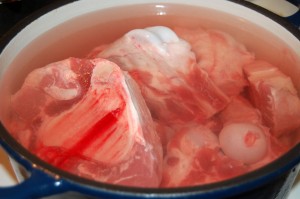 As you can see some blood comes out of the bones, especially the pork bones, almost immediately. This may be responsible for the poor taste some experience.
We put the heat on very low and let the water warm up gradually. Before it reaches a boil, after an hour or less, it looks like this: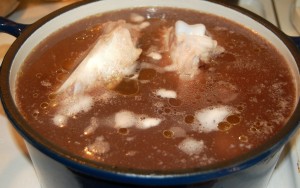 At this point we drain and discard the liquid, adding new water. It now looks like: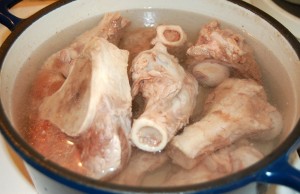 You can see the marrow inside the pork bones, which will fall out before we're done, and the ligaments and tendons in the joints, which will produce a nourishing gelatin. Bits of meat and fat will also be released.
After some hours of cooking, all the meat and fat and most of the marrow and connective tissue will have fallen off the bones. It will look something like this: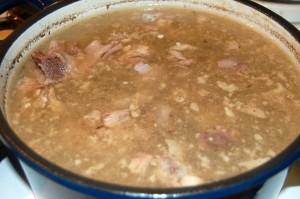 At this point you can pour out the broth into a container and use this fatty, meaty broth for rich soups. Seaweed, vegetables like tomatoes and onions, and thinly sliced beef, tendon, or pork bellies go well with this broth. We often use it for Pho (Vietnamese Noodle Soup) (Feb 27, 2011).
Add water and acid and continue cooking. This second round of broth will mainly contain minerals and some collagen, and will need longer cooking.
In the second and later rounds of cooking, we add an acid to help extract minerals from the bones and expose the collagen matrix. Lime juice, lemon juice, and vinegar all work well. We especially like the juice of a lime, and rice vinegar, which gives a slightly sweet taste; others seem to like apple cider vinegar, which is more acidic.
Here are our beef and pork bones early in the process: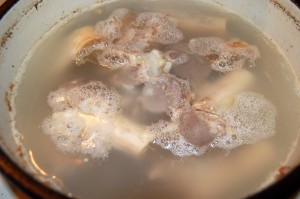 And here they are later:
The bones will be obviously softening by this point, as you can tell by poking them with the tine of a fork.
If you wish, you can once again collect the broth, add new water and cook again. Every successive broth will be lighter. In the third round, with long enough cooking, the broth becomes white, like this: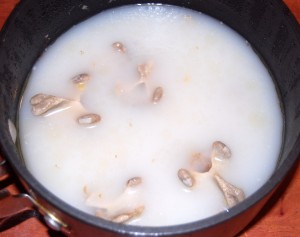 I have heard that in earlier times, when food was costly but fuel cheap, that bones would get cooked until all the nutrients had been extracted – for as long as a month.
Pumpkin Soup
Pumpkins are abundant in New England in October, and we love pumpkin soup.
Here are the ingredients – garlic, onion, and pumpkin: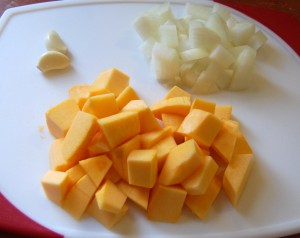 On very low heat, gently cook the garlic and onion in 3 tbsp butter: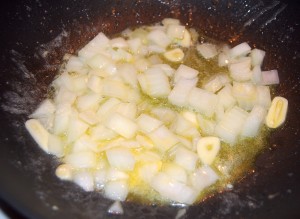 Then add the diced pumpkin and enough bone broth to cover: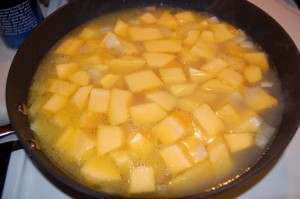 Bring to a simmer but don't boil. When the pumpkin is cooked, after about 20 minutes, use a hand blender
to puree the pumpkin-onion-broth mixture in the pot. It will look like this: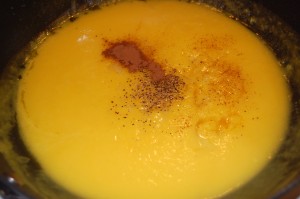 Add salt, pepper, cinnamon, and nutmeg to taste, and 1 tbsp rice syrup for a touch of sweetness. Add curry, or other spices, if you like a more flavorful soup. Serve hot, adding a dollop of sour cream if you like a richer, fattier taste: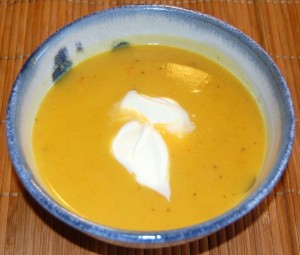 A delicious autumn appetizer! It can even serve as a meal by adding meat and vegetables to the soup.