Dr. Shilpi Bhadra Mehta is a Doctor of Optometry, a Board Member of the Archaeological Institute of America, and leader of the Boston Paleo group, Living Paleo in Boston. I asked her to tell us about Indian cuisine, and she offered a discussion of Bengali Fish Curry. We're doing it in two parts: first, a discussion of its health benefits; second, a recipe with pictures. — Paul
This recipe for Bengali Fish Curry provides 6-8 servings. It will be good up to 5 days in the fridge after cooking. Keep the skin on the fish if it's wild!
Ingredients
2 pounds fillet or steak of wild fish with skin-in (preferably a high Omega 3 fish like salmon)
1 Large Onion, diced or sliced
3 Tablespoons Ginger Paste (Don't use if taking warfarin, blood thinners, or have gallstones)
2 Teaspoons Kalo Jeera/Kalonji/Nigella Seeds (available in South Asian grocery stores)
Macadamia Nut Oil
Turmeric powder
Juice of Half a Lemon or 1 Small Lime
1 Cup chopped fresh Cilantro
1 Teaspoon Sea Salt (more can be added to taste by the individual)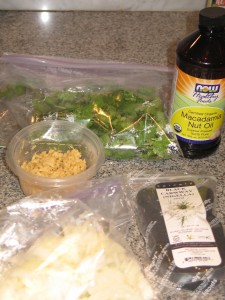 Optional:
2 medium Vine Ripe Tomatoes, chopped
1 Green Chili Pepper
1 Teaspoon Red Chili Powder/Cayenne /(Paprika for less heat)
Preparation:
Sprinkle turmeric and salt lightly over both sides of the fish (but not the side with skin if your fish has it). Squeeze the juice of half a lemon/lime on the fish (but not the side with skin if your fish has it). Let it marinate on the counter for 15 minutes, or longer in the fridge for up to 2 days.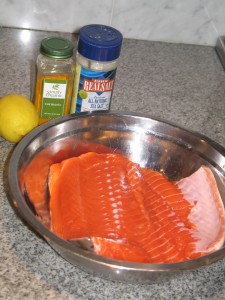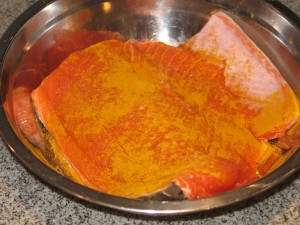 Sautéing the Fish:
1) Heat oil in a pan at medium to medium-high heat (depending on your stove). The oil should be sizzling but not smoking. If oil is too cool or the pan gets dry then the fish might break or stick to the pan. Slide fish pieces carefully into hot oil, in a single layer placing them flat.
2) Sauté fish about 2 min to a light brown on each side and flip only once. Do not fry to a dark brown, or they can become stiff and chewy. Then set the fish pieces on a plate.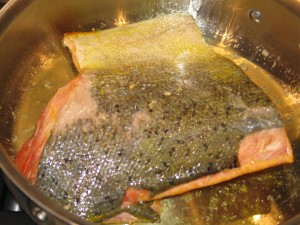 Making the Sauce/Curry:
1) Heat the remaining oil in the pan to the same temperature as before. Add more oil if necessary – do not let your pan get dry or the fish will stick! Add the Nigella/Kalonji seeds.
2) When the seeds sizzle, add the onion in and fry for 2 – 3 minutes till they get translucent.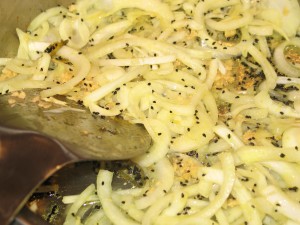 3) Stir in the chili, tomato and the ginger, and continue to cook about another 3-5 minutes till the tomatoes become soft and start to break up.
4) Pour in about 2 cups water, and return fish to pan and place them in a single layer, with the skin surface touching the pan. Add fresh cilantro, cover the pan, turn down heat and let simmer for about 10-15 minutes until fish is cooked, and then turn off heat.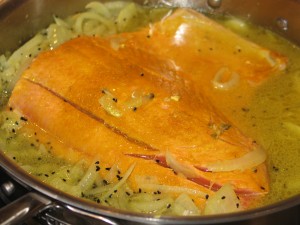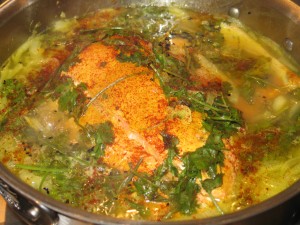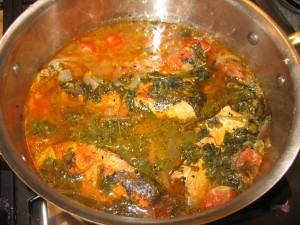 5) Enjoy with rice cooked in butter or ghee (you can top with ghee or butter, too) and a vegetable of choice (in this case it was bok choy) for a Perfect Health meal!