I had a great time talking to Sean Croxton on his Underground Wellness radio show Thursday night; check out the show here. I'm excited to be participating in Sean's upcoming "Paleo Summit." And it was nice to see that Miriam Knight of New Consciousness Review put our chat on Youtube.
Shou-Ching and I pleased to be blogging at Psychology Today. We join some great writers there, including Dr. Emily Deans and Dr. Kurt Harris, and are looking forward to introducing our ideas to a new audience.
[1] Reader Results: I'm always excited when readers report results. Here are a few from this week.
Naomi has recovered from longstanding digestive troubles:
Hi Paul, I have incredible news, my food intolerances are gone!! I just returned from a trip to India and Nepal, and while on the trip discovered I could eat anything with no reaction. If you recall from my questions in the Q&A section, I had severe histamine intolerance and fructose intolerance. After doing GAPS + buckwheat (but no ferments) for 7-8 months last year, I got worse, but after adding rice, via PHD and supplementing Vit C and D last fall, I felt a lot better, but still had the severe intolerances. I took ivermectin in early December after my stool test indicated the parasite strongyloides, but there was no noticeable change. For the trip to India, my doctor recommended artemisinin, 200 mg 2 x a day for prevention of malaria. I started it 2 weeks before the trip and had 3 days of mild die-off. It took about 2 weeks before I realized I could eat anything. Now that I am home, I cannot wait to add ferments or many of the simple things like tomatoes that I could not tolerate before.

I definitely credit PHD as well as your thinking about infection and parasites for helping me. Thank you so much.
I'm very happy for Naomi. Her case is also a capsule summary of our strategy for healing disease; disease is caused by bad diets and infections, so the strategy is to fix the diet, diagnose pathogens, and then optimize diet for that type of pathogen and take antimicrobial medicines as appropriate. Sometimes diagnosis is impossible, and it is worthwhile to just experiment with antimicrobial medicines. Artemisinin is known to work against protozoa such as plasmodium which causes malaria and trematode worms which cause schistosomiasis; perhaps it also works against the nematode worm strongyloides, or perhaps the stool test got her pathogen wrong. In any case, congratulations Naomi!
Naomi's failure on GAPS recalls an observation I made in my Weston A Price Foundation Wise Traditions talk, which was discussed a bit on the Internet afterward. Natasha Campbell-McBride's GAPS diet is a great approach, generally speaking, for bacterial dysbiosis of the gut, but isn't necessarily optimal for infections with eukaryotic pathogens like fungi, protozoa, and parasitic worms. No one diet is perfect for every gut problem – as we wrote this week, "All healthy persons are alike; each unhealthy person is unhealthy in his own way."
Helena reports:
Hi Paul, Thank you again! You helped my mom who has suffered with chronic constipation for 60 plus years. She had taken Senna for decades. I read your post about using Magnesium Citrate instead. It works like a charm and she is no longer taking toxic Senna. Thank you!
Think about this: Helena's mom was magnesium deficient for 60 years, suffered constipation as a result, and never got the problem diagnosed or fixed. This says something about how easy it is to be magnesium deficient in today's world, and how unaware people are about the need for key nutrients.
Finally, Ole reported his progress:
Here is a short summary of my time on the PHD: I have been on the PHD diet for over a year now. (I bought the draft version in September 2010). My health has improved a lot. I have lost about 25kg and I'm now about 87kg (i'm 185cm tall). I'm probably healthier than an average person on just about any performance metric.
On his blog Ole shared "before" (2010) and "midway through" (summer 2011) photos:
[2] Music to read by: Via Craig Newmark, here is They Might Be Giants covering "Tubthumping" by Chumbawumba at A.V. Club:

They Might Be Giants covers Chumbawamba
[3] Interesting Items This Week:
In the book and the post What Makes a Supercentenarian? (Aug 18, 2010) we discuss supercentenarian diets, and find they're almost always Perfect Health Diet compatible. Dr. Daniel Chong, a naturopathic doctor and primary care physician in Portland Oregon who recommends our diet, reports another example: the oldest woman in the world, age 121, eats "grilled meat, monkey, fish, manioc (a root vegetable), and banana porridge. She does not eat salt, sugar, or any processed foods."
Jamie Scott compiles evidence against omega-6 fats. All of Jamie's posts are good, but this one is really good.
At RobbWolf.com, Roman Sasik, Ph.D., argues that chlorella may be dangerous, because it carries giant viruses and is rich in LPS to which chronic exposure is dangerous. CarbSane objects to stevia, xylitol, and erythritol.
Dan's Plan has a nice discussion of Paula Deen's decision to treat diabetes with drugs, not diet.
Peter Dobromylskyj of Hyperlipid comments on Stephan Guyenet's recent paper: Peter argues that injury to the hypothalamus increases adipose insulin sensitivity leading to a free fatty acid deficiency, after which obesity is an adaptation that normalizes free fatty acid levels.
Matt Stone argues the case for ice cream: "[I]ce cream is not only healthy, but far healthier than most human breast milk." Of course, it's not an either-or situation.
Seth Roberts comments on Tara Parker-Pope's "The Fat Trap": Its defects were what it didn't say.
Are GMO foods safe? Brian Cormack Carr quotes from our book's discussion of why genetically modified foods can be unsafe and need to be screened for safety. Elsewhere, Emily Willingham in Slate supports GMO foods against a critique by Ari LeVaux in the Atlantic. Unfortunately, LeVaux doesn't seem to know much biology and cites unlikely mechanisms, such as miRNA, for potential harm from GMO foods. (Monsanto responds with a nice commentary on the Zhang et al. paper we commented on earlier.) Neither article states precisely what safety testing is currently being done on GMO foods. What is needed is careful testing for the levels of all natural plant toxins. Is this being done? I don't know.
Prof Dr Andro calls a high-fat diet "exercise in a pill."
John J. Ray reports that men over 6 feet tall have a 24% lower risk of heart failure.
LymeMD:  "Idiopathic means the doctor is an idiot and the patient is pathological."
A student revolt may mean the end of "healthy" food in the Los Angeles schools: "The complaints have been heard … and dishes like quinoa salads and brown rice cutlets are out."
The Economist (hat tip: Brad) and The Scientist report on a new paper showing that exercise may improve health by inducing autophagy. Here's the Pubmed abstract. What's exciting about the research is that exercise induces autophagy not just in muscles and the heart, but in organs like the liver and pancreas. This gives us a mechanism by which exercise will be therapeutic for diabetes and metabolic syndrome.
Joshua Newman makes a powerful case for exercise.
Richard Fernandez ponders whether the FDA is on the side of the microbes.
Conrad's Dairy Farm finds that it's good business to give their cows waterbeds. Here's a video:
[4] Some items I may do posts on: First, two critiques of our diet:
Travis Culp complains that we like butter too much; it's the Pastoral Diet.
Danny Roddy complains that we don't like sugar enough; it's a Fructose-Deficient Diet.
I started writing a response but it's too long for inclusion in this Around the Web.
Second, Dr Emily Deans has an important post: Tylenol and Autism? Paul Whiteley contributes a good comment to the post. Moms, don't give your kids acetaminophen (paracetamol), and I wouldn't take it during pregnancy either.
Third, Chris Kresser did an outstanding post on GERD, arguing that GERD is an inflammatory disease characterized by autoimmune attacks on the esophagus. I've been meaning to do a post or series on acid reflux and this fills in one of the missing pieces.
[5] Cute animal: Via Kamal Patel and reddit.com, a Galapagos Island seal:
[6] Scary animal?: Those who have read the verso page of our book may have noticed that our niece, Seo Jung, did a few illustrations. Here's a recent drawing she made: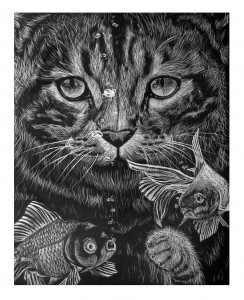 [6] Notable comments this week:
Dr. Ricardo de Souza Pereira left a comment telling us how to buy his Protexid supplement for acid reflux. Michael Eades once blogged about this supplement.
Lucas Tafur notes that ketogenic diets suppress leukocyte chemotaxis and phagocytosis, and increase vulnerability to tuberculosis and staph infections.
Rhonda W of the National Starch Company reflects on the benefits of resistant starch, a fiber found in starchy foods. She favors cornstarch, we favor safe starches like potatoes as a source of resistant starch.
Mehlinda provides us with a student video I found fascinating. It turns out many supermarket potatoes are sprayed with Bud Nip, a herbicide and sprout suppressant:
[7] Not the Weekly Video:
Via Yoni Freedhoff, who claims he almost got his bride to process to the Imperial Death March.
[8] Shou-Ching's Photo Art: I disagree with this one: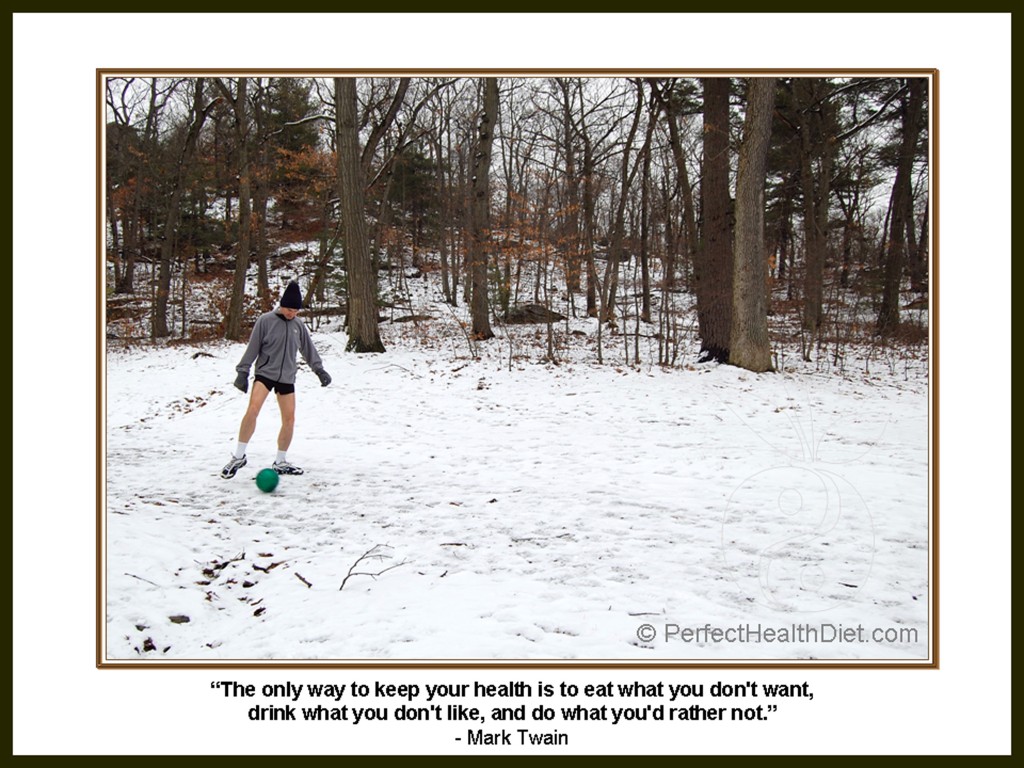 [9] Weekly Video:
Via John Durant.