Happy Valentine's Day, everyone!
[1] Paleo Summit: Sean Croxton is about to launch his "Paleo Summit". It features multimedia interviews with 23 speakers, including myself. It's a mini-Ancestral Health Symposium, but without the travel. Check it out!

[2] Dan's Plan: I've agreed to become a scientific advisor to Dan's Plan.
Dan's Plan is a promising young startup founded by Dan Pardi, one of the rising stars of the ancestral health community. Dan's Plan is pioneering "Quantified Paleo," the use of Quantified Self tools to help members adopt an ancestral lifestyle and to support self-experimentation and group experimentation that can solve health problems.
Dan's Plan provides content modules in three areas: Eat, Sleep, Move. "Eat" is about diet, of course; "Move" about fitness; and "Sleep" about lifestyle generally – how do you support healthy circadian rhythms?  We'll be contributing Perfect Health Diet-based content, such as meal plans, to the "Eat" section.
One of the things that has me excited about Dan's Plan is the potential for us to do science together as a community. Quantified Self tools make it easy to record data and upload them to a database. Suppose Dan's Plan ends up with content modules for a half dozen different diets. The Dan's Plan database may be able to track results for every diet, charting out weight loss results, quit rates, and other data for the community. Is it normal to gain a few pounds at the start of the diet? All kinds of questions can be answered with this kind of data, and we can more effectively find out what really works.
I'll have more to say about Dan's Plan and what we'll be doing with them later. For now, I'd just like to encourage anyone who's curious to become a member. Membership in Dan's Plan is free.

[3] Other news: I had a very fun interview last week with Andy Oudman and Pam Killeen of 1290 AM CJBK, London, Ontario. Pam is associated with the Weston A Price Foundation and will be speaking at this year's Wise Traditions conference; Andy is the most popular radio host in London and extremely entertaining. Thanks, Pam and Andy!
Also, Constantin Gonzalez has published a German language review of our book. (English-language translation)  Constantin also produced a German-language version of our food plate. Thanks Constantin!
[4] Music to Read By: These are the Valentine's dreams you will savor:
[5] Cute Animals:
Via Jasmyn Campbell.
[6] Interesting recent items:
Steph is ready for a bright, shining world.
The Atlantic has a great story on a topic we've discussed previously: Toxoplasma gondii infections alter behavior. One claim: Toxo may kill as many people as malaria, a million people per year, when you account for its induction of reckless behavior.
Via John Hawks, malaria kills twice as many people as previously thought. They were only counting deaths from acute infection, but chronic infection kills too.
But it's not all bad news: T. gondii makes you have car accidents, but soil bacteria puts you in a good mood.
Did biological warfare win the Stalingrad campaign?
Mark Sisson discusses the "Asian Paradox": how can Asians eat rice in the "insidious weight gain" calorie region, and not gain weight?
Ann Marie Michaels, aka Cheeseslave, explains why she ditched low carb. Barry Cripps of Paleo Diet News also benefited from increasing carbs. Julianne Taylor disputes the "carbs can kill" meme.
Matt Metzgar reviews our book; he wants us to go higher carb. Joanne Eglash gives us a mention in examiner.com.
Speaking of reviews, I reviewed Richard Nikoley's new book on Amazon. I think it's an excellent introduction to "Paleo 1.0".
New research may explain why the zebra got its stripes. Revisions may be necessary to this book.
Monsanto is coming out with genetically engineered omega-3 producing soybeans.
FoodSnipps has recipes for Perfect Health Dieters. Mike Skiff is starting a 30-day experiment. JD Moyer discusses the benefits of intermittent fasting, with a link to us.
Dennis Mangan wonders: What's behind the obesity epidemic in pets?
Bruce Charlton argues for electroconvulsive therapy, nicotine patches, and caffeine against Parkinson's.
Congratulations, Razib!
The Flavorists have triumphed: the many flavors of Chinese potato chip.
Mayonnaise is even more dangerous than I thought. (Via Rantburg.)
Stephan Guyenet wonders if smoking delayed the obesity epidemic by keeping people in the 1950s and 1960s lean. I wonder if smoking epigenetically modified the children, promoting obesity in the next generation.
J Stanton sends me a link: pork is good for – stanching nosebleeds?
Visiting social web sites relaxes the heart.
Dr Briffa shares a picture of a man who injected insulin in his belly repeatedly.
Finally, Chicago magazine has an article on Dr Mercola. I thought his history was interesting:
At first, he was a traditional drug-prescribing doctor…. "I thought drugs were the answer," he says with a shrug.

That changed in the early 1990s, when conventional treatments failed to help a young patient with recalcitrant diarrhea. Flummoxed, Mercola found a possible answer in a book called The Yeast Connection. After he tried the all-natural protocol the book recommended, he says, "the kid had a miraculous recovery."

Over the next several years, Mercola began networking with a number of like-minded physicians "who were getting pretty good results with nontraditional therapies." He grew increasingly skeptical of traditional medicine and interested in treatments designed, he says, to "treat the whole person" rather than just symptoms….

In 1997, as a way to share what he had found that would be "useful and helpful," he started Mercola.com. It proved a hit.
[7] Bonus animal: We all need a hug now and then:

Via Godvine.com.
[8] Comments:
Sofie recommends fasting for avoidance of jet lag.
Connie Warner tells about an unexpected food contaminant: "I remember hearing from an FDA food safety chemist that he wouldn't eat shrimp because the rat urine from the ship rats wouldn't wash out of the shrimp."
Josh Almanza on Facebook presents evidence white rice is better than brown rice.
[9] Honorable mention: An article about us appeared in the February edition of Healthy Cells magazine: "What's For Dinner?" by Sandra Bender, BSN, PhD, on pp 8-9:
My husband and I chose the Perfect Health Diet after cancer treatment because we feel healthier than on the plant-based diet, we enjoy the food – and my long-lived grandparents ate this. Daily, we eat about four ounces meat, four ounces fish, ¾ cup cooked rice or potatoes, eggs, cheese, and whole fermented milk (kefir), lots of vegetables, and fruit for dessert, all organic. We eat fat with meat and dairy, butter, gravy, or coconut sauces on everything. Once a day we have a half-ounce dark chocolate, an anti-cancer antioxidant. Yummy! After eating this way for two years, my cholesterol and triglycerides are excellent and inflammation markers and insulin are low. My omega 3:6 is balanced.
[10] Not the Weekly Video: Max Ehrmann's "Desiderata":
Desiderata from R Smittenaar on Vimeo.
[11] Shou-Ching's Photo Art: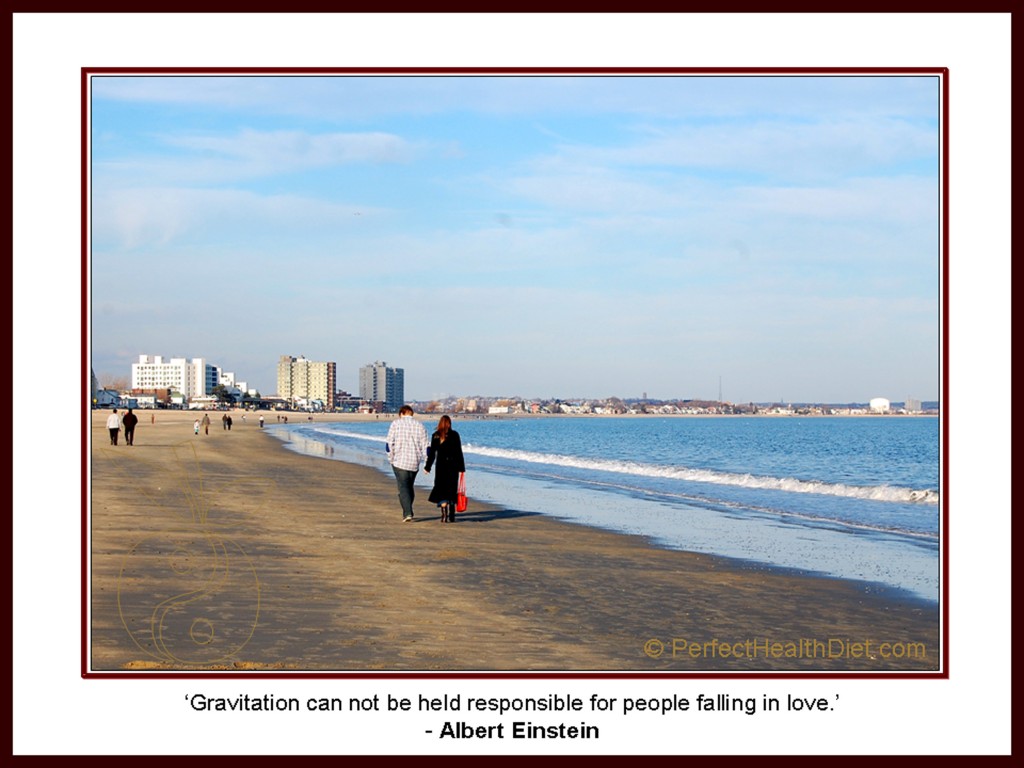 [12] Weekly video: Dr Thomas Tartaron lectures on Ötzi the Iceman. Interesting aspects: Ötzi had Lyme disease and intestinal whipworm parasites; he had atherosclerosis and calcified coronary arteries despite a "healthy" (but grain-rich) diet and plenty of exercise.
Via Dienikes.