Today brings a new podcast with Abel James on The Fat Burning Man Show. This was my second conversation with Abel about the new edition – the first can be found here – and so we got into more offbeat topics. A lot of fun!
Angelo Coppola tells me that our episode of Latest in Paleo hit the #1 spot in Alternative Health on iTunes and was #7 in the overall Health category.
Chris Kresser reviews the new edition.
I believe this book is a must-read not only for the average health-conscious individual, but also for health professionals that are looking for solid evidence that supports an ancestral nutrition philosophy…. This book could change a lot of lives if read by the right people!

This is the best book available that explains the science behind the paleo or primal diet and lifestyle while making easy-to-follow recommendations. It would make a great holiday gift.
Thanks Chris!
Meanwhile, it looks like it was a good decision on our part to include a chapter on Mammalian Diets. It's really broadened our market: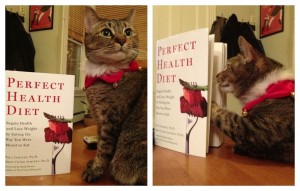 Photo from Kamal Patel. Thanks Kamal!