Thank you to Roger Dickerman and Relentless Fitness for hosting our talks last weekend. Shou-Ching and I had a great time. If you work or live in Philadelphia and would like a personal trainer, they are the place to go.
Aaron Olson's PaleoRunner Podcast
Aaron Olson is a runner and Paleo dieter and I had the privilege of being the first guest of his new "PaleoRunner" podcast. (Tim Noakes will be the second, so I'm in great company.)
The interview is up on the website http://paleorunner.podbean.com/. Aaron is publishing his podcasts with linked enhanced content; this enhanced content is only available on Apple devices. To view the enhanced content, manually add Aaron's feed to iTunes: http://paleorunner.podbean.com/feed/. As the file plays, click on images for chapters and extra content.
Shou-Ching's Pretty Pictures
We haven't blogged about Shou-Ching's research, but since she's pictured today on the front page of the Beth Israel Deaconess Medical Center website (see the story "Innovation is in the DNA of our Institution"), I thought I'd show two of her pictures that are publicly available on the web.
BIDMC's Technology Ventures Office featured a picture from Shou-Ching's research in a recent report. Here it is: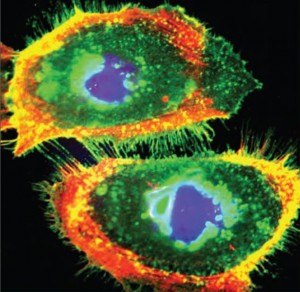 This is an image of two endothelial cells interacting in cell culture. Endothelial cells are the cells that line the walls of blood vessels. You can see that endothelial cells interact via long thin structures that Shou-Ching and her colleagues have dubbed 'nanopodia.'
The paper in which they introduced the term 'nanopodia' [1] appeared in 2011 in the journal Angiogenesis. One of Shou-Ching's images was chosen for the journal cover.  Here is the image:
In this image green is a marker of nanopodia, red marks the cell boundaries, and blue marks the nucleus (seen as the pink blob in the center). The white bar shows a length of 10 μm.
The nanopodia on the left are on the trailing rear of this moving cell, and the nanopodia on the lower right are on the leading front. Nanopodia, Shou-Ching and her colleagues have found, are essential for endothelial cell movement.
Endothelial cell movement and interactions are important in vascular and cancer biology, so these structures are quite important! If you'd like to read more, the Angiogenesis paper is open access.
References
[1] Zukauskas A, Merley A, Li D, Ang LH, Sciuto TE, Salman S, Dvorak AM, Dvorak HF, Jaminet SC. TM4SF1: a tetraspanin-like protein necessary for nanopodia formation and endothelial cell migration. Angiogenesis. 2011 Sep;14(3):345-54. http://pmid.us/21626280.