A fantastic new book has been released this week: the first Perfect Health Diet based cookbook. It's Russ Crandall's The Ancestral Table: Traditional Recipes for a Paleo Lifestyle.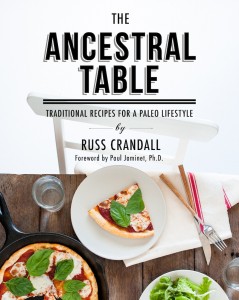 I've been able to see and test Russ's recipes since last summer, and they are terrific. Russ has taken traditional favorites from all the world's cuisines, adapted them to PHD ingredients, and carefully tested and re-tested every recipe to make it delicious and easy to produce. As readers of Russ's blog, The Domestic Man, know, following his recipes is a highly reliable way to produce a delightful meal.
Moreover, the book is simply gorgeous. Russ has a friend who is a professional photographer and this friend spent 4 weeks with Russ photographing each dish to make a spectacularly beautiful food photos. The book has ample white space and an elegant design. It is a pleasure simply to look through it.
I couldn't recommend a book more highly than I recommend The Ancestral Table.
Bonus: Russ has a special offer underway through Saturday – a giveaway of a $200 gift card from U.S. Wellness Meats. Visit his blog to enter.
Full disclosure: Russ is a personal friend. We co-presented at last year's Ancestral Health Symposium, Russ asked me to write the foreword to the book, and Russ has agreed to appear as a guest chef at the May Perfect Health Retreat. None of this in any way biases my judgment about his book. It is a must have cookbook.