I apologize for the lack of blogging – between Luke's birth, our October Perfect Health Retreat, and other obligations, the last three months have been hectic. But everything has gone very well, life is returning to normal, and I will resume blogging soon.
In the meantime, let me share a video from Australia and some baby photos.
PHD Cameo on Aussie TV
The Australian television show "Sunday Night" did a special on camel's milk, and reader Richard Price was featured. He managed to sneak a copy of Perfect Health Diet into the video (watch starting 3:19 for Richard's story):

A note on milk: Milk and dairy generally are listed among our "pleasure foods", meaning they are acceptable in small doses but discouraged in large doses. We often serve a mug of warm whole milk with honey and turmeric as a dessert at our retreats; but we recommend against using milk as a staple food, due to evidence of danger such as this study. Milk supports growth of a healthy gut flora, so it can be therapeutic; but I am not familiar with special advantages to camel's milk.
Baby Photos
Luke was baptized yesterday, and Mom and Dad are proud. Father Mark Murphy presided, the godmother was present, and the godfather participated by Skype from Switzerland:
After the ceremony Luke was able to converse with his godfather: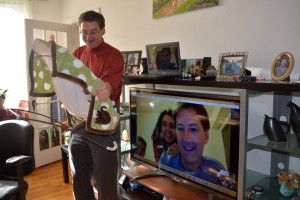 Here is our family (minus two):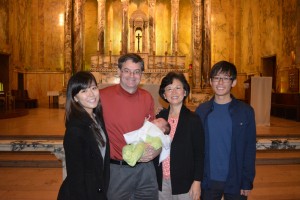 We had been saving a bottle of Chateau Lafite Rothschild Pauillac 1998, originally received as a wedding present, for a special occasion. It was a very generous gift and we thought Luke's baptism the best opportunity to open it: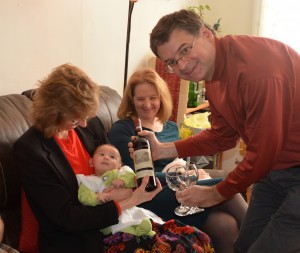 The activity may have tired him out a little: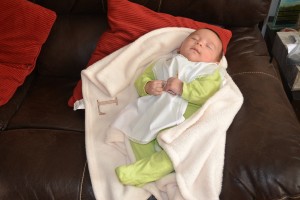 Can't get enough baby photos? I've posted a few more on Facebook.