We've been looking at papers put forth by Anthony Colpo in support of his idea that low-carb diets can cause "euthyroid sick syndrome" (see his original post on July 1 and a post expanding his case on August 20).  I gave my general perspective on this issue last week: Carbohydrates and the Thyroid, Aug 24, 2011. Briefly, an extreme low-carb diet can create a glucose deficiency, especially if endurance exercise or infection increases glucose requirements, and glucose deficiency invokes the body's glucose conservation measures, which primarily consist of lower T3 and higher rT3 hormone levels – two hormonal markers of euthyroid sick syndrome. I also offered my view, unchanged from our book, on what level of dietary carbohydrate intake is needed to avoid a glucose deficiency.
Now it's time to look more closely at the evidence to see if my perspective is consistent with the literature. Our thyroid expert, Mario Renato Iwakura, has been looking into Anthony's papers to see if they report any negative effects from Perfect Health Diet-level carb intakes. In his first post (Low Carb High Fat Diets and the Thyroid, Aug 18, 2011), he showed that studies cited in Anthony's July 1 post were generally very high omega-6 diets and therefore did not refute our diet, which prescribes low omega-6 intake. Anthony's August 20 rebuttal cited a few more experiments which were not high in omega-6, and today Mario is going to look specifically at the issue of carbs. How much carbohydrate intake is needed to avert a glucose deficiency as indicated by decreased T3 and increased rT3?
Mario had assistance from JS Stanton of gnolls.org who reviewed the post pre-publication and contributed some helpful suggestions. Without further ado, here's Mario! – Paul
After my post on low carb diets and thyroid function, Anthony Colpo wrote a reply that I will address with this post.
First, let me say that neither I nor Paul ever said that:
A high carbohydrate diet has detrimental effects on the thyroid;
Low-carb diets have any "metabolic advantage"; or
A very low carbohydrate diet is healthy or good for the thyroid.
Second, Anthony has been making a case that low-carb diets can produce a condition called "euthyroid sick syndrome," characterized by low T3 and high rT3. Anthony seems to have supposed that my post was intended to reply or refute his July 1 post. It was not; my post was intended as a treatment of thyroid health generally, and was designed to answer the question of whether the studies Anthony had cited in any way refuted the Perfect Health Diet prescription for thyroid patients.
In the developed world, most cases of hypothyroidism – up to 90% – are diagnosed as Hashimoto's autoimmune thyroiditis. Hashimoto's is a complex disease, whose causes are too complex to explore in this post, but in my opinion it is generally caused by exogenous toxins (gluten, mercury, bisphenol-A, bromide, etc) that disrupt gut flora and cause gut permeability and disturbed immunity that allows infections to enter the body and take root in thyroid tissue, after which in susceptible persons an autoimmune attack on the thyroid can develop.
Which infections are associated with Hashimoto's is still an object of study, but we do know that many of the likely pathogens benefit from high gut, serum, or cellular glucose levels  and therefore we can suspect that a high carbohydrate diet might promote the disease and a low, but not too low, carbohydrate diet, such as PHD, might be therapeutic.
So even if some thyroid-related problems, like euthyroid sick syndrome, may become more likely on a low-carb diet, others, like Hashimoto's, may be relieved by a low-carb diet. It is therefore necessary to look closely at each condition and at the literature to see which diet optimizes thyroid health – and whether specific thyroid disorders demand different diets.
In looking at the papers cited by Anthony, I'll borrow his section headings so that readers have an easier time finding the part of his post that I am responding to.
"Here Comes the Boom!"
Anthony, in an attempt to refute my assertation that PUFA may cause thyroid impairment on LCHF diets, cites two papers.
The first was Danforth E Jr et al. [1] This paper reported a number of experiments with multiple low-carb diet variations. In all studies, provided fat was rich in omega-6 fats:
The excess fat in these diets averaged 895 kcal/d consisting of margarine, corn oil, a corn oil colloidal suspension, and fat-enriched soups and cookies. The ratio of saturated to unsaturated fatty acids in these diets was 1:2.5. [1]
However, there was a single experiment which was low in both fat and carb. Anthony wrote:
However, as you scan through the above paper, you will notice that one of the groups followed a zero-carb diet consisting of nothing but lean meat, fish, fowl, and vitamin and mineral supplements. In other words, they ate next to no PUFA.
This particular diet was actually a "protein-supplemented modified fast" consisting of:
a 6-wk period during which the subjects received a protein-supplemented modified fast including 1.2 g/kg ideal weight per d of lean meat, fish, or fowl. This was supplemented by 25 meq/d of potassium bicarbonate and citrate and 200 mg of calcium as carbonate, plus vitamins and iron. [1]
So an 80-kg man would have gotten 100 g lean meat. 100 g chicken breast supplies 165 calories total, 32 calories from fat and 133 from protein. So this "zero-carb diet" provided at most a few hundred calories per day. Anthony's conclusion:
During this very low PUFA diet, T3 concentrations fell steadily and at six weeks were equivalent to those found after 7 days of fasting (88 ng/dl)!
Here's the data from the study:
The initial concentration of T3 in these subjects was 155 ng/dl, fell to 87 ng/dl during the 7-d fast, and then rose to 146 ng/dl with refeeding. Initial rT3 concentrations were 25 ng/dl, rose with fasting to 57 ng/dl, and then fell again to 24 ng/dl with refeeding. Slower but similar changes in the concentrations of T3 and rT3 to those of fasting occurred with administration of a protein-supplemented modified fast for 1 wk. During the first week of the diet, T3 concentrations fell from 166 to 109 ng/l and rT3 concentrations rose from 31 to 53 ng/dl. [1]
In short: On a 7-day modified fast providing 130 protein calories per day, the fall in T3 levels is significantly less than on a 7-day true fast.
As the modified fast was continued, T3 concentrations continued to fall and at 6 wk were equivalent to those found after 1 wk of fasting (88 ng/dl). rT3 concentrations, however, returned to their initial values as the fast was continued (39 ng/dl). [1]
So even after 6 weeks, the rT3:T3 ratio was lower on the modified fast (39/88) than after 1 week on the true fast (57/87).
This all looks consistent with Perfect Health Diet arguments that we need at least 200 starch calories and at least 600 carb+protein calories to prevent a glucose deficiency; with Paul's argument that high rT3 and low T3 is the body's response to a glucose deficiency; and with the idea that mitigating the glucose deficiency by carb or protein intake will lower the rT3:T3 ratio. It does not speak at all to Perfect Health Diet-style low carb (400 calories from starches, adequate protein) being unhealthy.
Anthony next discusses Bisschop PH et al. [2] He even e-mailed Bisschop to be sure the diet was low in PUFA. But what diet caused a significant decrease in T3 levels? A diet supplying only 2% carbohydrate out of 2483 total calories, or 49.66 calories = 12.41g of carbohydrate. Again, Perfect Health Diet recommends 400 calories (100g) carbohydrate, and argues that, because the amount of glucose that can be manufactured from protein is hormonally limited, even if dietary protein is sufficient at least 200 readily digestible glucose calories should be eaten to avert the risk of a glucose deficiency.
Anthony quoted the following passage from Bisschop PE et al:
Apparently, isocaloric carbohydrate deprivation induces a catabolic state with respect to protein metabolism compared with diets with a normal composition and compared with starvation. This catabolic reaction to carbohydrate deprivation is associated with decreased insulin secretion. Apparently, exogenous carbohydrates and/or insulin induced by exogenous carbohydrates are required for a proper utilization of dietary proteins. [2]
Anthony goes further and says that low carb diets "suck the big one for building muscle":
So what does explain the reduction in T3 seen on the low-carb diet? Well, remember how I said that Dr. Bisschop and his team also measured urinary nitrogen excretion in the male subjects? Urinary nitrogen excretion is a long-standing and widely employed marker for protein (as in, lean tissue) breakdown. Low-carb diets have repeatedly been shown to increase nitrogen excretion, which is one reason why they suck the big one for building muscle.
The carbohydrate deprivation diet comprised 2% of carbs and 15% of protein. On a 2483 calorie diet, this is only 420 carb+protein calories – insufficient to meet the minimum Paul estimated of 600-800 calories per day to avoid a glucose deficiency. The body simply isn't being given enough amino acids to meet the body's glucose requirements. Muscle breakdown necessarily follows.
But, let's see what happens when you provide more carb+protein. The Volek study [3] provided 8% carbs (184 calories) and 30% protein (704 calories) – still low-carb, but now enough carb and protein to avert a glucose deficiency. Here is Table 2 from Volek et al [3]: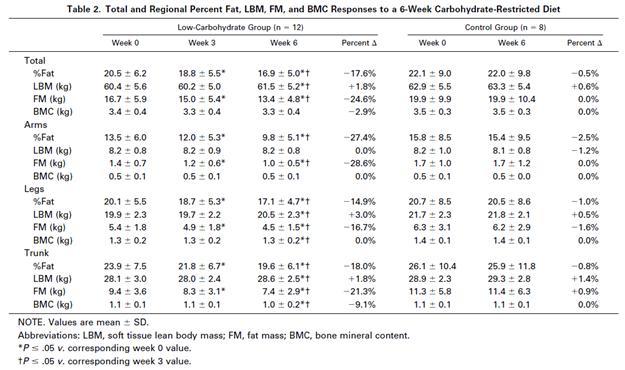 The subjects in the Volek study were asked to maintain their current level of physical activity and to consume adequate dietary energy to maintain body mass. And yet fat mass was significantly (P < .05) decreased (-3.4 kg) and lean body mass significantly increased (+1.1 kg) at week 6.
Lesson: if you don't want to lose muscle on a VLCD, eat extra protein and at least a bit of carbs!
"Why The Volek Study Proves Absolutely Nothing …"
Anthony wrote:
The study headed by Jeff Volek  is the only one allegedly showing no change in thyroid hormone levels on a low-carb diet, so of course it is eagerly cited by Mario as proof that I'm wrong. Just one wee problem: Volek et al didn't even measure levels of T3, the critical thyroid hormone in question! Instead, as I explained in my article, the pro-low-carb and Atkins-sponsored Volek team chose to only measure T3 uptake, a test also known as "resin-binding T3 uptake".

This, of course, is just fine by Mario, who happily extrapolates the results of unrelated studies examining the relationship between thyroid hormones and a bunch of other hormones; studies, I should point out, that did not involve low-carb diets.
The Volek study [3] was cited because it was unique: the only low-carb study that didn't use a high PUFA diet. As for the failure to measure T3, I agree this was a flaw. However, you cannot reasonably argue that T3 may have decreased with no detectable effect on the human body. You absolutely cannot say that T3 can decrease with no effect on testosterone, IGF-1, glucagon, sex hormone-binding globulin (SHBG), fat mass, or lean body mass. Maybe in an alien body or in another parallel universe … but not in humans.
Anthony next cites Otten MH et al [4]. Study subjects were taken through a succession of diets, eating each diet for only 72h. The two diets that caused the greatest changes in T3 and rT3 were the first two: a diet of 100% fat and another of 50% fat and 50% protein.
Paul has argued that gluconeogenesis is hormonally limited and can generate at most 400 glucose calories per day; this is why zero-carb diets are dangerous. So it is no surprise that these zero-carb diets produce the elevated rT3 – depressed T3 pattern that is the body's response to a glucose deficiency. Again, this does not argue against Perfect Health Diet-style low carb.
What is interesting about Otten et al is that the diet of 50% carbohydrate and 50% fat showed a decrease of 24% in T3 and an increase of 34% in rT3. It looks like even high-carb diets can induce high rT3 and low T3 if the diet is unbalanced and deficient in protein.
Perhaps the problem is not so much low-carb, but malnourishment in general! High rT3 and low T3 reduce metabolism and may help conserve protein during malnourishment, regardless of whether the threat to protein stores comes from dietary restriction of carbs or protein.
"Fifty Grams I Tell Ya, FIFTY GRAMS!!"
Anthony proceeds to comment on a study, Spaulding SW et al. [5], which was cited by Stabby in the comments. In this study, only fifty grams of carbohydrate on a high fat diet was enough to restore T3 levels to normal:
As anticipated, total fasting resulted in a 53% reduction in serum T3 in association with reciprocal 58% increase in rT3. Subjects receiving the no-carbohydrate hypocaloric diets for two weeks demonstrated a similar 47% decline in serum T3 but there was no significant change in rT3 with time. In contrast, the same subjects receiving isocaloric diets containing at least 50 g of carbohydrate showed no significant changes in either T3 or rT3 concentration. [5]
Anthony's comment is this:
Mario and Stabby jump on this finding as if it is proof that only fifty grams of carbohydrate is needed to maintain optimal carbohydrate levels. In doing so, they totally ignore the fact that this result was hardly a universal finding. They totally ignore all the other studies showing T3 reductions at higher carbohydrate intakes.
Based on Paul's view of things, it would be no surprise that this was not a universal finding. Paul estimates that 200 calories of dietary carbs, plus 400 calories from gluconeogenesis, is barely sufficient to prevent a glucose deficiency in a sedentary healthy person. Any perturbation – exercise, infection, protein restriction limiting the availability of substrates for gluconeogenesis – might induce a glucose deficiency.
But it is significant that when circumstances are right, 200 calories per day of carbs can eliminate the T3 drop and rT3 rise that is associated with glucose deficiency. So Spaulding et al is a positive contribution to the debate, and once again it tends to confirm Perfect Health Diet's analysis.
Anthony cited several other studies in which 200 carb calories was insufficient to prevent a rise in T3. First, Mathieson et al [6]:
Ruth Mathieson and her colleagues from Virginia Polytech and State University placed fourteen obese free-living women on 530-calorie/day diets containing either 44 grams or 94 grams daily of carbohydrate. Both diets caused significant reductions in T3, with the ketogenic diet causing the largest decline.
Recall that Paul believes that 200 carb calories and 600 calories of carb+protein are the bare minimum needed to prevent a glucose deficiency, even when all circumstances are favorable. These diets only had 530 calories total. As carb+protein intake was insufficient to maintain glucose status, it is no surprise that the diets induced a fall in T3.
The other study cited by Anthony was Serog et al [7]. Anthony writes:
Serog et al examined four isocaloric (mean intake 2800 calories/day) diets lasting 1 week each. In two of these, a standard diet containing 45 percent carbohydrate was consumed. The remaining two diets were either low- or high-carbohydrate, and were consumed by all the subjects in random order between the two standard diet phases.

Average carbohydrate intake in grams was 250 grams on the standard diet, 71 grams on the low-carbohydrate diet, and 533 grams on the high-carbohydrate diet. On the standard and high-carbohydrate diets, T3 levels did not change, ranging from 163.3 to 169.5 ng. They declined on the low-carb diet to a mean 148.6 ng. Mirroring these changes, rT3 rose significantly only on the low-carb diet.
What was the fat used? You bet! Soy oil! From Table 1, composition of the Normal Protein Hypocaloric Diet (NHD): protein was provided as casein (14g), skimmed milk (34g), and soy (22g); fats were from soy (16g, 9g linoleic acid); carbohydrates were primarily dairy sugars.
Finally, Anthony cited a study by Davidson and Chopra [8] which found that T3 levels increased as carbohydrate intake increased from 20% toward 80% of energy. Paul himself discussed this study in last week's post, in response to a cite by Danny Roddy. Paul's observation was that high T3 levels are harmful to health, and that T3 may be elevated on the 80% carb diet in order to dispose of excess glucose (T3 stimulates glycolysis), so this could indicate a mechanism by which high-carb diets are health impairing. It does not prove that 80% carb diets are healthier than 20% carb diets.
Conclusion
Yes, it is possible to develop a glucose deficiency on low-carb diets. If this occurs, the body will conserve glucose by reducing T3 and increasing rT3.
However, there is as yet no evidence that T3 and rT3 will exit normal ranges when following Perfect Health Diet guidelines.
Until a well-designed study provides contrary evidence, I stand by my assertion that a diet with sufficient but not excess protein, moderate carbohydrate comprising a minority of calories, and high intake of saturated and monounsaturated fat but low intake of polyunsaturated fat is optimal for thyroid function. But this is the Perfect Health Diet!
References
[1] Danforth E Jr et al. Dietary-induced alterations in thyroid hormone metabolism during overnutrition. J Clin Invest. 1979 Nov;64(5):1336-47. http://pmid.us/500814
[2] Bisschop PH, et al. Isocaloric carbohydrate deprivation induces protein catabolism despite a low T3-syndrome in healthy men. Clin Endocrinol (Oxf). 2001 Jan;54(1):75-80. http://pmid.us/11167929
[3] Volek JS et al. Body composition and hormonal responses to a carbohydrate-restricted diet. Metabolism. 2002 Jul;51(7):864-70. http://pmid.us/12077732
[4] Otten MH et al. The role of dietary fat in peripheral thyroid hormone metabolism. Metabolism. 1980 Oct;29(10):930-5. http://pmid.us/7421583
[5] Spaulding SW et al. Effect of caloric restriction and dietary composition of serum T3 and reverse T3 in man. J Clin Endocrinol Metab. 1976 Jan;42(1):197-200. http://pmid.us/1249190
[6] Mathieson RA, et al. The effect of varying carbohydrate content of a very-low-caloric diet on resting metabolic rate and thyroid hormones. Metabolism, May, 1986; 35 (5): 394-8. http://pmid.us/3702673
[7] Serog P, et al. Effects of slimming and composition of diets on V02 and thyroid hormones in healthy subjects. Am J Clin Nutr. 1982 Jan;35(1):24-35.http://pmid.us/7064875
[8] Davidson MB, Chopra IJ. Effect of carbohydrate and noncarbohydrate sources of calories on plasma 3,5,3?-triiodothyronine concentrations in man. J Clin Endocrinol Metab. 1979 Apr;48(4):577-81. http://pmid.us/429502.