Before I get to the recipe, let me play proud papa for a few minutes, and share with you an episode with Luke this weekend that illustrates his spirit and character. I mentioned last week that he had started walking. However, as recently as his birthday, last Thursday, we thought it was impressive if he strung together 20 steps at a time. This weekend, coming out of church Saturday evening, he demanded to be allowed out of my arms to walk. He proceeded to walk almost the entirety of the 3/4 miles home. Here is a short section of his journey; he was already 10 minutes in and starting to get tired:
You can see him refusing any support from me – he wanted to do it all himself – and grinning at his new skill.
It was inevitable that he would take a tumble at some point, and soon after we stopped recording he did. He tripped and landed on all fours, just as in the video; but then he tried to launch himself back to his feet by sheer strength of arms, and didn't quite make it all the way up. His head came back down first and he got a cut and bump on his forehead. I picked him up and he cried for 10 seconds or so; after 20 seconds he was smiling again: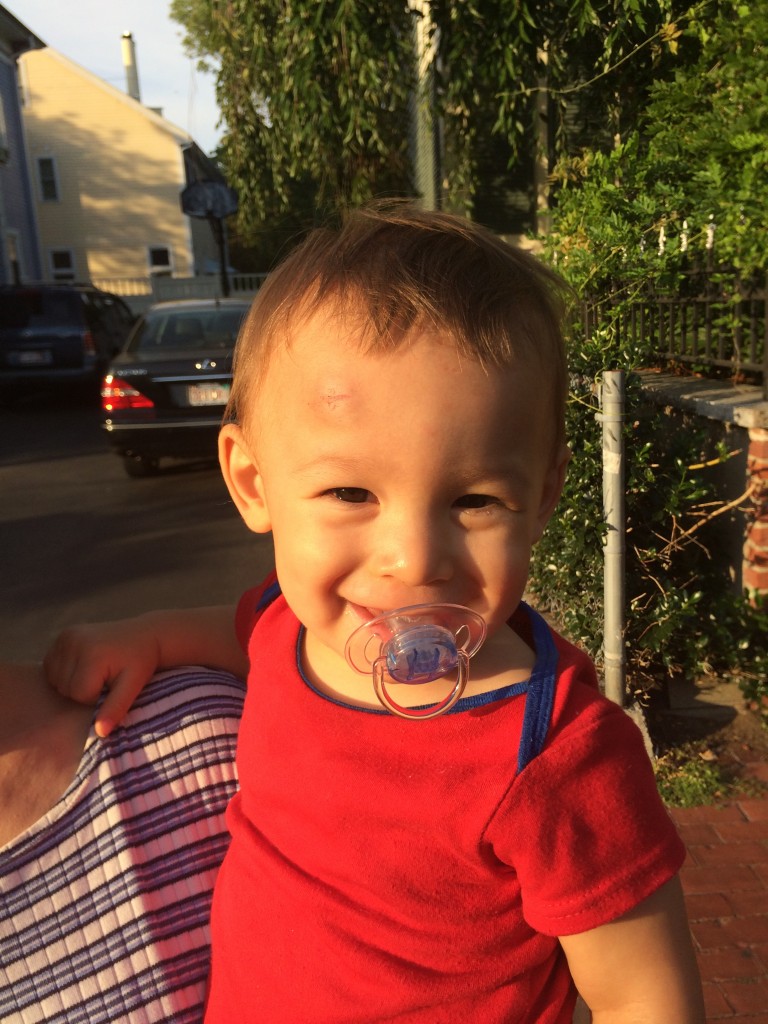 Just seconds after this photo was taken, he demanded to be let back down to the ground, and proceeded to walk the rest of the way home, grinning. When we reached home, he complained at being taken indoors. Nevertheless, he was tired. Forty minutes later, he was asleep, and slept 11 hours.
OK, back to food. When Luke was age 6 months or so, we introduced him to solid food through this recipe. It is essentially a PHD meal suitable for infants, puréed with a blender. As is suitable for a baby, the "baby meal" has less protein and more carbs and fat than would an adult meal.
At first we mixed the purée into his milk. Luke soon came to love this "PHD milk" and started to refuse plain milk. Here he is enjoying his favorite meal: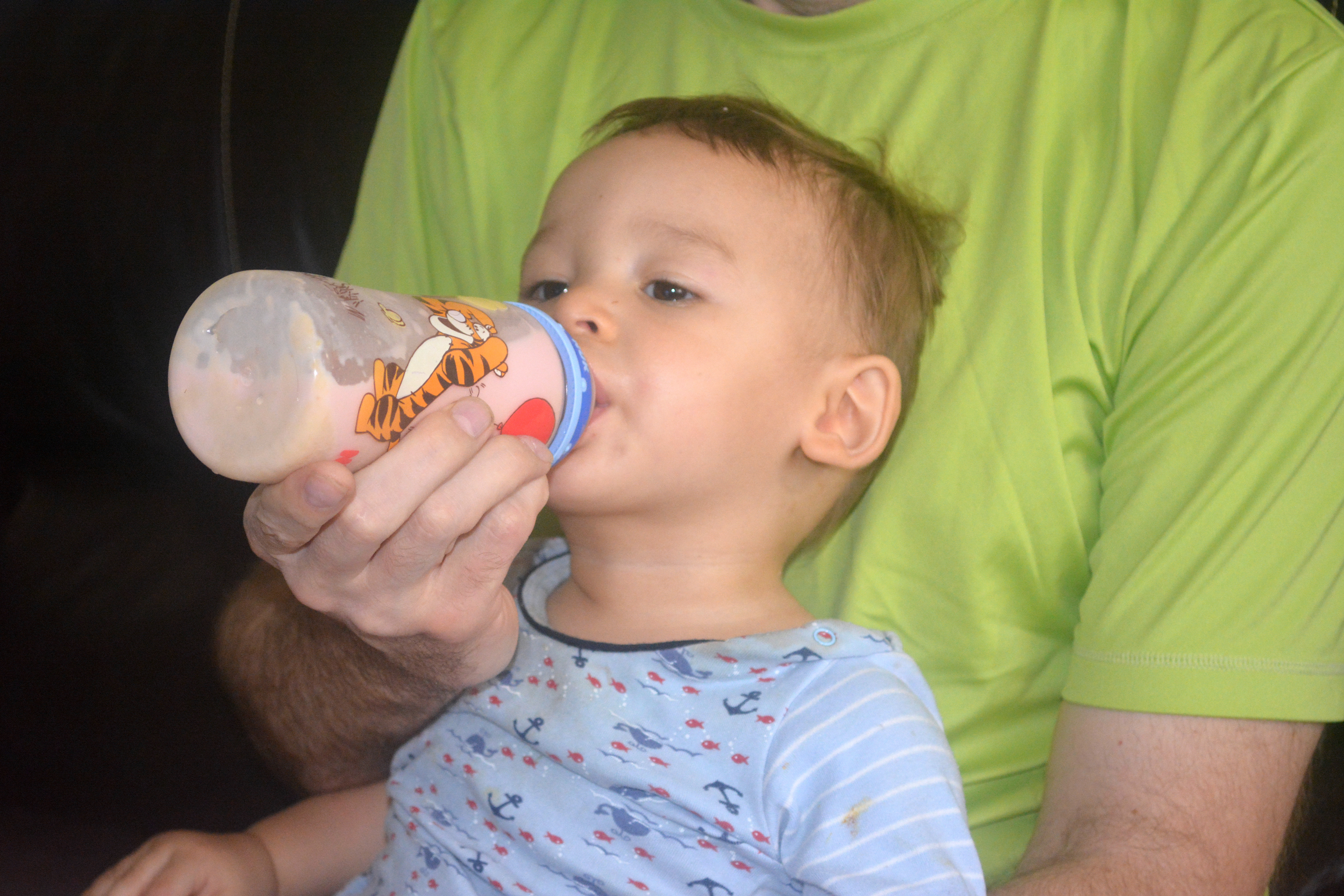 He also loves the baby food by itself. When we make it, we give him the mixing bowl and spoon, and he finishes everything eagerly (making a mess along the way).
One note on ingredients. We recommend here that the meat be a mix of beef liver, oysters, salmon, and scallops.However, there's no need to obtain all of these ingredients for every batch. It is fine to make a batch with one, then the next with another, then the next week with a third. Just balance the proportions over time. Instead of 5 g of each every week, get 20 g of each in over 4 weeks, in whatever fashion is most convenient for you.
A note on allergy risk: There have been some concerns that early introduction of shellfish could pose a heightened risk of allergy. The issue is discussed here. However, evidence has been piling in pointing the other way — that earlier introduction of potentially allergenic foods reduces the risk of allergy. More evidence. Since 2008, earlier introduction of allergenic solid foods has been the recommendation of the American Academy of Pediatrics. Current recommendations can be found here.
Nutritionally, this mix is not perfect, but it's impossible to make a perfect baby food using natural whole foods. For example, breast milk has a higher zinc content than any natural whole food. Therefore, mixing in a few supplements, such as zinc and vitamin K and pantothenic acid, is a reasonable tactic.
[Further note: If you're viewing this on the main page, click here to see the recipe.]

Assemble the ingredients. In this batch we used 20 g beef liver for convenience; the next 3 weeks would have no liver and contain in total 20 g each of oysters, salmon, and scallops.

In a saucepan, combine the beets, carrots, potatoes, white rice, 1.5 cups of water, beef liver, vinegar, fish sauce, and coconut milk. Cover (to prevent loss of moisture) and bring to a simmer for 30 minutes. Keep the heat as low as possible while still maintaining a simmer.

While the other ingredients are simmering, mix the egg yolks with the other 1/2 cup water and set aside.

While simmering, use an immersion blender to puree the ingredients in the saucepan. Once pureed, cover the pan again to prevent loss of water.

After turning off the heat, strain the yolk-water mixture into the pan, stirring to mix the yolks throughout. The goal of the strainer is to let the yolk lipids pass through but keep the protein-rich yolk sacs in the strainer. Once the yolks are in, the residual heat will gently cook them, making any residual protein more easily digestible. Once the yolks are mixed in, we are done.

We divide the resulting food mixture into 14 equal parts, each about 2 fluid ounces. Two of these go directly into milk bottles for the next day. The other 12 are frozen away in miniature containers. Each day, we use one container in the morning and one in the evening. Each frozen container can be warmed in the microwave for 30 seconds to thaw the food, before it is transferred to a milk bottle.

When making the bottle, mix 2 ounces baby food with 7 ounces formula or breast milk. Immediately before feeding, shake well to distribute the food throughout the liquid. Typically, after the baby has drank 6 or 7 ounces, enough of the food has settled into the remaining 2 ounces that we can add another 6 or 7 ounces of formula or milk while still retaining the flavor and nourishment of the original mixture. After the baby drinks this second filling, we're ready to switch to a new bottle with the next container of food. This provides 15 ounces of "PHD Baby Milk" twice a day, a good quantity for most infants, especially combined with solid food.