Thanks to everyone who gave us advice on the Perfect Health Diet food plate: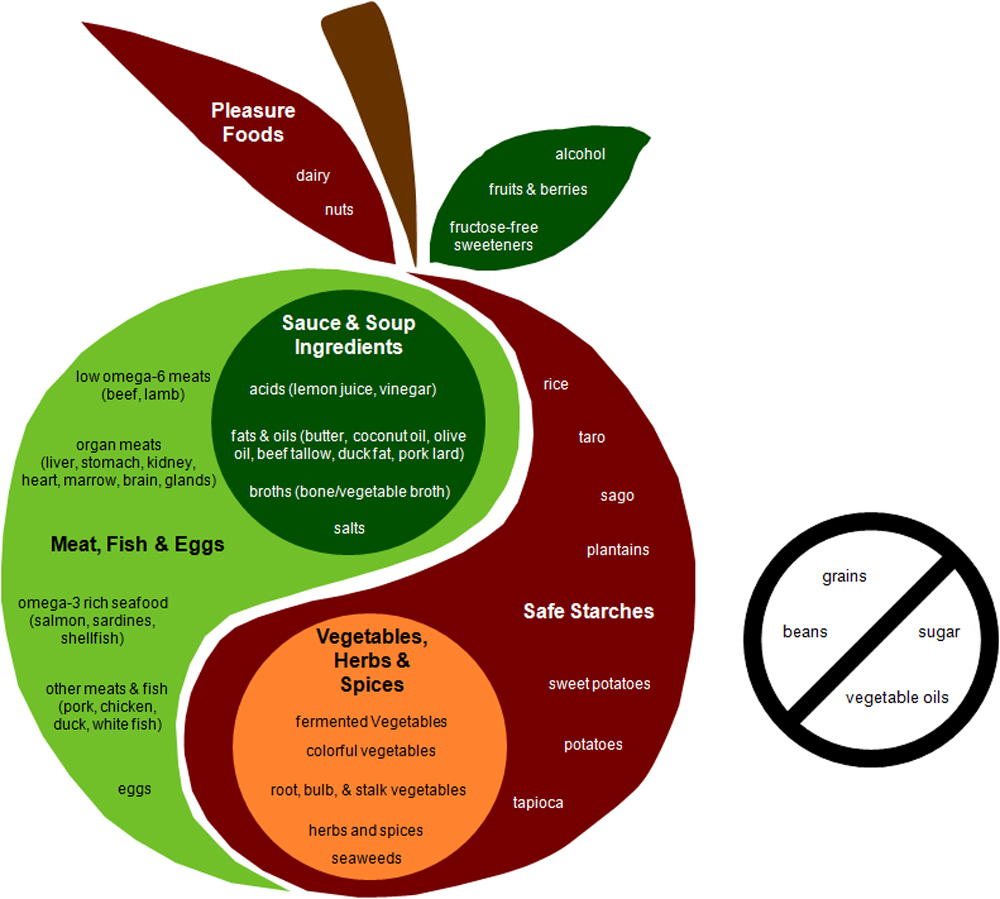 It's very helpful to hear your thoughts. I thought I'd respond here.
Supplements
Garymar asks "where are the supplements?" Perhaps this was tongue in cheek, but it's a fair question. To be honest it never occurred to us to put supplements in, as the graphic was meant to address the question "How do I construct a meal [or a day's food]?"
That said, I notice the Harvard Healthy Eating Pyramid features a multivitamin plus vitamin D. Moreover the base of their pyramid has "Daily Exercise & Weight Control" sections! So there is a precedent.
On the other hand, they consider beef, rice, and potatoes foods to "Eat Sparingly," and wheat as foundational, so I'm not sure they're a good model.
YinYang
Kirk thought our diet is unbalanced toward fat, and so a symbol indicating balance was inappropriate. However, foods and macronutrients are different things; fat can come from plants (coconut oil, olive oil) as well as animals. Moreover, the plate is oriented toward meal construction, ie food, not nutrients.
Michelle, for one, was unsure how to relate macronutrients to food:
I am a reader who never quite caught on to how much of every macronutrient I should be eating in order to be PHD compliant.

Upon reading the book, I could not picture how much "400-600 carb calories" were, or "200 protein calories".
One purpose of the food plate is to help solve this problem. Kirk himself took the correct inference from the diagram:
To my eye, the proposed diagram insinuates there should be equal servings of meat/fish/eggs/sauces/soups as balanced with servings of vegs/herbs/spices/safe-starches.
Yes! Because the plant foods we recommend have 100 to 600 calories per pound, while the animal foods and fats have 600 to 3,500 calories per pound, a diet that obtains most calories from animal foods can still get most of its matter from plant foods. As Gary pointed out:
On a high fat diet, the quantity of fat looks small compared to the quantity of vegetables.
Our diet really is fairly balanced between the food groups.
Our thanks to those who stuck up for the symbol, including Pam ("I like the yin-yang symbol a lot! i believe this is meant for portion (volume) right?") and especially Ellen, who is an authority:
I like the use of the Taiji symbol…. I did not think it was meant to convey equal amounts of each food group as much as the *concept* of balance (and change) over all. This, in spite of having studied (with Master Jou among others) and taught Taji.
Artistry
Beth had a number of great suggestions. One was to merge the "Do Not Eat" foods into the apple by putting them in the apple's shadow. In fact, we do have an apple with a shadow, and that might work well.
Erp suggested a snake (carrying the apple as in Genesis) or a worm coming out of the apple to represent forbidden foods. Sorry, erp, doesn't sound appetizing!
Howard suggested we use the Zone Diet plate as a model. This is interesting because it actually has 3 plates, showing a 3-part strategy for constructing a meal. This "dynamic" imagery is something to consider.
Paul A had an excellent suggestion:
Nitpicky comment: wouldn't it be more intuitive to have meats in the red section and plants in the green?
Yes. Another aspect we hadn't thought of: in Chinese theory, most plant foods are considered "yin" (thus belonging on the left) and meat, fish and eggs as "yang" (on the right).
Next question: If we're moving Safe Starches to the left and Meats to the right, would this be interpreted as a "farewell to Paleo"?
Are the "Pleasure Foods" too small?
Bethany asked if dairy was such a small part of the diet? The same could be asked for fruits and berries. (Mallory said, "I like fruits more than your plate does." So do we, Mallory!) Or even for the "fructose-free sweeteners," such as rice syrup, which are as fundamentally benign as the safe starches they are derived from.
Maybe we need to add more leaves to the apple stem. Especially if we take up erp's suggestion to devote the stem to the chocolate food group!
On a related matter, Dale asked why sugar was excluded:
I like it … except for the no sugar part. People are going to eat it anyway so why not be sensible and suggest it in moderation?
Well, we support fruit, berries, and starch-derived sweeteners such as rice syrup. We've got ways to satisfy a sweet tooth. Is there really a rationale for including table sugar in a diet? I'm sure everyone will eat sucrose from time to time, but why should we endorse it?
Right Amount and Kind of Information?
Ellen thought we could include more information:
This might be too wordy, but perhaps you could indicate the range under the sections, i.e. meat, eggs, fish (1/2 to 1 lb/day).
MarkES ("a simple visual of food proportions when people look at their own plates") and Erik ("I also agree with some of the other posters that there are too many words") wanted less information. Mike Gruber was in the same camp:
Just a quick visual comparison between your chart and the competition leaves me with the impression that yours has too many words … will people read them? A chart is supposed to summarize something, and the more briefly the better.
This is an issue with no perfect solution. I don't think we can put all information in the apple, and there will usually be some companion text that provides deeper explanations. But I don't think we need to go quite so kindergartenish as the USDA Food Plate.
Michelle thought we might have missed the most important point of all:
[O]ur message at home is Eat Real Food, & Avoid Food Toxins. I'm not sure a glance at the PHD food plate would help them make sense of what to eat, in practical terms.
Hmmm. I had hoped the text made clear what desirable "Real Foods" and forbidden "Toxin-Rich Foods" were. Is there a better way to communicate the use of real foods? Perhaps little food images would work better than text.
A possible defect of including representative foods in text is that someone might mistakenly infer that un-named foods are forbidden. Hilary asks:
Should lime juice be included? Should yams be included on the list of safe starches?
Those are fine foods, but I don't want the apple-plate to contain a laundry list of foods. The listed foods are representative — similar foods may also be eaten.
Conclusion
You've certainly given us food for thought — and ideas for desirable revisions. Thanks much!