I apologize: I've fallen about three weeks behind in responding to the Q&A thread, as I've been trying to catch up on other work. I will try to get to all the old questions.
[1] New Podcast with Jonathan Bailor: I had the pleasure of recording a conversation with Jonathan Bailor, producer of The Smarter Science of Slim. I mentioned Jonathan's new "Slim is Simple" video in my last Around the Web, but there's more: he's a terrific conversation partner and his podcast looks to be a great new entry among the leading Paleo podcasts. Check it out!
[2] Help Scholars Understand the Ancestral Health Movement: Historian Hamilton Stapell, who is active in the Ancestral Health Society, is researching the composition of the ancestral health movement. We're making history, let's help the historians understand what we're doing. Please spend a few minutes to fill out his survey.
[3] Music to View Los Angeles By: Via Meredith Harbour Yetter on Facebook, Wilco does "California Stars":
[4] Interesting Items:
If you're looking for a new tumblr blog, try WTF, Evolution?.
If you're looking for a familiar and funny one, re-visit What Should We Call Paleo Life.
MarksDailyApple found this article on barefoot horses doing well in competition. This sentence caught my eye: "Barefoot horses also need to have the sugar levels in their diet carefully managed." Did horses need shoes because high-carb diets made their feet tender?
Brain cancer mortality increases with Toxoplasma gondii seroprevalence.
More evidence that a high-fat diet promotes longevity: Polish centenarians have high adiponectin.
Emily Deans presents more reasons to eat egg yolks, especially in pregnancy.
Via Dennis Mangan, more evidence that a high-fat diet is good for you: 41% fat is better for mood than 25% fat.
When trees die, humans do too.
Jack Peterson offers advice for undergraduate eating; and he's interviewed a man who normally does the interviewing, Abel James.
Ray Medina approves of Bifidobacterium infantis.
The food reward idea is in the popular press; a journalist has written a new book on it, Salt Sugar Fat: How the Food Giants Hooked Us that is at #78 at Amazon.
Can you tell the profs from the hobos? (Via Craig Newmark)
Sustainable safe starches: Indian farmers are setting record yields growing rice and potatoes with a technique called System of Root Intensification (SRI), invented by a French Jesuit priest in Madagascar in the 1980s. However, a Chinese scientist questions the yield data.
Hitler was a vegetarian, he planned to convert Germany to vegetarianism after the war, and the Hitler Youth promoted soybeans by calling them Nazi beans. I'll have to remember that name.
Coca-Cola – 10 liters a day of it – has been linked to a death.
Horsemeat is catching on in England.
Fish is better than fish oil: ProfDr Andro says phospholipid-borne omega-3s are better than triglyceride-borne omega-3s.
Lara Briden, N.D., suggests "gentle carbs" (similar to safe starches) for adrenal health.
Seth Roberts comments on a case in which arthritis was cured by dietary changes that successfully remodeled the gut flora.
Ned Kock wonders if testosterone levels are driven by cortisol.
Finally, orthorexia has become a hot topic on Broadway:
[5] Cute Animals: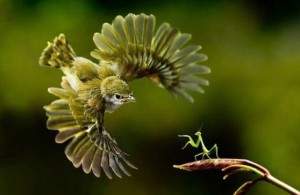 Via Yves Smith.
[6] Bacterial Warfare: Here is an interesting video from the current issue of Cell. You may have heard that "tit-for-tat" is a successful strategy in repeated prisoner's dilemma games – a type of game that resembles microbial competition in the human gut. Microbiologist John Mekalanos and colleagues observed the conditions under which microbes like Vibrio cholerae (whose more virulent strains cause diarrhea and cholera) and Pseudomonas aeruginosa (which is pathogenic in people with cystic fibrosis) choose to fight or co-exist with one another. Listen to Dr. Mekalanos explain bacterial warfare conducted with Type VI secretion systems:
For more, see "Bacterial Battlefield."
By the way, Shou-Ching is currently working on a video paper showing how tumor cells interact with and attempt to take control of endothelial cells when they are co-cultured. If the paper is open-access, we'll share her videos when the paper comes out.
[7] Silly Video: If animals had an epidemic that inflated them like beach balls, the Serengeti might look something like this:
[8] S*** Paleo People Say: PaleoFX is a month away, and I'm sure it will be just as fun as this video:
[9] Video of the Week: Lee Saxby discusses how to avoid injuries when running: