Last Thursday's post was mainly concerned with Abby's bone injury that refused to heal. I noted that four nutrients – vitamins C, D, and K2, and magnesium – were essential for bone health, and that deficiencies could have contributed both to Abby's injury and her slow healing.
Today's post is about another group of people who frequently break their bones and don't heal well:  the Boston Red Sox.
Injury-Prone Sox
Those who follow baseball may know that a promising 2010 Red Sox season was sabotaged by a rash of broken bones:
Centerfielder Jacoby Ellsbury missed 144 games with hairline fractures in four ribs; they failed to heal properly and re-fractured months after the initial injury.
Second baseman Dustin Pedroia missed all but two games after breaking his foot June 25.
Catcher Victor Martinez missed a month with a broken thumb.
Backup catcher Jason Varitek played just five games after breaking his foot on July 2.
There were muscle and joint injuries too, but let's stick to bones.
Is it possible the Red Sox players are suffering from micronutrient deficiencies?
The Red Sox Hire a Dietitian
A few years ago the Red Sox hired a professional dietitian to advise their players: Tara Mardigan of the Dana-Farber Cancer Institute.
Ms Mardigan is a lovely woman, a marathoner and former gymnast, with a charming personality that shines through in radio interviews. She obtained her position with the Red Sox after meeting Red Sox president Larry Lucchino at a charity breakfast.
But what is her diet advice, and which players are taking it? I found a hint about the latter question in an interview in the student newspaper at Tufts University's Friedman School of Nutrition Science, where Ms Mardigan studied:
I stopped working full-time at Dana-Farber to accommodate working with the Red Sox, and luckily they have a great relationship with the team so I was able to reduce my hours.  I also work with the Red Sox's minor league teams, the Lowell Spinners, Pawtucket Red Sox, and Portland Sea Dogs. This is where I really make changes.  I work with young guys who are interesting in learning about how nutrition can improve their performance.  They are hungry to get to the big leagues. It's great to see them move up into the major league, and then become someone like Jacoby Ellsbury (Left Field/Center Field) who is now well-versed in nutrition.
Uh oh! Jacoby Ellsbury, who managed only 18 games in 2010, whose bones break on incidental contact and whose hairline fractures won't heal in six months, is the dietitian's prize pupil?
The Dietitian Advises Avoiding Supplements
The Friedman School interview didn't tell us much about Ms. Mardigan's dietary recommendations, other than that she opposes most nutritional supplements:
I try to get them to choose food before supplements, and only supplements when necessary. Athletes are vulnerable and think [supplements] are well made and well regulated, and they are shocked when they find out they are not.
Those who have read our book know that we have a chapter titled "Why Moderns are Malnourished" which explains why modern agriculturally-produced foods and treated water don't provide enough micronutrients, and why supplements are needed to optimize health.
Among the micronutrients for which supplementation is most needed are vitamin K2 and magnesium – two crucial nutrients for bone health.
What Is Her Diet Advice?
To get an idea of what diet she might be recommending, I looked at the Dana-Farber nutrition team web site, and was surprised to see this graphic illustration of their "Optimal Diet plan for cancer survivors":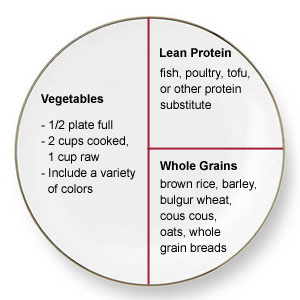 Yikes! No fats, and no mention of healthy plant foods like starchy tubers. A quarter of the diet is toxic grains and the protein may be derived from toxic legumes. It looks like roughly 70% of calories come from carbs and 25% from protein.
Later in the page they suggest such omega-6-rich oils as soybean oil, canola oil, flaxseed oil, wheat germ oil, and walnuts – all eliminated on the Perfect Health Diet.
It seems Ms Mardigan has recommended a similar diet to the Red Sox. From the Dana-Farber site:
On staff with the club since January 2006, she attends most home games to meet with players and make sure grilled chicken, steamed vegetables, and other healthful options are available in the team dining room.
Vegetables and lean protein, just like the Dana Farber diet. Another clue from this interview:
"My diet is very restricted right now, but Tara has been wonderful at helping me figure out what I can eat, like certain thick-skinned fruits and soy products," says Anne Forgit, a leukemia patient and recent bone marrow transplant recipient.
Soy products. As readers of our book know, this is a highly toxic food.
Ms Mardigan does have a personal home page. The only clues I found there to her diet advice reside on her "Resources" page, where she recommends Michael Pollan's In Defense of Food and  Dr. Walter Willett's Eat, Drink, and Be Healthy. Pollan is a journalism professor who has made a career attacking industrial agriculture, and has likened the Atkins diet to an eating disorder. He seems to avoid specific diet advice, but it looks like he favors grains and omega-6-rich plant fats over animal fats. Dr. Willett is mentioned in our book, where we object to his opposition to coconut oil and saturated fat. He is a promoter of polyunsaturated fat and whole grain consumption.
If this is what Ms Mardigan is recommending to the Red Sox, it's no wonder their bones are breaking:
Grains are toxic to bones. Wheat, oats, and other grains induce rickets, a softening of the bones that leads to frequent fractures. (This is discussed extensively in our book, and has been known since Mellanby's original experimental investigations into rickets in dogs [1].)
Omega-6 polyunsaturated fats reduce bone mineral density. [2]
The Missing Nutrients
So the Red Sox players are being recommended a diet that is highly toxic to bones. But what about the key bone nutrients?  Are they lacking in those as well?
The answer is almost certainly yes. The fat-soluble nutrients are critical to bone remodeling, and it seems the Red Sox diet is completely lacking in vitamin K2.  Plant sources of vitamin K1 aren't sufficient for bones, and animal sources of K2 seem to be excluded from the Red Sox diet.
Bone fracture rates are very strongly dependent on vitamin K2 levels. Most people are deficient, and supplementation with K2 reduces risk of vertebral fractures by 60%, hip fractures by 77%, and non-vertebral fractures by a remarkable 81%. [3]
If that happens on ordinary diets, the reduction in fracture rates would probably be even more remarkable on a K2-empty diet like the one that has been recommended to the Red Sox.
Conclusion
If a biomedical scientist were asked to contrive a diet that maximized the likelihood of bone fractures, the advice would be:
Eat lots of grains to induce rickets.
Eat vegetable oils and non-tropical fatty plants to reduce bone mineral density.
Avoid animal and dairy fats to deprive the body of fat-soluble vitamins needed for bone mineralization, such as vitamin K2.
Do not take nutritional supplements, in order to maintain a deficiency of bone nutrients.
It seems that this is precisely the advice that is being given to the Red Sox and their minor league players.
This year's broken bones cost the Red Sox a chance at a World Series. The player who followed this diet advice most rigorously, Jacoby Ellsbury, lost a full season to bone fractures, and his injury history could cost him millions when he becomes a free agent next year.
As a lifelong Red Sox fan, I beseech the team to reconsider their diet advice.
References
[1] Mellanby E. (March 15 1919) An experimental investigation on rickets. The Lancet 193(4985):407-412. Reprinted in Nutrition. 1989 Mar-Apr; 5(2): 81-6; discussion 87. http://pmid.us/2520279.
[2] Watkins BA et al. Dietary ratio of n-6/n-3 PUFAs and docosahexaenoic acid: actions on bone mineral and serum biomarkers in ovariectomized rats. J Nutr Biochem. 2006 Apr;17(4):282-9. http://pmid.us/16102959. Watkins BA et al. Dietary ratio of (n-6)/(n-3) polyunsaturated fatty acids alters the fatty acid composition of bone compartments and biomarkers of bone formation in rats. J Nutr. 2000 Sep;130(9):2274-84. http://pmid.us/10958824.
[3] Cockayne S et al. Vitamin K and the prevention of fractures: systematic review and meta-analysis of randomized controlled trials. Arch Intern Med. 2006 Jun 26;166(12):1256-61. http://pmid.us/16801507.