Since many Americans and Europeans are not familiar with how to use rice, we thought it would be nice to offer some ideas, mainly drawn from Asian cooking.
(The zero-carb dangers series is continuing, but as it's science heavy I thought mixing in a food post would be fun.)
We make a soup every weekend and have a bowl to start dinner most days of the week. Chicken soup is a classic winter dish. We have a brief recipe in the book, but here is a variant. In the book recipe, the chicken is pulled out before it disintegrates, the meat and skin pulled from the bones and returned to the soup. Here, the chicken is left in the soup and cooked much longer to create a thicker and more nutritious broth. The downside is that many small chicken bones are left in the soup.
The Recipe
We like a garlic-salt-and-pepper flavor. Garlic is very important for the flavor of the soup; use at least 12 cloves, I prefer 20. Slice each clove in half so that the flavor seeps into the broth more easily.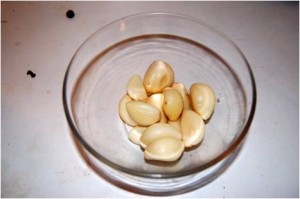 Use enough water for the chicken to float but not swim: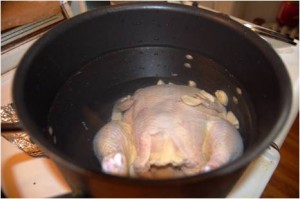 For the most nourishing broth, simmer 2-3 hours. Skim off scum that rises to the top, but don't skim off fat. If you wish a soup with less protein, remove the chicken breast meat after one hour, returning the rest of the chicken to the soup; the breast meat can be used for other dishes, like chicken salad.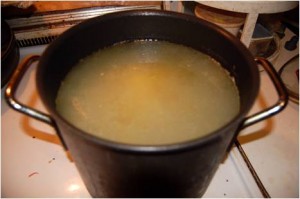 Meanwhile, you can pre-soak some uncooked rice in water. This helps the rice open in the soup: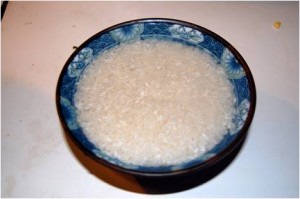 After 30 minutes or more of soaking, pour off this water to remove starch and surface contaminants, then add the rice to the soup. Cook another 1 hour. With shorter cooking, the rice remains intact; with longer cooking the rice releases starch into the broth for a thicker broth.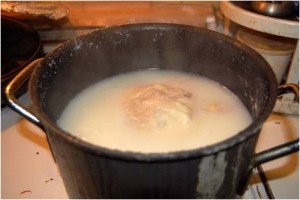 By this time the chicken should be falling apart. Use a spoon to break it to small pieces. Add salt and pepper and other spices to taste. In the last half hour, you can add any vegetables you wish to cook in the soup.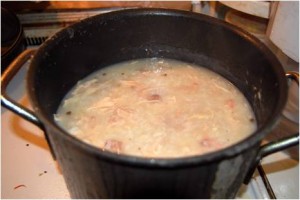 You can also add vegetables after the soup is finished, for a crunchier texture. In this case we added cilantro, carrots, and scallions: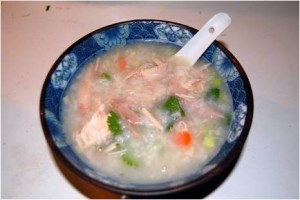 Finally, after cooking is done and just before eating, you can add fat sources to hot soup for a richer taste. We use egg yolks or heavy cream. I rather like cream with turmeric. Here is how it looks with three egg yolks: