Here's what caught my eye this week:
[1] Goodbye, Walter, and God bless: We've closely followed Walter Breuning's career as the world's oldest man, since he so well exemplifies our dietary practices. (See Happy Birthday, Walter Breuning!, Sep 21, 2010; What Makes a Supercentenarian?, Aug 18, 2010). Sadly, he passed away on Thursday. Hat tip, Chris Highcock.
[2] Interesting posts this week: Tom Naughton. Egyptian mummies. Enough said.
Jamie Scott considers the optimal training strategy in 10 hours per week – and whether Goldilocks training (not too hard, not too easy) has any merit. Emily Deans thinks doctors should be able to write prescriptions for grass-fed steak and wild-caught salmon. I'm all for that – we would actually get some value out of our health insurance! I can see it now: "I'm doing great on the Kobe beef and lobster, doc. What's my co-pay?"
Prague Stepchild offers Staffan Lindeberg in a nutshell. (Note: human salt needs are higher on low-carb diets.) Life's Little Mysteries reports that the leading cause of death after age 65 is falling down. Ned Kock reviews what the China Study shows about effect of foods on appetite.
Stephan critiqued the "drink less, pee more" theory for treating edema. Gary Taubes had a New York Times piece, "Is Sugar Toxic?" which starts slow (you won't miss much if you start on page 4), but picks up. Bix at Fanatic Cook gave a high-carb dieter's response. Chris Masterjohn reviewed an Experimental Biology conference. Some great photos there!
[3] I know what you're thinking, Buttercup! You need a Robb Wolf spoof! Chris Highcock of Conditioning Research has you covered.
[4] I know what else you want! Penguin tickling!
[5] Long Fasts: Jimmy Moore is doing a 7-day total fast.
I would caution him to drink lots of water and take electrolytes (salt for sodium and chlorine, plus potassium and magnesium, maybe mineral water with calcium). Personally, I would ease any long fast a bit with coconut oil or MCTs. And if any troubles develop, cut the fast short.
I myself will soon be doing my longest fast of the year, from Holy Thursday evening to Easter Sunday, about 64 hours.
[6] Is It Like This Every Day?:
Victoria Falls on the Zambia/Zimbabwe border. Via Babel's Dawn.
[7] Our national drug problem just keeps getting worse: The New York Times reports that the number of people hospitalized for medication side effects is up 50% in just 4 years, to 1.9 million.
I wonder how many people have been hospitalized for Paleo dieting?
[8] Females Rule!: Last week we had bear vs bison, and the bear was winning. This week, it's bear vs milch cow: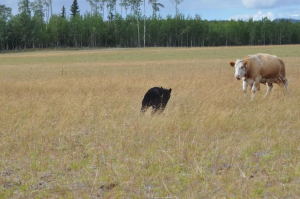 Check out Richard Smith's post for the full photo series, and the outcome that was happy – for the cows.
[9] Shhhhh, don't tell anyone: John Durant has dandruff, and asks for tips.
I was the only one who suggested eating starch and supplementing minerals for anti-fungal immunity, since dandruff is usually caused by the fungal pathogen Malassezia whose growth is promoted on a zero-carb mineral-deficient diet. The consensus among his commenters: go more Paleo by giving up shampoo and hot water. Yes, John Durant is insufficiently Cro-Magnon.
[10] It is smart to drink: We've previously considered this question (Is It Smart to Drink?, Sep 9, 2010). Via Instapundit comes Repeated Ethanol Exposure Enhances Synaptic Plasticity in Key Brain Area, Study Finds. "Drinking alcohol primes certain areas of our brain to learn and remember better, says a new study …"
[11] Bill Murray Has a New Role as "Braco": Via Seth Roberts we learned that looking at human faces is therapeutic for circadian rhythm disorders (Seth Roberts and Circadian Therapy, Mar 22, 2011). Now via Richard Fernandez, a Croatian man who heals by having people gaze at his face.
[12] Angst I: Richard Nikoley is getting bored.
[13] There Ought to be Angst: The Danish scientist who led a CDC-funded study that purported to disprove links between autism and vaccines has been indicted for stealing $1 million in research funds.
You'll recall that Andrew Wakefield, the British scientist who first claimed to find an autism-vaccine link, was a fraud.
With frauds and thieves leading research on both sides of this issue, parents of autistic children must be frustrated.
As I've argued many times, we need patient-and-taxpayer-directed funding for biomedical research. Government-and-pharmaceutical-company-only funding stifles innovation, rewards established cliques, and directs research toward ineffective but patentable drugs over effective dietary, nutritional, and antimicrobial therapies.
[14] Angst II: Pål Jåbekk speaks a truth:
Most often when we find obvious contradictions in the same texts in scientific journals I think there are two main reasons: Lack of balls and lack of brains.
A third reason is that the scientist (often, correctly) believes that his career will be advanced by propounding error, and values his career above truth. I might call this lack of integrity.
He goes on to discuss his disappointment with Staffan Lindeberg's "Food and Western Disease: Health and nutrition from an evolutionary perspective":
[A]t closing the book after reading its last page I felt a strong sense of disappointment. Lean meat! LEAN MEAT! Come on, Staffan.
I have the same disappointment with all the "Paleo 1.0" writers. I've written before (Art de Vany's New Book and Video, Dec 11, 2010; Old Diets, New Knowledge: For Auld Lang Syne, Dec 31, 2010) of how grateful I am to Art de Vany for introducing me to Paleo, but also that I became malnourished and my infections progressed eating what I considered to be a version of his diet. I've criticized Robb Wolf's "lean meat and vegetables" meal plans. I was recently at a talk by Gary Taubes and afterward he said that he would eat a zero-carb diet if his wife would permit it. Gary has done the world a great service in helping defeat fat-phobia, but I can't agree with this particular conclusion.
In our case, disappointment with others' errors led us to write the book and start this blog. As Shou-Ching can attest, my attitude is rather like that of this cartoon character: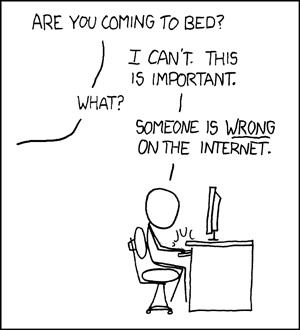 Alas, Pål's disappointment is leading him to take a break from blogging. It's a big loss for the blogosphere.
[15] Anti-Angst: Razib Khan writes:
[T]oo much focus on the "meta" aspects often get in the way of my main aim: learning as much interesting stuff as is possible before I die. Life is basically a race against the clock, I'm not a person who is much afflicted with the need to "kill time."
That's how I feel too. It's why I spend little time on this blog, and none in our book, refuting error. The pursuit of truth can fill more than one lifetime. Getting distracted by error would take time away from interesting truths.
[16] Song of the week: Emily Deans often puts music in her posts, and she's a rising star of the blogosphere, with a great gig at Psychology Today.
Now, I'm not saying correlation implies causation, but I'm thinking that if we show off our musical taste, maybe we'll get picked up by My Weekly Reader:
[17] Not the weekly video: UPDATED! (was this, via Richard Nikoley's comment section) This is for cat lovers:
[18] Weekly video: Gross! If you have to teach your 8-year-old about biology, you may be able to learn from Julia Sweeney's experience:
(Via Craig Newmark)