Paella is the classic rice dish of Valencia on Spain's Mediterranean coast.
It's a great food for a dinner party: the ingredients take some time to gather, but paella can be made in bulk and provides a complete meal in one bowl. It also uses some wine, so you can drink while you cook and get in the party spirit before the guests arrive!
Ingredients
You'll need a collection of meats, and seafoods are the usual choice. We chose shrimp, calamari, mussels, salmon, and spicy Italian sausage: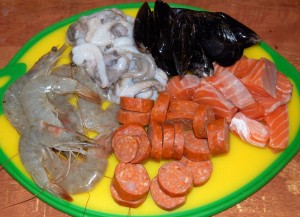 White wine and bone broth provide the necessary liquids. Our ox feet bone broth has plenty of collagen and fats as you can see: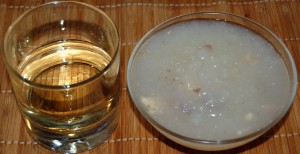 Other ingredients we used are saffron (the threads are soaked in water overnight), red pepper, onion, uncooked white rice, a lemon, garlic, paprika, and parsley: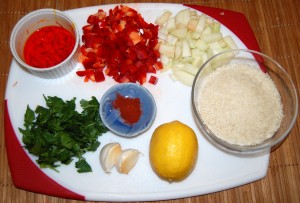 We also used olive oil and coconut oil (not shown).
Cooking
You can start by stir-frying the onion and garlic in olive oil for two minutes, then adding red pepper for a minute, then the saffron and paprika: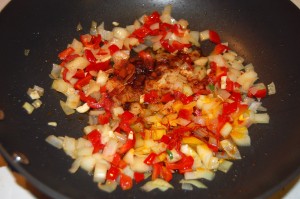 Immediately after the saffron and paprika, add the rice (this was 2/3 cup uncooked), stir to coat it in oil and spices, add the wine and broth, and cover: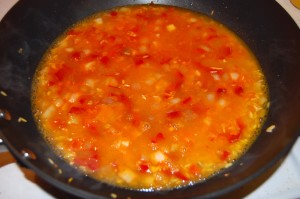 Cover the pot and simmer the rice in the broth about 15 minutes at low heat. As it cooks it absorbs liquid; if the broth runs low, add more bone broth. After 15 minutes looks like this: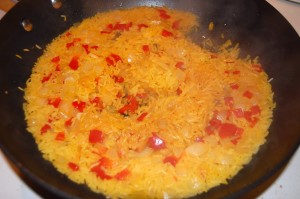 At this point add the meat, and cover again to steam-cook the meat:
When we made paella a second time, we cooked the shrimp in coconut oil separately and added it to the paella only after the other meats were cooked. This enhanced the flavor of the shrimp: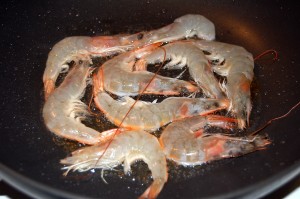 Once the meat is cooked, add the parsley, juice of a full lemon, salt, pepper, and any other spices. The first time we made it looked like this: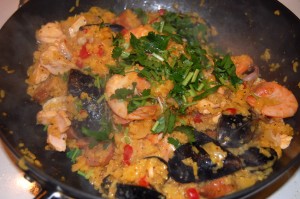 But it's really better when it has more parsley. When we made the paella the second time, this was how much parsley we used: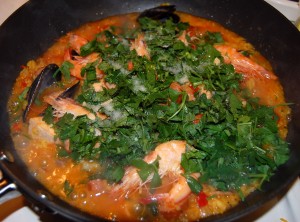 You can see that the second time we used more broth. This is the proper amount of liquid to have; our first version was too dry.
Here was the finished product the first time: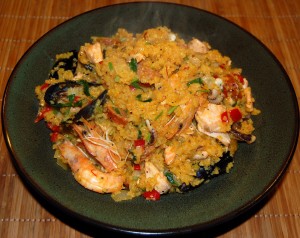 Here it was the second time: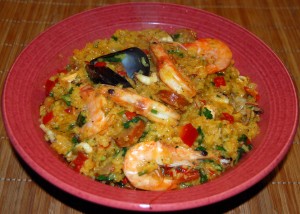 Conclusion
If you're tired of Cambridge Fried Rice, this is a good alternative: it has similar macronutrient proportions but a totally different taste!
For a bonus, we asked Gordon Ramsay to do a paella video: