Here's what caught my eye this week:
[1] Interesting posts this week: Paleo Pepper has compiled an online encyclopedia: the top 120 Paleo blog posts. Richard Nikoley asks: is optimality in diet a fool's errand? He takes the view that individuals have an optimum, but not humanity. Via Seth Roberts, a fascinating story of how even doctors cannot get good care out of today's medical system: How modern medicine killed my brother.
Also from Seth, his "morning faces therapy" has produced a great result for a man with bipolar disorder. We believe that "circadian rhythm therapies," and bio-rhythm restoring techniques generally, are an underappreciated therapy. See, for instance, Intermittent Fasting as a Therapy for Hypothyroidism (Dec 1, 2010) and Seth Roberts and Circadian Therapy (Mar 22, 2011).
Emily Deans offers up a surprising danger of smoking pot – fungal infections of the lung:
[S]moked joints could easily be adulterated with natural fungi that grow into big nasty (and deadly) fungus balls in the lung.  I saw a case of this fungus ball in medical school in a patient immunosuppresed with HIV who also happened to smoke a lot of pot.  It could have been from other sources, of course, but my attendings assured me they had seen it several times in AIDS patients who were heavy pot users.  It's not a pleasant way to go, and the treatments are horrible.
In a more controversial post, Emily argues that greater dopamine in the male brain creates "Genius and Madness," while the lower dopamine feminine brain promotes sociability and social stability. But I wonder if a world led by "Generation XX" is really going to be more stable.
Mark's Daily Apple notes that city living can be a brain drain. It certainly is for Shou-Ching and I; our nightmare would be living in New York City. Curiously I didn't have the same sense of oppression in Tokyo, a much more open city. Boston is better than New York but we would prefer the country.
Robert Krulwich discusses the "loneliest plant in the world": a male tree that can't find a mate, as it is the only known surviving member of its species. Scientific American discusses how gut bacteria shape the brain. Chris Kresser suggests ways to keep your brain from aging.
Finally, if you've never seen a deer eat a bird, and would like to, Bix has you covered.
[2] Music to read exercise by:
The video can't be embedded but is great. I wonder if the gymnastics were influenced by Parkour?
[3] My Favorite Posts This Week: The best posts this week were by Melissa McEwen of Hunt Gather Love, who has been running a series on "The Human Colon in Evolution." All posts are great – I loved today's (part 5) because it was new to me, and part 4 because it argues our "safe starches" are great foods for the gut – but they're all outstanding:
[4] Human origins elucidated:
An important paper on human origins came out this week. "A Revised Root for the Human Y Chromosomal Phylogenetic Tree: The Origin of Patrilineal Diversity in Africa" used Y-chromosomes to trace the male "Adam" back to 142,000 years ago and northwest Africa, in what is now the Sahara but was then an open woodland environment. This is significant for many reasons, but one is that this region had easy communications with the Middle East along the Mediterranean coast and supports the possibility that interbreeding between Neanderthals and Africans, with significant back-migration into Africa proper, may have been an important process in the evolution of modern humans. Dienekes (here and here) and Razib Khan comment.
JS Stanton at gnolls.org had a nice essay. I don't agree with everything in it; in particular, JS underestimates the violence of Paleolithic society. The work of Lawrence Keeley is helpful in this regard:
In browsing the comments to JS's post I saw a link to a weird book by Danny Vendramini called Them and Us. A video by the author presents his case: Neanderthals were chimp-like super-predators and predation and rape by Neanderthals killed all the dumb humans, until the smarter humans figured out how to kill all the Neanderthals. Here's how Vendramini imagines the Neanderthals:
There is plenty of evidence indicating that this view of the Neanderthals is wrong. I will just note that the fraction of Neanderthal genes in present-day humans is of the same order of magnitude as the level of mixing African-Americans and European-Americans have achieved in 200 years – this despite 30,000 years of selection which will have tended to work against survival of most Neanderthal genes. The idea that such extensive mixing came about through rape conducted by radically different species in perpetual warfare is, I think, totally untenable. There must have been extensive voluntary interbreeding.
Curiously, the Vendramini view recapitulates one of the earliest hypotheses about Neanderthals. This talk by Carl Zimmer shows that (at 2:40) in 1909 leading anthropologists shared Vendramini's view of the Neanderthals, whereas today they seem — ahem — considerably more attractive:
[5] We're glad it's helping! Chris Kresser on Twitter:
I've been having some success w/modified ketogenic diet a la Paul Jaminet w/50g CHO, 6 TBS MCT oil 5g leucine.
This method of producing ketosis is much healthier than the zero-carb low-protein diets sometimes used.
UPDATE: It's mood disorders generally, and depression specifically, that the ketogenic diet has been helping with.
[6] More on Food Deserts: Beth Mazur of Weight Maven has written of the significance of "food deserts" in the obesity epidemic. Basically, where fresh whole foods are difficult to buy, obesity rates are high.
Now the USDA has a cool interactive map showing the locations of food deserts:

Via Razib Khan
[7] Did monkeys keep pets?: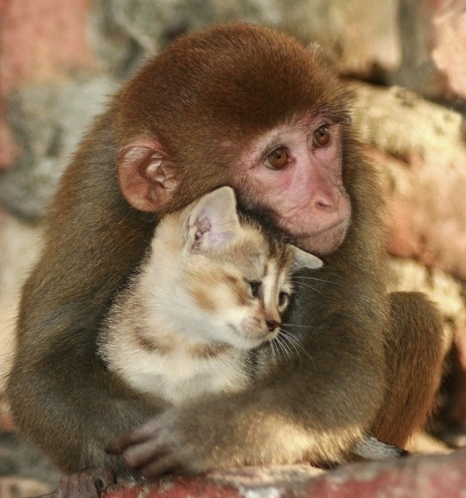 Via Yves Smith.
[8] Our book on sale: I know of at least one store that offers our book for sale: The Grainery in Baraboo, Wisconsin. Their web site has a great line from Thomas Edison:
"The doctors of the future will give no medicine , but intrest their patients in care of the human frame, diet and the cause and prevention of disease." — Thomas A. Edison
The proprietor of The Grainery, John Kessenich, spoke recently on "Eating for Perfect Health" and might have used some of our ideas. If you happen to find yourself in Baraboo, check out The Grainery and ask John for health tips!
[9] Why the Kindle version isn't available: I have too much brain.
[10] Primal Fashion Week: No, this is definitely not Paleo re-enactment. I doubt Neanderthal women ever wore a Sperm Coat or paired it with a Heart Tube Hat.
Personally I would prefer a cheetah skin.
[11] Low-dose naltrexone is great for Crohn's: On my editorial calendar is a discussion of the role of endorphins and enkephalins in immunity, and the opportunity to increase their levels and circadian variability and thus modulate immunity through low-dose naltrexone (LDN), with beneficial effects against certain diseases.
While I dither, clinical studies of LDN are progressing. This week, a report came out on LDN for Crohn's disease:
Eighty-eight percent of those treated with naltrexone had at least a 70-point decline in Crohn's Disease Activity Index scores compared to 40 percent of placebo-treated patients.
[12] Shou-Ching's Photo-Art: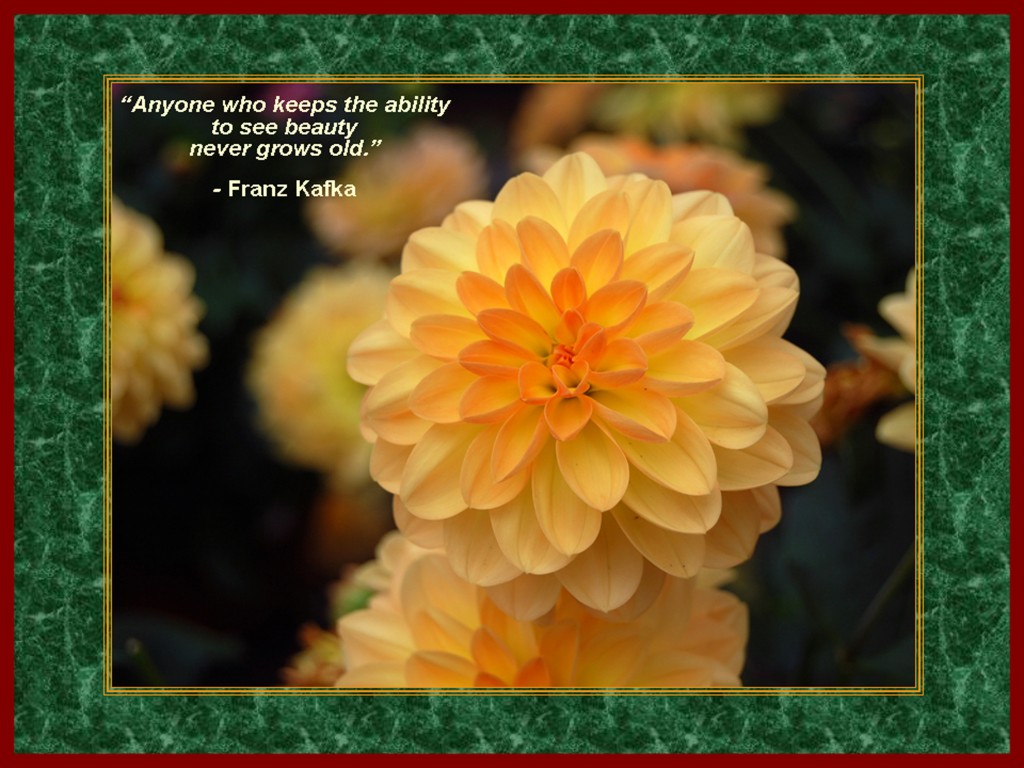 © 2011 Shou-Ching Jaminet.
[13] Not the weekly video: Ducks Against the Wind:
Via erp, who says, "It's getting harder and harder to keep your ducks in a row!"
[14] Weekly video: Marriage is health-improving and life-extending, especially for men, so I consider this (done in moderation!) an exemplary health practice:
Via Orrin Judd