Chicken Tikka Masala is chicken tikka, or chicken chunks marinated in spices and yogurt and roasted or baked in a tandoor oven, and served in a masala (mixed spices) sauce. It is so popular in Britain that the British Foreign Secretary once called it "a true British national dish". Some think it may even have been invented in London.
There are many ways to make it, and traditional Indian cooking methods are quite time-consuming; they may involve grinding the spices on the day of cooking for freshness, and long cooking to produce very tender meats.
We chose to make it in the quickest possible way. Here's our approach to Chicken Tikka Masala.
Ingredients
Here are the main spices we used: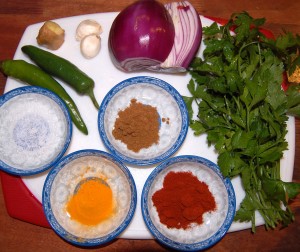 In the center is a masala curry powder that we bought from a local Indian shop. Unfortunately we no longer know the ingredients, but we would expect it to contain cumin, pepper, cloves, cardamom, and coriander among other spices.
Clockwise from upper left are jalapeno peppers, ginger root, garlic, onion, parsley, paprika, turmeric, and xylitol which we included for a bit of sweetness. Quantities were 1 tbsp of each spice and 1 tsp of the xylitol.
We also diced 3 large tomatoes (weighing about 1.5 pound) and a chicken breast into bite-sized pieces: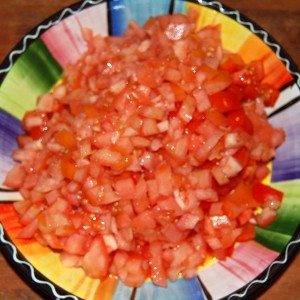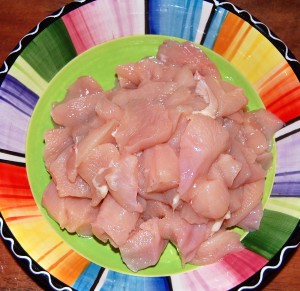 Preparing the sauce
We melted some beef tallow in a wok and stir-fried the pepper, onion, ginger, and garlic for 5 minutes to bring out some of the flavor: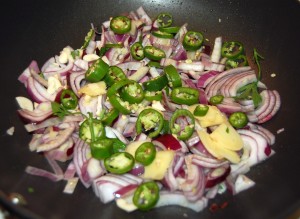 The ginger and garlic should be minced finely. After 5 minutes we added all the spices: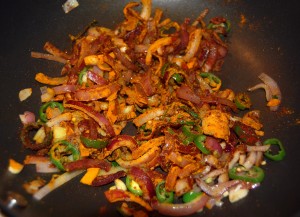 After another 2 minutes we added the tomato and cooked for 15 minutes: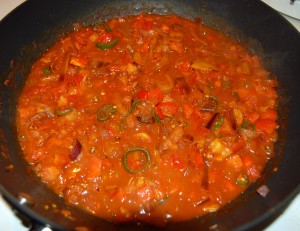 Then we transferred the cooked sauce to a food processor and pureed it: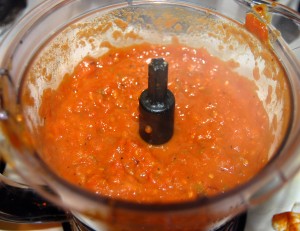 In another wok, while the sauce was cooking, we browned the chicken pieces in olive oil: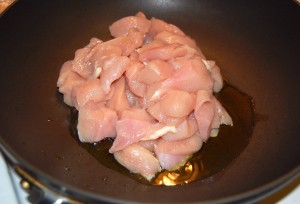 Once the chicken was browned, but well before it was cooked through, we added the pureed sauce and parsley: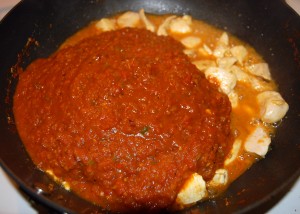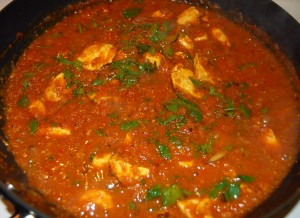 Cook the chicken in the sauce for 15 minutes, and then add some Greek yogurt: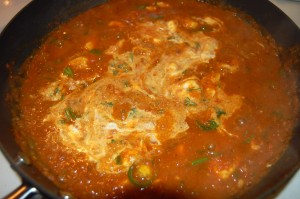 That's it — it took us about 40 minutes. Serve it over rice: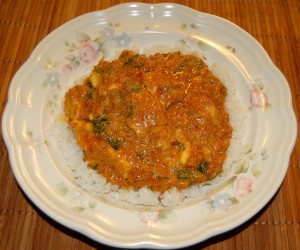 Conclusion
The sauce was delicious! We kept some extra and tried it over salmon — it was even better with the salmon.