As we approach the 10th anniversary of the September 11 terrorist attacks, it may be worth remembering that of the 2,998 killed in New York City, 403 were first responders, including 343 firefighters and 60 police. One was a priest. It is in the nature of life that those who risk themselves for others, who give and love the most, often suffer the most. Let us honor their generosity and their spirit.
[1] Interesting posts this week: Mark Sisson has an interesting discussion of GERD / acid reflux. We'll have a few posts coming up on acid reflux as well – at least one by me, and several by a guest blogger who some of you know as "Valtsu."
Alcohol was part of the Paleolithic diet: Drunk Swedish elk found in apple tree near Gothenburg.
Apropos recent discussions of the influence of food reward on addictive eating, Paul Whiteley points to research suggesting that drugs of abuse exploit the same pathways as our natural hunger for salt.
Newell Wright explains why Gary Taubes has much to be proud of.
Beth Mazur explains why she eats moderate carbs for weight loss; and proclaims herself 95% compliant with the Perfect Health Diet.
Beth's not the only one: Chowstalker is evolving toward the PHD. Patty writes, "since loosening up a bit with the "safe starches", my energy level has been higher and my weight is inching down a bit."
I liked Cate Shanahan's Deep Nutrition a lot, but its argument that pre-natal maternal nutrition has a big impact on children's looks is controversial. For some, Deep Nutrition is a horror book:
ok, so deep nut is now giving me nightmares. i woke up from one this morning in which my second born was super ugly and i was ashamed to take him in public. every time i did, all these ugly grown ups with patchy hair and skin infections and missing limbs would coo over him in grguly voices and tell me that he reminded them of themselves when they were babies.
Melissa McEwen observes that Paleolithic moms were often well nourished, and yet "Paleolithic people have traits … many of us no longer consider beautiful … such as brow ridges." Hey – are you calling my Neanderthal ancestors ugly?
Elsewhere, Melissa reports that postpartum depression was "quite rare" in traditional societies. Alas, depression is quite common in New York City, and Melissa is leaving. She has our best wishes; may this move be a step forward, in all respects.
Bix at Fanatic Cook explains why ibuprofen can cause osteoporosis.
John Durant says that bears can teach us which foods are healthy: they eat the fat and abandon the nitrogen rich testicles. Bad news for Aaron Blaisdell?
I didn't listen to all of Richard Nikoley's b____t videos, but according to the transcript, he predicted that dogs fed a vegan diet would eat their owner. Life mimics art.
When I saw Emily Deans writing about "the MTHFR enzyme," I wondered if she had freed her animal. But no, it turns out she's only explaining how homocysteine promotes anger. Earlier, Emily averred – rightly – that "all that is psychologic is biologic," and explored links between depression and serum cholesterol.
Lucas Tafur notes that a fruitarian was able to develop extreme nutrient deficiencies after only a 1 week fast.
Barry Sears calls meditation "push-ups for the brain."
A possible key to fat loss: Be in a socially engaging environment. If you can't manage that, include running wheels in your cage.
Cracked.com has a cartoon showing "How Stress is Killing You."
Finally, be sure to correct your chocolate deficiency: "The highest levels of chocolate consumption were associated with a 37% reduction in cardiovascular disease and a 29% reduction in stroke."
[2] Music to read by: The Copenhagen Philharmonic flash mobs Copenhagen Central Station to play Ravel's Bolero.
[3] Cute animal photo: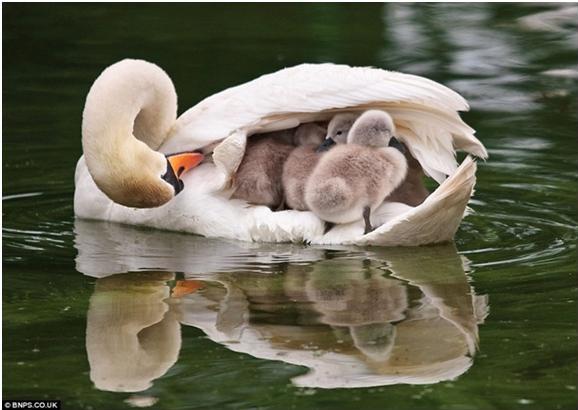 [4] The vagaries of academic research: Most people think medical research should focus on understanding disease causes and finding cures. However, this is slow and difficult – an inefficient way to obtain money or advance a scientific career. Actual research often proceeds along different lines.
It is easier to induce pathologies than to cure them, so an effective strategy for developing a "therapy" that provides symptomatic relief is to induce a new pathology whose symptoms are the opposite of the symptoms of the old pathology. The new-pathology symptoms are dubbed "side effects," which are an accepted feature of modern medicine. Xkcd mocks this kind of approach: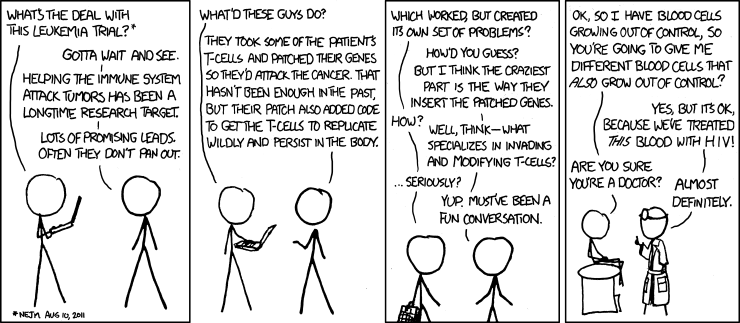 Other times, research proceeds busily in a hopeless direction. For instance, genes are densely networked, and so no one gene has a big effect; observed effects may be mostly noise. Seth Roberts argues that reported gene-environment interactions may all be invalid.
Even when research is potentially productive, there is a temptation to do shoddy work – to publish an interesting result, without double-checking or triple-checking it to see if it will disappear; or even to do careless work, so that interesting results will be more likely to appear by chance. Researchers who work this way often produce unreproducible data. Via Marginal Revolution, solid evidence that over half of biomedical research studies are irreproducible:
Bayer halts nearly two-thirds of its target-validation projects because in-house experimental findings fail to match up with published literature claims, finds a first-of-a-kind analysis on data irreproducibility.

An unspoken industry rule alleges that at least 50% of published studies from academic laboratories cannot be repeated in an industrial setting, wrote venture capitalist Bruce Booth in a recent blog post. A first-of-a-kind analysis of Bayer's internal efforts to validate 'new drug target' claims now not only supports this view but suggests that 50% may be an underestimate; the company's in-house experimental data do not match literature claims in 65% of target-validation projects, leading to project discontinuation.
[5] I demand clinical trials!: Dr. Kurt Harris says there are "cases where even Paul Jaminet could customize your diet down to the molecule and you would still get fat".  Maybe so, but I suspect a well-fed human body is very resilient.
[6] Taubes v Guyenet … Kozinski v Chin?: Two prominent federal judges have taken opposing stands on how to lose weight. Alex Kozinski, Chief Justice of the Ninth Circuit Court of Appeals, advises: "Few carbs, less sugar." Second Circuit Court of Appeals Judge Denny Chin once advised "Run more, eat less."
Judging by their pictures, Kozinski is the better judge – of weight loss methods!
[7] Good cause of the week: Deacon Patrick of Mind Your Head Co-op is recovering from brain injury, and has been having good results on our version of the ketogenic diet:
The results are amazing. The more ketogenic my diet, the better my brain capacity, cognitive energy, energy stability, longevity, and the better I feel.
In an email to me he wrote with an expression of thanks and a request for help:
Thank you for the gift of better brain function you have given me! A few months ago I switched to ketogenic diet, and now a completely Paleo diet based in large part on your Perfect Health Diet — the differences I've experienced are amazing.

I am currently section running the Colorado Trail to raise awareness for brain injury (which I have) and to help spread the word of the iPad/iPhone donation program of Mind Your Head Co-op which I founded and run — which donates used iPads and iPhones to soldiers and civilians with brain injury.

Would you please help spread the word about the iPad/iPhone donation as well as my run? Here are a few links:

With Abandon,

Patrick
Please consider donating your used iPad or iPhone to Patrick's effort to help the brain injured. If you don't have a used iPad or iPhone, donations of money would also be appreciated.
[8] Not the weekly video: Todd Hargrove introduces us to a film introducing the Feldenkrais method from practitioner Irene Gutteridge. Meet Baby Liv, Feldenkrais instructor:
[9] Shou-Ching's Photo-Art: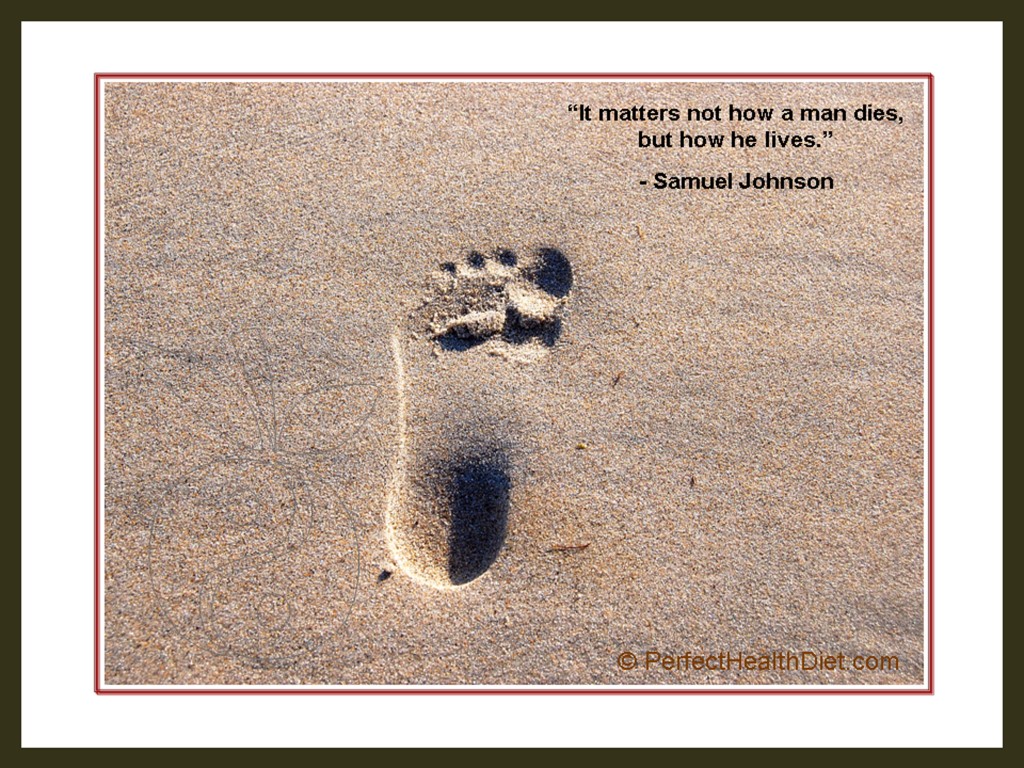 [10] Weekly video:  Via Joshua Newman comes a great story about a brain-damaged man who hoped to be a mechanic, but settled for becoming a writer. His cherished hope is to see his stories made into movies. He succeeded in persuading one enterprising film maker to do a short film – about him. Enjoy:
Jeffery and the Dinosaurs from Yasmeen Ismail on Vimeo.