On Facebook, Sarah Atshan has put up photos of meals that helped her lose 120 lbs.
Her food is Perfect Health Diet compatible and awesomely healthy!
I was going to link to her photos yesterday, but Sarah deserves a post to herself. All photos are © Sarah Atshan 2011.
Keftah (middle Eastern meatballs) with raw onion in hummus and veggies.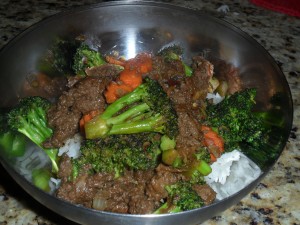 Beef and broccoli over rice, with some kimchi.
"So simple yet so yummy": Hainanese chicken rice. Poached stewing hen from Polyface farm (stuffed and cooked with aromatics), plus rice cooked in chicken fat and chicken broth from the poaching, plus caramelized onion and chicken skin. Mix and serve with a chili, garlic, ginger, and lime sauce.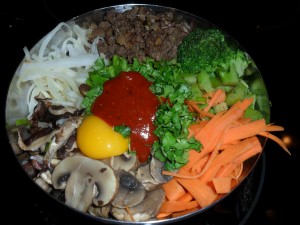 Korean bibimbap is a great way to dispose of leftovers. This began with leftover vegetables: Daikon radish, broccoli, carrot, button mushrooms, shiitake mushrooms, green onion, and cilantro. Standard ingredients: onion, garlic, ginger, and Serrano peppers added to beef, rice, and a raw egg yolk.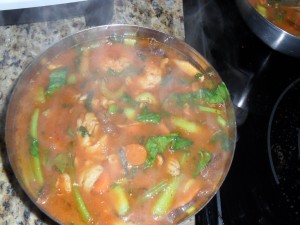 Korean seafood stew: Fish and shrimp cooked in homemade seafood broth, with rice, green onion, garlic, jalapeno, cilantro, onion, carrot, bok choy, shiitake mushroom, ginger and Chinese broccoli (gai lan).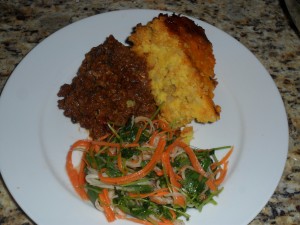 Korean style Shepherd's Pie:
Mash made with Japanese sweet potatoes, Yukon gold potatoes, and egg yolks.
Mince made with grass fed beef, mushrooms, onions, garlic, ginger, kimchi, and Korean seasonings.
Vegetables: wilted pea shoot, carrot, and daikon radish salad.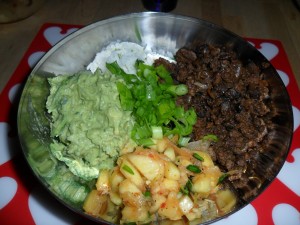 "Mex-a-bap": Korean bibimbap with Mexican ingredients. Grassfed Mexican seasoned beef with onions and mushrooms, rice, garlicky guacamole, and green mango salsa (tomato was not in season yet).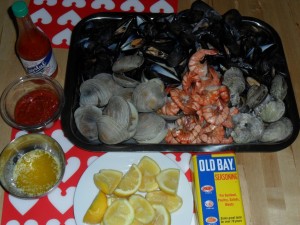 Steamed shellfish with grass fed butter, lemon, crystal hot sauce, old bay seasoning, homemade cocktail sauce (tomato paste, fish sauce, and horseradish), served with oven roasted potatoes.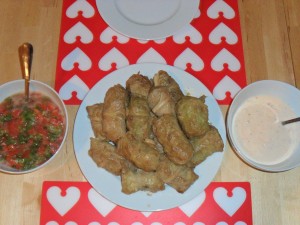 Middle Eastern cabbage stuffed with grass fed beef and beef heart, garlic, green pepper, onion, rice, and spices. Cooked in chicken stock.
Salad: tomato, bell pepper, and dandelion greens with lemon juice.
Yogurt sauce: raw milk yogurt, hot pepper, lemon and garlic.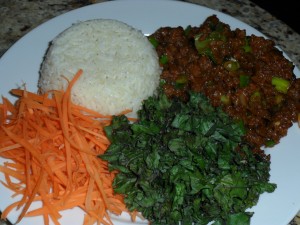 Beef with lots of garlic, onion, Serrano pepper, mushrooms, green onion, and Sarah's special sauce, served with carrot and kale, and rice cooked in homemade chicken stock.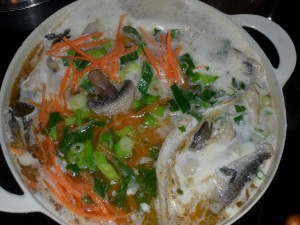 Thai coconut milk soup with fish, veggies, and eggs. Serve with rice.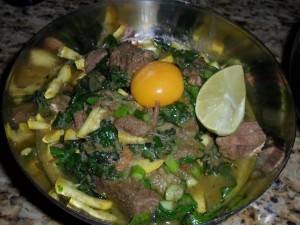 Thai green coconut milk curry with beef. Potato, kale, yellow squash, carrot, green onion, basil, Thai basil, cilantro, and garlic scapes; grass-fed beef, and homemade stock.
The green curry paste was home made: jalapeno, poblano chili, Serrano chili, New Mexico green chili, Thai green chili, lemongrass, galangal, lime leaves, cilantro root, basil, red onion, garlic, ginger, fermented shrimp paste, white pepper, coriander, cardamom, and cumin.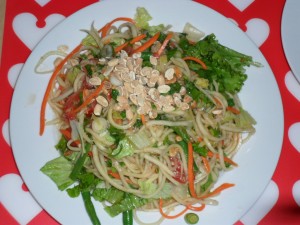 Thai green papaya salad.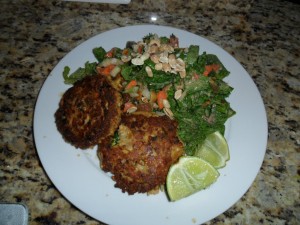 Salmon cakes made with basil, mint, carrot, cucumber, onion, lime, garlic, lettuce, ginger, jalapeno, pepper, and tomato. Salad is dressed in a homemade spicy coconut lime dressing and topped with nuts.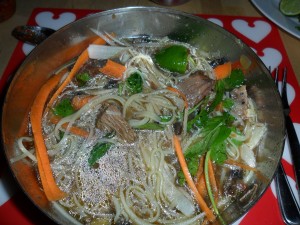 Beef pho with beef tendon and rice noodles, garnished after cooking with Thai basil, carrots, cilantro, Thai chilies, lime, daikon radish, and vinegar-ed onions.
Vietnamese garlic and ginger beef stew with beef tendon, daikon radish and carrot salad, rice, and homemade turnip kimchi, topped with raw yolk. Mix and eat.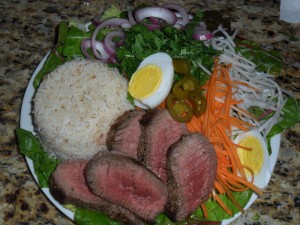 Vietnamese steak salad made with grass fed sirloin, baby chard, romaine lettuce, carrots, daikon radish, vinegared red onions, cilantro, and pickled jalapenos. With coconut milk rice and a hard-boiled duck egg.
Conclusion
Sarah's food is super-healthy, super-appetizing – and perfect for those who want to lose weight.
Sarah, it's great being Facebook friends and all, but how do we wrangle an invitation to dinner?