A reminder: Shou-Ching and I will be at the Locavore Dinner, hosted by Denny and Aimee Perrin at the Wrap-Around Cottage, 254 Cider Hill Road, York, Maine, later today (September 17). Contact information may be found here. A pot-luck dinner starts at 5 pm; bring "a dish to share consisting of locally-sourced ingredients of animal and/or vegetable origins." After dinner, I'll give a talk describing our diet and the logic behind it. All are welcome.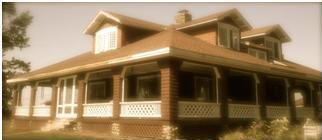 [1] Interesting posts this week: Dr. Kurt Harris was interviewed on the Robb Wolf show. Kurt reports that he got healthier when he went from VLC to 15% carbs, and that lately he's been eating 40% carbs from safe starches, and doing fine. Some interesting observations: Kurt thinks that problems with legumes are more commonly due to FODMAPs than toxins (and thus problems are gut flora dependent). He says that peaches give him problems due to polyalcohol sugars such as sorbitol.
Remember when Sean at Prague Stepchild was "taking on" Stephan Guyenet?  He's surrendered.
Pål Jåbekk had a nice post on Carbs and cancer – a good primer for our cancer series.
Lucas Tafur has moved to a new site, plans to broaden his scope, and begins with a nice post: The "Old Friends" Hypothesis.
Craig Newmark reminds us that no one appreciates your health as much as you do, so you should try to take care of it yourself. Bruce Charlton says that science has gone from maximum to minimum honesty.
Eggs or chickens: which poisoned us first? Dr. Michael Greger, a vegetarian, argues that eggs are bad for us, and that eating chicken may lead to a smaller penis. But Dr. Oz says that eating eggs will extend your life.
Bon Appetit says gluten-free is the hottest new health trend: "Physicians are swearing that their own fatigue and brain fog lifted" after they gave up gluten, says Peter H. R. Green, M.D., director of the Celiac Disease Center at Columbia University. "We don't know the mechanisms for this. It's fascinating."
A new blog about living Paleo on little money: A Slim Winter. "[T]his is borne from desperation, frustration and anger…. We have used up all of our savings and now are living just on our unemployment check.  Those checks stop in seven more weeks.  It's crunch time."
[2] No, it's not love: Sea otters hold hands to keep from drifting apart while sleeping.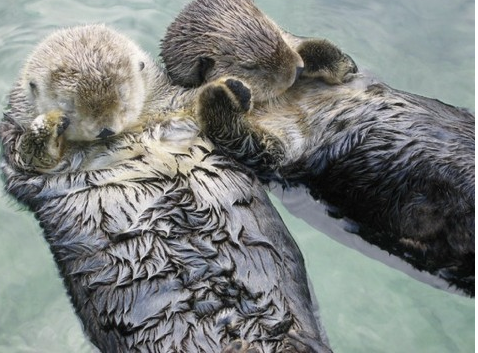 Via Yves Smith.
[3] A surprising cure for tinnitus?: Todd Hargrove (How to Do Joint Mobility Drills, July 26, 2011) taught us about brain maps, and how a re-mapping the brain can cure phantom pain and improve mobility.
Well, it turns out the brain has maps for sounds also, and tinnitus is "phantom hearing." Re-mapping the brain may cure tinnitus:
"We argue that reorganizing the cortical map should be the goal, so that the nerves get some input and stop their tinnitus activity," he said. "You don't want to leave these cells without sensory input."

"We changed our (brain training) strategy from one where we completely avoided the tinnitus domain to one where we directly engage it and try to redifferentiate or reactivate it, and we seem to be seeing improvement," Merzenich said.
[4] Cook your food gently: By testing the hearts of old mice for oxidative agents in mitochondria, researchers found that acrolein, which is generated when glycerol is heated to 280ºC, was responsible for most of the aging damage.
Chavez JD et al. Site-specific proteomic analysis of lipoxidation adducts in cardiac mitochondria reveals chemical diversity of 2-alkenal adduction. J Proteomics. 2011 Apr 13. [Epub ahead of print] http://pmid.us/21513823.
[5] Pretty: Jack Brauer of WideRange.org photographs Plitvicka Jezera National Park in Croatia:
Via the Daily Mail.
[6] Do maternal low-carb diets make children fat?: In mice, mothers eating low-carb high-protein diets give birth to offspring prone to obesity. Some evidence has emerged indicating that something similar may happen in humans.
In a new study, women who ate a "low-carb" diet – 1,000 calories per day or less – early in pregnancy were more likely to give birth to children with hypermethylation (epigenetic silencing) of the retinoid X receptor-alpha (RXRA) gene. This is the most important receptor for vitamin A.
The more RXRA was silenced, the more likely children were to become obese. By age 9, children in the highest quartile of RXRA methylation at birth were significantly fatter than children in the lowest quartile of RXRA methylation.
Godfrey KM et al. Epigenetic gene promoter methylation at birth is associated with child's later adiposity. Diabetes. 2011 May;60(5):1528-34. http://pmid.us/21471513.
See also:
Reynolds RM et al. Maternal BMI, parity, and pregnancy weight gain: influences on offspring adiposity in young adulthood.  J Clin Endocrinol Metab. 2010 Dec;95(12):5365-9. http://pmid.us/20702520.
Pollin TI. Epigenetics and diabetes risk: not just for imprinting anymore? Diabetes. 2011 Jul;60(7):1859-60. http://pmid.us/21709282.
[7] Perfect Health Hummus?: Anyone who wants to eat more carbs is going to need more "safe starches."
One of the more popular legumes worldwide is chickpeas, the main ingredient in hummus. A number of commenters – Andrea Reina, Ruth of Ruth's Real Food, and Beezneez – gave us instructions for achieving this. Here are Ruth's detailed instructions. You need acid, potatoes, overnight soaking, and thorough cooking.
[8] Shou-Ching's Photo Art: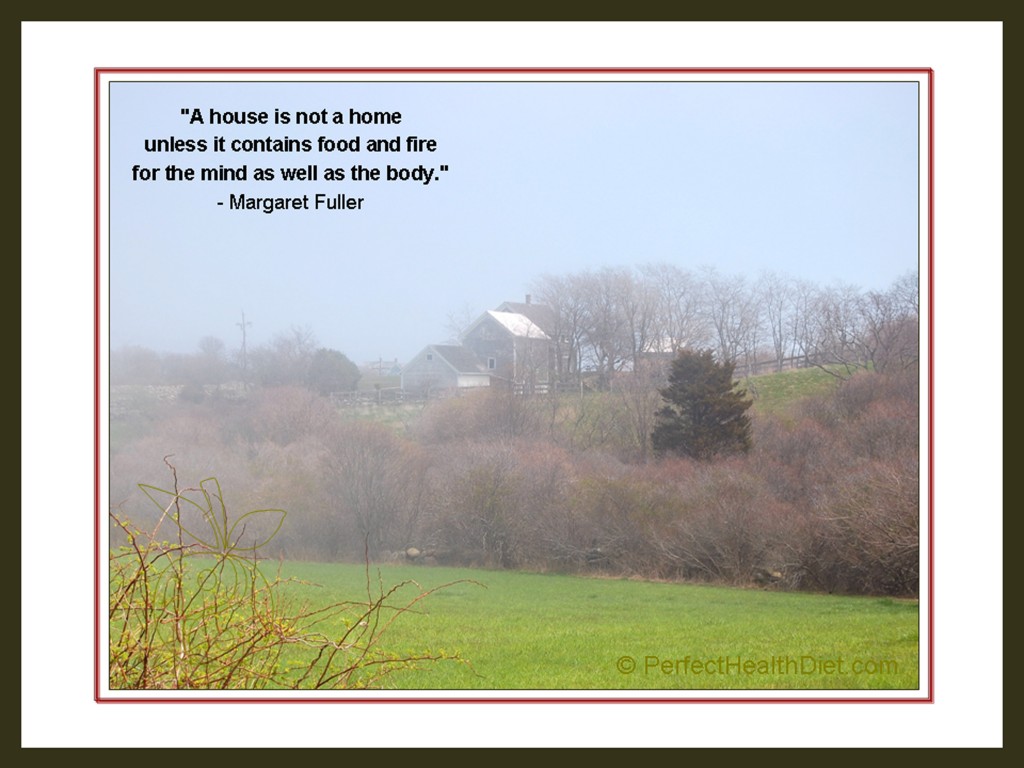 [9] Video of the week: Catherine Destivelle performs an amazing solo climb in Mali:
Via UKClimbing.com.