Our series on American food has included a number of finger foods; we've done Chicken Wings, Hamburgers, Chocolate Chip Cookies, and French Fried Potatoes and Sweet Potatoes. But we can't leave out onion rings.
Ingredients
You'll need with a batter, made of 4 egg whites, 1 tbsp cream (or milk), and a pinch of paprika, salt, and pepper to taste: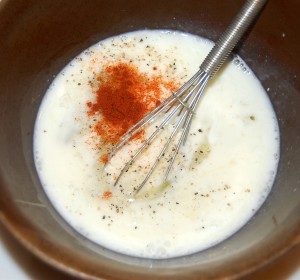 Slice a yellow onion (we like the taste better than sweet onions) and separate it into rings: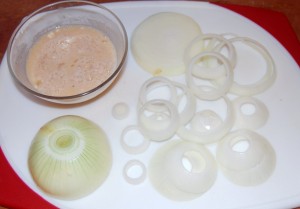 Finally, prepare a coating. We like puffed rice, or puffed rice with mixed nuts, ground in a food processor: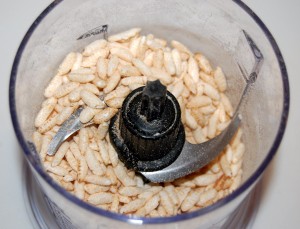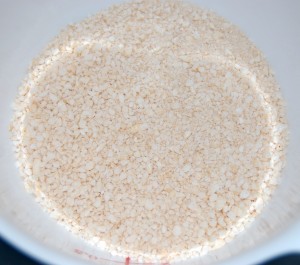 Preparation
Place the rings from one onion with 1 tbsp potato starch and salt and pepper in a Ziploc bag: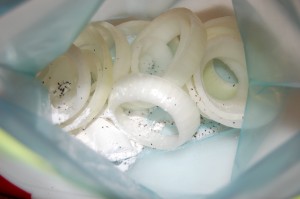 Shake until the rings are evenly coated. Then dip them in the batter: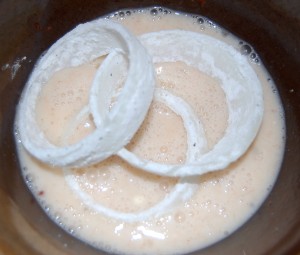 And then the coating: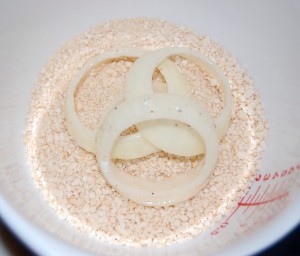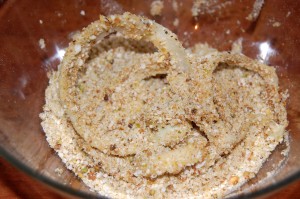 Lay them out on a cookie sheet and bake for 15 minutes at 400ºF (200ºC):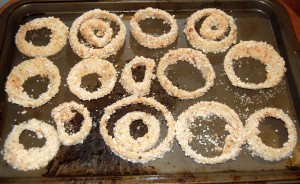 Serve: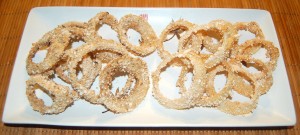 Conclusion
They taste great alone or with a dipping sauce: we tried melted butter, ketchup, and our Pacific sweet and sour sauce.