Note: I've been overwhelmed with work lately and have fallen behind on the comment threads. I will get to comments on the Anti-Cancer and Q&A threads as soon as I can.
Appeal for Help: One of our readers is a dear lady in Queensland, Australia, near Brisbane. She is a chronic disease patient and housebound. She would like to have an assistance dog for emotional support, and would like to have a puppy that she can train. Australian law requires housing units to permit certified support dogs, but her housing complex is denying permission for a puppy that is not yet certified. If any Australian lawyer would be willing to provide her with advice on her legal rights pro bono, please send an email to pauljaminet@perfecthealthdiet.com and I will put you in touch.
[1] Jimmy Moore's symposium: I'd like to thank Jimmy Moore for organizing his symposium on "safe starches." It's a great topic and only Jimmy could have brought together so many interesting people to discuss it.
It might have worked better if I had been able to provide some background to the panel. As it was, too many of the responders were unfamiliar with what we mean by "safe starches" and many may have supposed that our diet was designed for diabetics.
Kurt Harris did yeoman's work this week, commenting on my post, Jimmy's, and threads on PaleoHacks. It was great to have someone of like mind taking the time to comment. Thank you, Kurt, Melissa Hartwig, Emily Deans, Praguestepchild, and everyone who wrote supportive comments.
Some humor did come out of the discussions. My favorite was a PaleoHacker consoling Jack Kruse: "It's just pillar envy, Quilt."
I expect to post my reply on Tuesday.
[2] Music to read by: Brook Benton and Dinah Washington have what it takes:
[3] Interesting posts this week:  Michael A Smith of Critical MAS tests our ideas about ketogenic fasting and finds that he can eliminate hunger while fasting by eating coconut oil and fermented vegetables.
Sean at PragueStepChild reminds us of some great posts by an outstanding blogger who has gone silent, Robert McLeod, on the subject of macrophages and the role of chronic infections in disease. Start with Sean, but be sure to finish at Robert's blog.
Chris Masterjohn reports that AGEs come from … ketones!
We know God is jealous, but is He also female? Sex outside of marriage may raise the risk of penile fractures. Via Tom Smith.
Stephan Guyenet continues his series defending the food reward hypothesis of obesity. JS Stanton of Gnolls.org has been doing a closely related series, here's his Part VI which explains key concepts relating to food reward, and has links to Parts I through V. Part IV was my favorite.
Two economists took their hand at finding the cause of the obesity epidemic. The biggest cause they found? Declines in smoking rates, which explained about 2% of the weight gain since 1979.
Peggy the Primal Parent has had a fascinating experience with gut dysbiosis. Fiber and fructose give her hypoglycemic episodes, but pure glucose doesn't.
Bruce Charlton notes that scientists tend to develop theories into taboos, so that "using the taboo concept in reasoning triggers nerves and hormones and alters the body state to feel bad." This may explain the reaction of some low-carb gurus to the word "starch."
Emily Deans and Melissa McEwen both reviewed Wheat Belly; Melissa emphasizes what's not in the book.
Don Matesz proposes the unconventional idea that strength training reduces protein requirements.
Jamie Scott, That Paleo Guy, produced the ultimate primer on phytic acid. Chris Kresser recently advised not going nuts on nuts, because of their phytic acid.
Chris Highcock reports that Shift Work at Young Age Is Associated with Elevated Long-Term Cortisol Levels and Body Mass Index. This fits with our theme that proper circadian rhythms are important for many aspects of health including weight regulation.
Frank Hagan of Low Carb Age dissects a study we mentioned last week, that recommended a diet of 1/3 carb 1/3 protein 1/3 fat. Turns out they found that 1/3 carbs is better than high carb, but didn't have any data to show that lower carb was worse.
Michael Greger, the vegetarian doctor, asks if animal food lovers are missing "vitamin S" – salicylic acid.
Mark Sisson at Mark's Daily Apple has been holding reader video contests and has a ton – metric ton even – of reader workout and food videos. "Tuna Tataki with Gazpacho" won the prize for best recipe video.
Peter of Hyperlipid blames the Denmark saturated fat tax on Unilever. This story he linked says that Denmark has a low obesity rate – below 10%. Look for that to change now that saturated fats are more expensive.
Via John J. Ray, the sad story of a 25-year-old woman who killed herself with cough medicine. The acetaminophen was destroying her liver, but she thought she had a cold and kept taking more.
At PaleoHacks, a healthy 34 year old had a heart attack. Did his doctors misdiagnose a protozoal infection?
[4] Cute animal photo: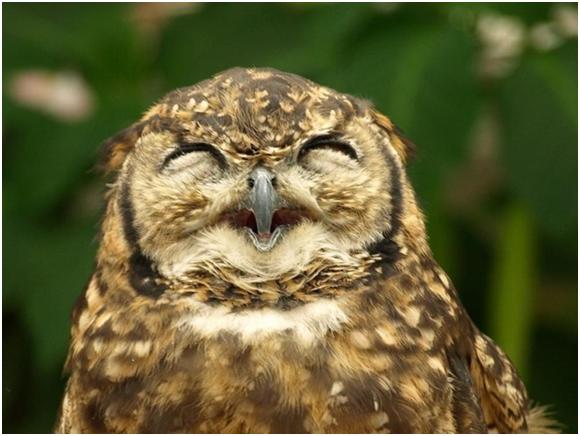 [5] Remembering Steve Jobs:
Steve Jobs passed away Wednesday night. When we got the news, we had just finished a dinner with the Living Paleo in Boston group and Julie Mayfield, author of Paleo Comfort Foods. We stopped at Shou-Ching's office so that, coincidentally enough, she could finish submitting a pancreatic cancer grant application before a midnight deadline.
A commenter asked if I had anything to say about his health history. No; we don't know the causes of Jobs's cancer, and have no reason to assume he wasn't following the best available health advice. Indeed, he survived pancreatic cancer longer than most.
It is true that Jobs was a close friend of Dean Ornish – one of his last meals was with Dr. Ornish at a Palo Alto sushi restaurant, Jin Sho. After his diagnosis with pancreatic cancer in 2003, he apparently tried to treat his cancer with a vegetarian diet under Dr. Ornish's direction, but it didn't go well. He finished his life eating a pescetarian diet.
Jobs leaves a wife and four children. I like this photo of Jobs leaning on his wife Laurene after an exhausting talk:
Jobs was always a bit of a rebel; in the third grade he released snakes into the classroom and exploded bombs. At Apple the early ads celebrated rebelliousness in pursuit of progress:
We'll remember Jobs as the greatest entrepreneur of his time, a man who did exactly what Apple's ads said: "push the human race forward." If you doubt how far the human race has come, watch the 28-year-old Steve Jobs introducing the "insanely great" Macintosh computer:
UPDATE: A modification of the Apple logo, by a student from Hong Kong:
[6] Let's buy a lemon tree honey: It's time for civil disobedience:
Several years ago, Bridget Donovan, who has now been dubbed "The Lemon Tree Lady," purchased a Meyer lemon tree from meyerlemontree.com. A resident of Wisconsin, Donovan purchased the tree legally and in full accordance with all federal and state laws regulating citrus transport, and had lovingly cultivated and cared for her indoor citrus plant for nearly three years.

Then, out of nowhere, Donovan received an unexpected letter from the USDA informing her that government officials were going to come and seize her tree and destroy it — and that she was not going to be compensated for her loss. The letter also threatened that if Donovan was found to be in possession of "regulated citrus" again, she could be fined up to $60,000.

Donovan was shocked, to say the least, as her tree was not a "regulated citrus." The store from which she purchased it is fully legitimate, and she had done absolutely nothing wrong. But it turns out Donovan and many others who had also purchased similar citrus plants had faced, or were currently facing, the very same threats made against them by the USDA.

Most of those targeted simply surrendered their trees without trying to fight back, Donovan discovered. And while she, herself put up a hefty fight in trying to get honest answers in order to keep her tree, Donovan was eventually forced to surrender it as well. And worst of all, many of those who were told that a replacement tree would be in "compliance" later had those trees confiscated, too.

Why has the USDA been targeting lemon tree owners? The answer is unclear, other than that they are a supposed threat to the citrus industry. And a USDA official admitted to Donovan that the agency has been spying on those suspected of owning lemon trees, and targeting all found to be in possession with threats of fines and raids if they failed to give them up — and the agency has been doing this without a valid warrant.
UPDATE: Apparently the threat is "citrus greening disease." Hat tip James.
One of the comments: "First they came for the raw cow's milk and I didn't speak out, as I prefer raw goat's milk. Then they came for the vegetable gardens in the front yards and I didn't speak out, as I have my vegetable garden elsewhere. Then they came for the citrus trees and I didn't speak out, as I prefer someone else to squeeze them …"
[7] Best comments this week:
Vincent explains the tuber fermentation strategy that helped cure his gut dysbiosis. He followed instructions at wildfermentation.com. Bella, like Vincent, cured her constipation with anti-fungal strategies.
We had great comments on both sides of the food reward issue. The general consensus: Perfect Health Dieters have substantially reduced food cravings and appetite, and can easily ignore most junk food, but there are still some combinations of food that create cravings or addictive eating. Here's Stabby:
I have been eating the PHD for a while, and it has really reduced any sort of cravings and tendency to mow down, even if the food is really yummy. But indeed, I will down a bag of potato chips in an instant, because it is just that cracktastic, pretty much designed to stimulate me in every possible way.
Erp:
I've tried to lose weight by going low carb. The weight losses were successful, but I didn't stop craving high carb/sugary stuff and would always gradually go back to the bad old ways and gain the weight back.

One year later strictly following the PHD, I lost almost 40 lbs and not only don't I crave carbs and sugar, I am actually repelled by the smell of a bakery. Yeast and cinnamon are off putting.
After approximately six months of PHD I have zero craving for sweets and have easily resisted entire tables groaning with plates of cakes, doughnuts, cookies and so forth. Resisted is the wrong word though – it's as if all desire for a (formerly craved) substance has left my body. I'm not sure if it's related, but I have no desire to drink alcohol these days.
I am maintaining my weight loss without cravings or white knuckling and feel great. Thank you! Thank you!
Interestingly, it seems to be the richer, more complex taste combinations that stimulate addictive eating. For Ellen, it's a dessert made from "rice krisps, coconut flakes, macadamias, rice syrup, coconut oil, ghee, salt and cinnamon"; for Shelley, "trail mix of chopped up 85% dark chocolate, raisens, dry roasted salted macadamia nuts and unsweetened coconut flakes"; for Jaybird, wheat-based cake batter. Ellen writes:
Because I had seen some positive changes in my blood sugar from incrementally increasing my starches (and also from the PHD regimen of supplements especially high dosage of iodine) I got carried away and thought maybe I was getting closer to perfect and I could handle dessert type treats. It has only been two weeks, but I have been creating more and more of them. A bad sign.
Shelley writes:
I have made PHD ice cream, sweetened berry compotes, etc and this doesn't happen. So far it's just this one combination of products. strange?!
Fascinating.
[8] Not the weekly video: Cat and mouse:
Via Pål Jåbekk.
[9] Shou-Ching's Photo-Art:
[10] Weekly video: Robb Wolf was the hero of Discovery Channel's "I, Caveman." They have selections from the show online. This one is about their difficulty obtaining potable water: