We recommend eating shellfish, for their nutritional content and lack of omega-6 fats.
At least in New England, mussels are inexpensive and readily available. We pay around $3 per pound and they are in local supermarkets year-round.
Mussels make a good appetizer or main dish. We usually make them with one of three sauces: (1) A soy sauce based Asian sauce; (2) Pacific Sweet and Sour sauce; or (3) a Thai curry sauce. Today, it'll be the Thai curry sauce.
Preparing the sauce
Our main ingredients were onions, peppers, shiitake mushrooms, coconut milk, and Thai Kitchen red curry paste: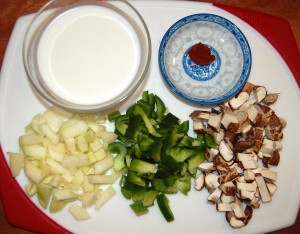 Prepare the sauce in a wok – this is important because we'll want to toss the mussels in the sauce later, and you'll need the rounded sides.
Soften the onions in a bit of oil – we used rendered beef tallow:
Add the peppers and mushrooms and cook them a bit: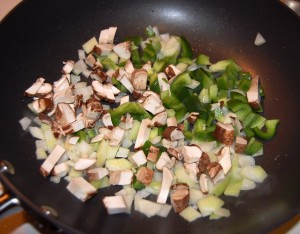 Then add the coconut milk, curry paste, salt, pepper, and other seasonings to taste: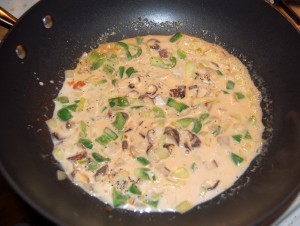 Steaming the mussels
The key to cooking mussels is to steam them separately, flash-cooking them so they don't overcook and become dry and tough, but cooking long enough to kill any bad bacteria.
While the sauce is cooking, start heating a few inches of water in a steamer pot. When the water is boiling and making steam, and the sauce is done, add the mussels to the steamer.
They'll need two to five minutes to cook. You'll know they're done when the mussels open. You can hear them opening, or, if you have a glass lid to your steamer as we do, can watch them. Let the opened mussels steam briefly before removing the lid. When you open the lid the mussels should all be open:
Discard any mussels that failed to open. Immediately remove the steamer basket and let any liquid drain out.
Finishing
There's no further cooking once the mussels have been steamed; all you have to do is transfer the mussels to the wok with the sauce, and mix them.
Once you've transferred the mussels to the work, toss the mussels in the wok until the mussels and sauce are thoroughly mixed: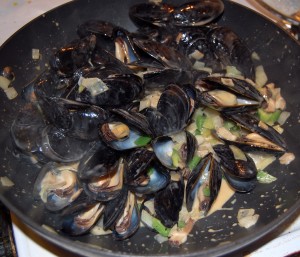 Transfer to a serving bowl, pouring any residual sauce over the mussels: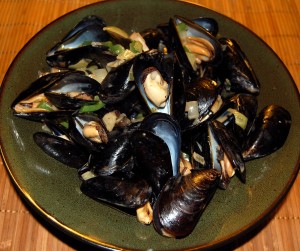 Enjoy!