A few months ago we toured Green Meadows Farm; I wrote about it here. Tomorrow, Shou-Ching and I will be there at 3 pm for a casual talk, Q&A session, and book signing. We'll discuss what evolution tells us about the optimal diet, and the PHD food plate; but mostly we'll just be chatting with whoever shows up. Green Meadows Farm also has a great farmstand where you can buy organic food of all kinds.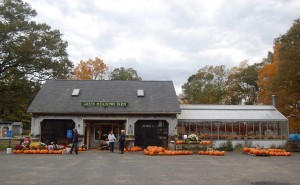 Green Meadows Farm is located at 656 Asbury Street, South Hamilton, MA. Directions are available on their web site.
Also, Jimmy Moore has just informed me that I was voted #4 guest of the year by Livin' La Vida Low-Carb readers and will be back for "Encore Week" in January. Thanks, LLVLC fans! I'm excited to talk to Jimmy again, this will be a fun interview.
Sometime this month we're also going to put together a 7-day meal plan for anyone who wants to try our diet for weight loss. But Jay Wright beat us to the punch, sharing the meals that helped him lose 80 pounds in less than eight months.
[1] Music to read by: From Enya:
[2] Interesting posts this week:
Pal Jabekk explores what happens when you can't utilize glycogen.
The possibility that XMRV, a new human retrovirus, might cause chronic fatigue syndrome has degenerated into a fiasco. Judy Miskovitz, the principal investigator, has been dismissed from the Whittemore Peterson Institute and arrested on charges of stealing her research notes, which WPI claims belong to them. Dr. Jamie Deckoff-Jones, a chronic fatigue sufferer herself, offers her view of the affair.
Emily Deans discusses mitochondrial dysfunction and depression.
NPR notes that the innate food reward system drives kids to eat more carbs than adults. No surprise there: breast milk is 40% carbs, and we know that's optimal for infants; the optimum for adults is probably significantly lower.
Stephan Guyenet summarizes some new review papers on the food reward theory of obesity. Dr. Srdjan Ostric comments on the role of food reward in obesity.
Jamie Scott, That Paleo Guy, comments on the circadian variability of sun damage risk. What's the best time of day to go to the beach?
Canadian political philosopher Colin Farrelly quotes Leonard Hayflick in Nature writing that "Prehistoric human remains have never revealed individuals older than about 50 years of age." Can this be true? Can bones reveal the age of death so precisely?
The New York Times reports that exercise improves memory.
Seth Roberts reports on a rat who favors pate, salmon sashimi, and scrambled eggs. What a lucky rat!
Japan Times reports on Japanese research indicating that beef and pork consumption is associated with colon cancer risk.
Vitamin B12 deficiency can cause skin lesions.
Dienekes points out that African-Americans are losing the genes that give Africans resistance to malaria.
Dr Briffa reports that low-carb diets look good for cancer patients.
Barry Sears discusses how contestants on "The Biggest Loser" eat.
Wired asks if the obesity epidemic could be due in part to over-use of antibiotics.
Cheeseslave reports that intermittent fasting gave her insomnia and belly fat, perhaps because fasting led her to drink alcohol, and alcohol can induce zinc and magnesium deficiencies.
Steph at Midlife Makeover Year found that eliminating fructose, even from fruit, eliminated her eczema.
Dr David Brownstein argues that the optimal sodium intake is 4 to 6 g/day (1.8 to 2.7 tsp salt).
USA Today reports benefits from a ketogenic diet for Parkinson's patients.
More pregnancies, more health? Reason at FightAging! reports that fetal stem cells can repair the mother during pregnancy.
[3] Cute animals: Odd couple: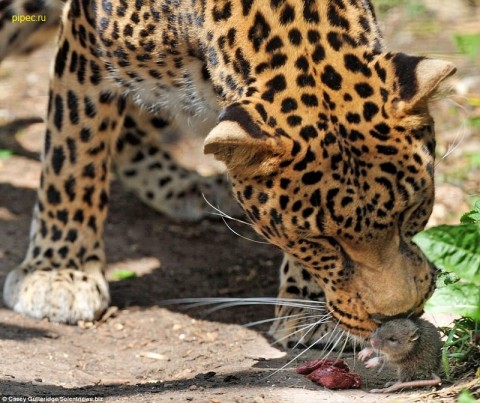 Via Yves Smith.
[4] Me and the GAPS Diet at Wise Traditions: Foot in mouth disease?
Dr. Natasha Campbell-McBride, originator of the Gut and Psychology Syndrome (GAPS) diet, has done a tremendous job refining the Specific Carbohydrate Diet and helping a number of people recover from gut dysbiosis. She is also one of the most popular speakers at the Weston A Price Foundation Wise Traditions conferences – deservedly so, from what I was able to see of her talk.
There was a lot of interest among the Wise Traditions attendees in what I thought of GAPS. Many people came up to me to ask about it, and the first question posed in the question and answer session asked what I thought of GAPS. I tried to make the point that there are many pathogens that can afflict the gut and, while GAPS is great for many gut disorders, no single dietary prescription is going to be perfect for all of them. The GAPS prescription of eschewing starches and obtaining carbs from sugary sources like honey is one of those prescriptions: often beneficial in gut disorders, but not always.
A few PHD readers, whose cases are listed on our "Results" page (see Angie and Bella), had trouble on GAPS and were able to fix their problems by adding starches. I suspect their diets had been ketogenic without starches and the ketones were feeding eukaryotic infections; adding starches eliminated the ketone production and helped them overcome the infections.
Apparently I gave the impression – no doubt I mis-spoke in some fashion – that I thought GAPS was a ketogenic diet. Dr. Tom Cowan spoke to me about it soon afterward. Dr. Judy Tsafrir, who uses the GAPS diet in her psychiatry practice, heard about the episode and wrote about it. I wrote a comment on Judy's post clarifying my perspective.
I'd like to reprint that comment here, so that my attitude toward GAPS can be placed more prominently into the public record. I have the utmost respect for GAPS; with lore derived both from the Specific Carbohydrate Diet and from years of clinical experience by Dr. Campbell-McBride herself and other nutritionists, it is arguably the leading methodology available today for dealing with gut dysbiosis.
Here is my comment from Judy's site:
Hi Judy,

A few clarifications. It is not starches per se that are protective of the gut, but glucose; this is needed for mucus production, for preservation of the intestinal barrier, and for immune function. It is possible in very low-carb diets, especially if protein intake is limited, to significantly reduce mucus production and impair the integrity of the gut mucosa and barrier.

Both starches and sugars (such as are found in honey, squash, and carrots) are possible sources of glucose. In cases of gut dysbiosis, one wants to avoid foods that feed pathogens. Both starches and sugars can do this.

Some pathogens benefit from fructose, and fructose malabsorption is very common in bowel diseases.

Many pathogens can also benefit from resistant starch, or the branched structures in starch that humans cannot digest. Starchy foods tend to be fiber rich. As such, they are often problematic in bowel disorders.

I often recommend dextrose or rice syrup, which is readily digestible to glucose only, for bowel disorders. This seems to be the safest glucose source.

There is such a diversity of pathogens in bowel diseases, that no single dietary prescription is universally safe. Zero-carb diets are potentially problematic due to glucose deficiency or ketosis that favors certain pathogens; and for any given carb source, there is a pathogen that can flourish on it.

GAPS came up in my talk in response to a question someone asked. I had recently had two people on GAPS diets report that when they added starches, in line with our recommendations, their health improved and they were able to clear lingering gut problems, including fungal infections. Of course I have no idea how faithfully they were following Dr Campbell-McBride's recommendations; but I think their cases illustrate the points you make in your final two paragraphs. Every pathology is unique, and diets have to be tailored to individual needs.

I am not quite sure what I said, since this was extemporaneous and I haven't watched the video, but the symptoms those two readers had were ones that tend to develop on ketogenic diets. If they were excluding fructose because it gave them gut symptoms, then their diet could easily have become ketogenic. I do not think that GAPS is ketogenic in general, but in at least those two cases its attempted application seems to have been so.

I have the utmost respect for Dr Campbell-McBride and I am well aware of the many people her diet has helped. I hope no one thinks that I was in any way denigrating her diet or her very valuable work. I was able to attend part of her talk at Wise Traditions and thought it was the most valuable talk I saw at the conference.

Best, Paul
[5] Interesting comments this week:
[6] Not the Weekly Video: Samsung introduces a new sport: "Extreme Shepherding"
[7] Shou-Ching's Photo-Art: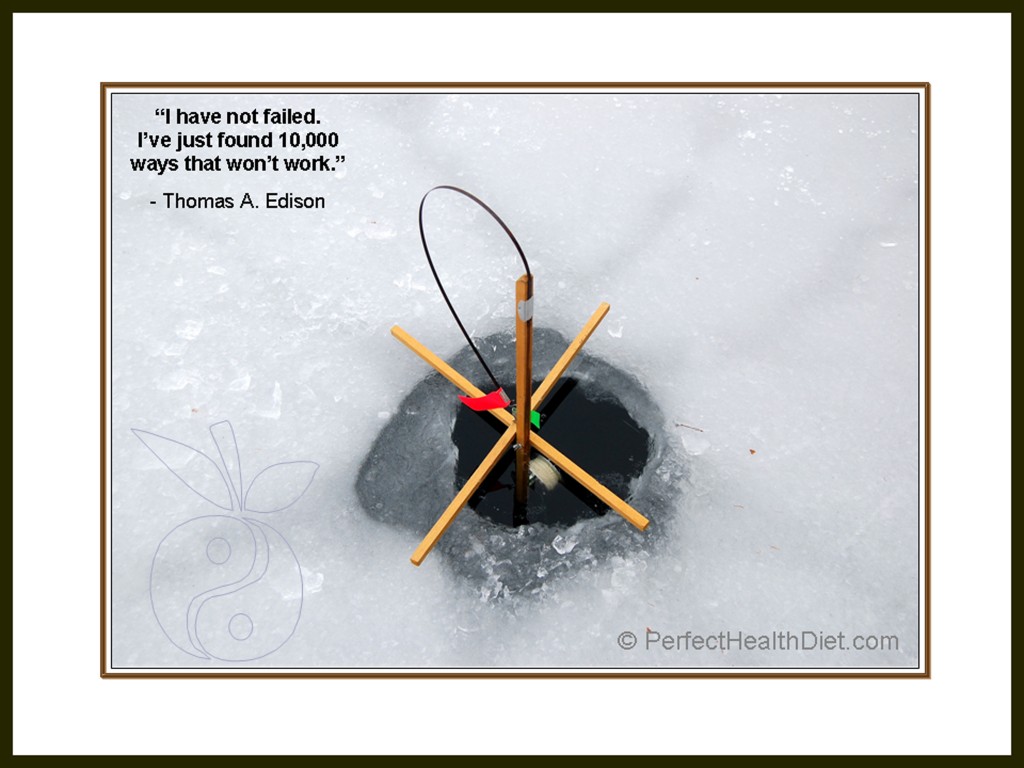 [8] Weekly Video: Dr Terry Wahls treats her multiple sclerosis effectively with a high-vegetable Paleo-type diet: