The holidays are a great time for finger-food. There must be a reason why pigs have ribs: I think it was so that our fingers could hold that fatty rib meat at Christmas.
Our recipe for Pork Spare Ribs is essentially the same as the one for Chicken Wings (Sep 19, 2011) – another great recipe for buffet-style family gatherings. It goes like this.
Preparing the Spare Ribs
A rack of spare ribs looks like this: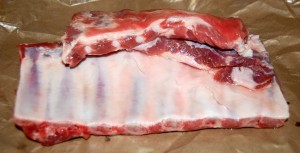 Use a pair of kitchen shears or scissors to cut between the rib bones: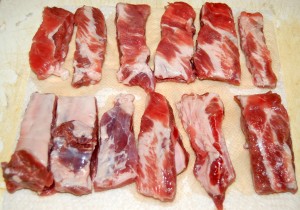 Wash the ribs and pat them dry. Just as in the Chicken Wings recipe, put ¼ cup potato starch in a plastic bag with salt and pepper, and shake the dried ribs until they're evenly coated.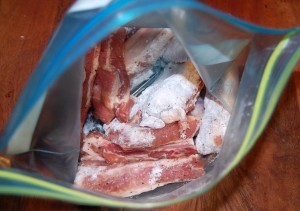 Lay them out in an oven-safe baking dish: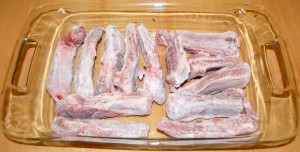 Cook for 20 minutes at 350ºF (177ºC), then turn the ribs over and cook for another 20 minutes. They'll come out like this: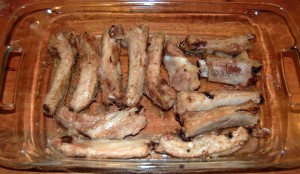 Preparing the Sauce
Many flavors of sauce are possible. The Chicken Wings post discusses Garlic, Parmesan and Mustard Sauce; Buffalo Style Spicy Sauce; and Pacific Sweet and Sour Sauce. Here's a fourth sauce, an Asian style sauce.
Heat diced garlic, ginger, and scallions in a bit of beef tallow or other healthy cooking oil. Cook the garlic and ginger first for 2 minutes at medium heat, then add scallions: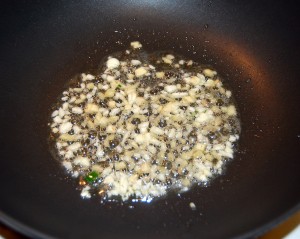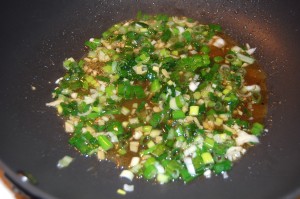 Quickly add the premixed wet ingredients: 2 tbsp rice vinegar, 1 tbsp brown rice syrup, 1 tsp gluten-free soy sauce, and salt and pepper to taste. (Don't substitute other vinegars for the rice vinegar.) Then mix in the cooked ribs and stir until they're thoroughly coated.
Set them on a serving plate: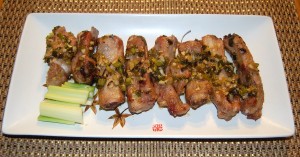 Here are ribs made with Garlic, Parmesan and Mustard sauce: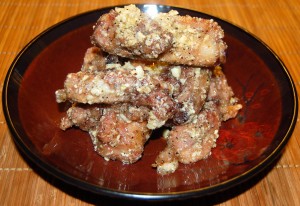 Here are ribs made with Buffalo Style Spicy Sauce: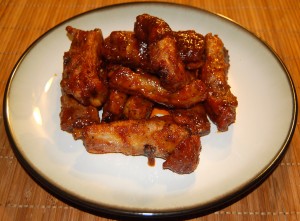 Enjoy!