Ris a la Mande is a traditional Danish Christmas dessert. Rikke gave us the recipe last December, and we've made it three times with some variations.
The name is derived from the French "riz à l'amande" which means "rice with almonds."
Be careful – this is delicious. It's great for kids, or anyone young at heart.
Ingredients
The first group of ingredients, which make a rice porridge, are:
125 g uncooked short grain (sushi) rice
1 liter (1 quart) milk
1 vanilla bean (or ¼ tsp vanilla extract)
1/4 tsp salt
A second group of ingredients, completing the dessert, are added later:
75 g (1/2 cup) almonds, skin removed (or macadamia or cashew nuts)
250 ml (1 cup) heavy cream
60 ml (¼ cup) rice syrup (or equivalent sweetener)
fruit, berries, jam, or other topping
We tried a number of variations:
Almonds, cashews, and macadamia nuts were all delicious;
Vanilla extract was nearly as good as using a whole vanilla bean;
Cranberries, pomegranate seeds, or other fruits and berries can substitute in part for the rice syrup, and add sour flavors (cranberries) or texture (pomegranate seeds)
Preparation
Soak the uncooked rice in water for 10 minutes and then rinse through a strainer. This will let the rice absorb some water to start, and rinse off any surface contaminants and some starch.
Place the rice in a pot, add milk and salt, split the vanilla bean and scrape out the seeds; add both seeds and pod to the rice and milk. Bring to a boil, turn down the heat and simmer for about 45 minutes. Stir once in a while to avoid burning.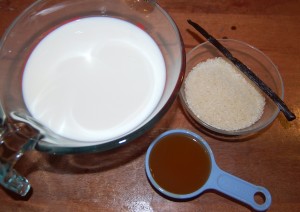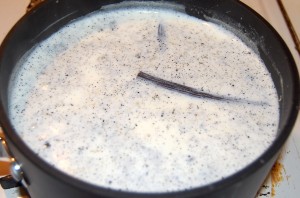 Remove the vanilla pod and let the porridge cool.
Chop the nuts and whip the cream until stiff. However ("!IMPORTANT!" says Rikke) be sure to set one whole nut aside.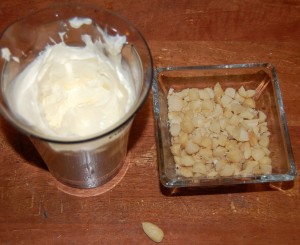 Fold the whipped cream and chopped nuts into the cooled porridge: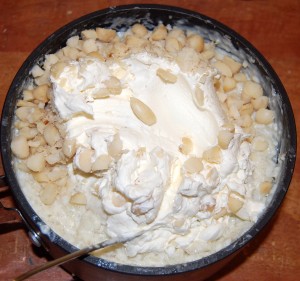 When thoroughly mixed it looks like this: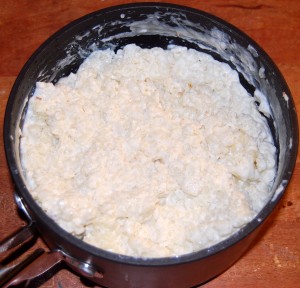 Sweeteners and Toppings
Add rice syrup or equivalent PHD-compatible sweetener to taste: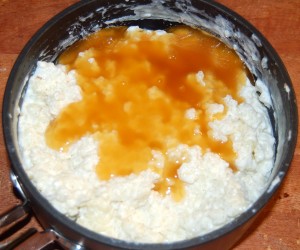 Rikke tells us that in Denmark Ris a la Mande is usually served with cherry sauce on top. We tried homemade cranberry sauce (for a sour taste) and pomegranate seeds: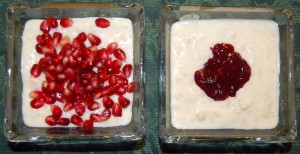 I am sure a wide range of fruits, berries, or flavors would taste great. I liked the acidic taste from the cranberries, so I might recommend the meat and juice of a half lemon as another idea to consider.
The Extra Nut
Why was it important to set one nut aside? Rikke tells of a fun game:
In Denmark, it is tradition to put the whole almond in the big bowl containing all of the ris a la mande. People help themselves to a portion (or more…) of the ris a la mande, and the one who gets the whole almond gets a little present! It is common practice to hide from others if you have the almond, and enjoy watching everyone getting frustrated with not finding it! 🙂
In our house Shou-Ching has won every time, but I'm not suspicious (yet).
Not Just for Christmas
This might make a good refreshment during today's big game: Puppy Bowl VIII on Animal Planet: