UPDATE: I forgot to mention that I'll be appearing on Sean Croxton's Underground Wellness show Wednesday night, December 5, at 8 pm Eastern / 5 pm Pacific. Sean takes callers which makes it a fun show!
The book is about to launch! The Scribner edition will appear in stores and ship from online retailers in the US and Canada on Tuesday, December 11. An Australian / New Zealand / UK edition from Scribe will follow a few weeks later.
This week I'll be blogging about what's new in the new edition. For today, let me just give a brief update about some notable happenings.
We're getting some mainstream publicity – for instance, we'll be featured in the January issue of Vogue and in Australia's largest circulation magazine, Australian Women's Weekly. I'm hopeful this will continue because I think we offer a uniquely healthful diet that nearly everyone can enjoy.
I've sent out a few prepublication copies to bloggers and ancestral health community figures. One went to Dennis Mangan who must be a very fast reader because he has already written a review. He notes that the book sets forth a number of novelties, and concludes:
This is just a fabulous book. I've read many books in the arena of health and nutrition, and I have to say that Perfect Health Diet is hands down the best I've ever read. The book addresses almost everything you need to know to live in perfect health, and the arguments of its authors are thoroughly convincing. If you have the slightest interest in improving your health, you owe it to yourself to read this book.
We were also mentioned by the popular blogger Glenn Reynolds, "Instapundit." One of Glenn's readers then wrote him to recommend our book:
Chalk me and my family up as big fans and beneficiaries of the PHD. It's been life-altering, literally, for myself, my wife, and my two daughters.

Given the success of the PHD and other similar diets (like the Paleo Diet and the Primal Blueprint), it's very likely that most of our chronic health issues in the United States are the result of malnutrition: following the USDA's dietary guidelines seem to reliably lead to human malnutrition.

Malthus may have been right, although not in the way he thought.
That anonymous reader turned out to be Tuck at Yelling Stop. Thanks Tuck!
Next, I have a few podcasts coming up.
My interview with Angelo Coppola of "Latest in Paleo" will go live on Thursday. Topics we discussed are listed on his Facebook page. Angelo says he has competition for his copy of our book. It doesn't look like he put up a tough fight: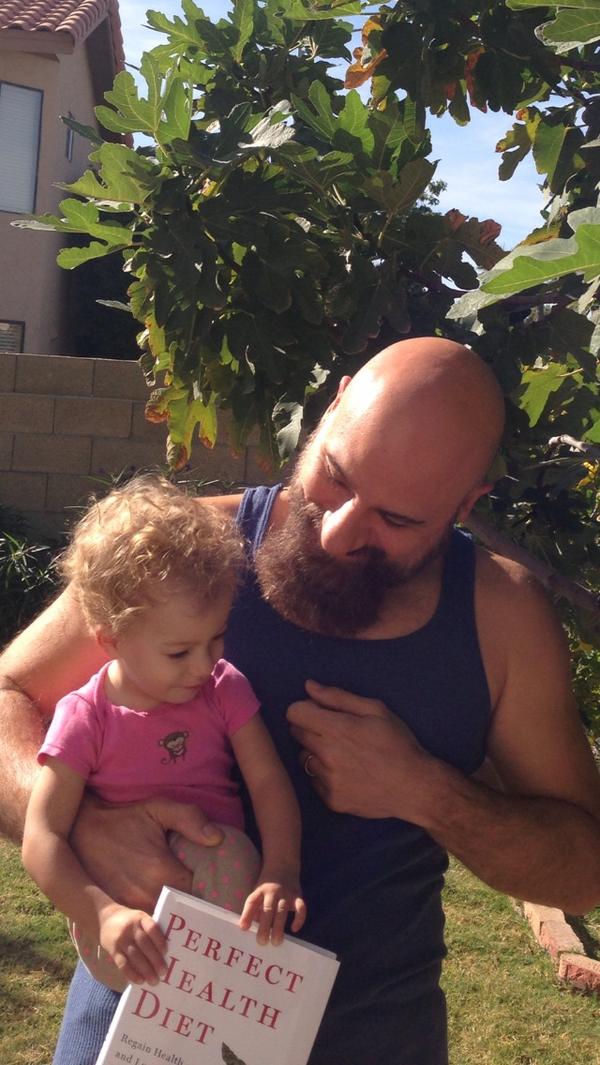 I'll be appearing on Dr Lauren Noel's "Dr Lo Radio" show on our launch day, Tuesday Dec 11, at 9 pm Eastern / 6 pm Pacific.
My interview with Abel James Bascom on his "Fat Burning Man" show will go live on Friday Dec 14. This is my second interview with Abel since he read an early manuscript of this edition (first interview from August 12), and it was fun to be able to talk about some of our more offbeat ideas this time around.
On Saturday, December 15, Shou-Ching and I will speak, do a book signing, and eat a potluck supper with the Boston Paleo Meetup group. There are 9 slots available as I write this.
Finally, I'm in the midst of re-arranging content on the site. You'll notice a "Resources" tab at the top of the page, which is going to have a variety of material, some of it new. I'm going to launch a forum soon and that will supersede the Q&A page as a place to take questions. The Q&A page has moved under the Resources tab. I'll have more on what's new at the site when the forum launches.
Thank you to everyone who is supporting our book launch! We believe we have the most delicious, most healthful diet around; it is a truly beautiful book; and we are excited to have a chance to reach a large audience and meaningfully improve public health.